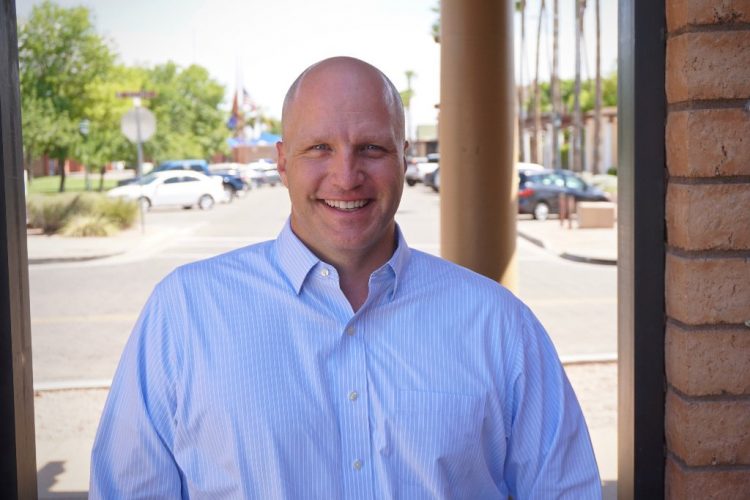 Name: David Ralls
Age: 42
Title: President of Commit Agency
Married/Single: Married
Kids: William and Jackson
City you live in: Chandler
A typical day in my life includes…
an early morning workout before the daily excitement begins which includes taking kids to school, then back-to-back team and customer meetings. The ten-plus hour work day feels like it happens in five minutes — then home for dinner, family time, sleep, and repeat.
I was born…
in Merced, California at Castle Air Force Base. My parents were both in the military, a pilot and a nurse. They moved to Arizona when I was 2, separated and my mom and I moved to Omaha, Nebraska where I grew up. I have sometimes been called a momma's boy but that is okay with me. Single parents have their work cut out for them and I have tremendous respect for anyone that has had to raise a child on their own – especially my mom – lord knows I could be a challenge.
My favorite thing about Arizona…
Arizona is in the best location in the country in my opinion. We are five hours or less from beaches, mountains, Las Vegas, Mexico, Lake Powell and the Grand Canyon. We don't have to fear tornadoes, earthquakes or hurricanes and our weather is amazing nine months out of the year.
I'm listening to…
How to Be a Great Boss by René Boer and Gino Wickman on Audible.
My family…
keeps me grounded and my priorities straight. I am lucky to be married to my wife Deborah for 19 years now and we have two great 14 and 11-year-old sons.
If I could have dinner with anyone, it would be…
Simon Sinek. I am a big believer in his "Start With Why" research and he does a great job of getting leaders to focus on the most important things in support of achieving success.
One thing I cannot live without…
getting away from the office for lunch. Whether with a client, friend or alone, lunchtime is like a sporting event half time for me. Think, reset, recharge.
When I was younger, I wanted to be…
a pilot like my dad. When I found out I was too tall to be a fighter pilot, a career in marketing sounded like a lot more fun.
I'm inspired by…
leaders that are committed to creating a brand that stands for something and who do what it takes to be meaningfully different from their competition.
The one person who motivates me is…
no one drives me harder than I drive myself.
If I could change anything in the world, it would be…
it sure would be nice if we could get back to listening to other people's perspectives, respecting them for their opinion and not hating them because they don't believe what we personally believe. Diversity is what makes our world so exciting. If everyone were the same, things sure would be boring.
The perfect day would be…
spent in the White Mountains at the White Mountain Country Club in Pinetop, Arizona. There is nothing better than enjoying the cool pines in the summer time playing golf, hiking, or just relaxing with a beer on the deck.
My first job was…
working in the fields on my uncle's farm in Nebraska from the time I was 10 years old on. Walking through hundreds of acres of soybeans to cut down weeds in 100-degree weather sure builds character!
My favorite escape…
fishing with family or friends anywhere in the world. I love the outdoors and love the thrill of the catch and release.
My life…
I work hard and play hard and I am thankful every day for the opportunities I have been afforded personally and professionally.
I'm currently working on…
building Commit Agency to be the best agency in the Southwest. We have an amazing team with clients that allow us to make a meaningful difference on their business. I am extremely thankful for what we have now and look forward to continuing to evolve in pursuit of being the best.
Always…
do what you say you will do.
Never…
over promise and under deliver.
Favorite Quote…
"Success is not final, failure is not fatal: it is the courage to continue that counts." – Winston Churchill.
Biggest Dream…
for our kids to prioritize others first and that they make giving back to their community through charity fundraising and volunteerism an important part of their lives.
My Pet Peeve(s)…
people that use social media to promote their political beliefs.