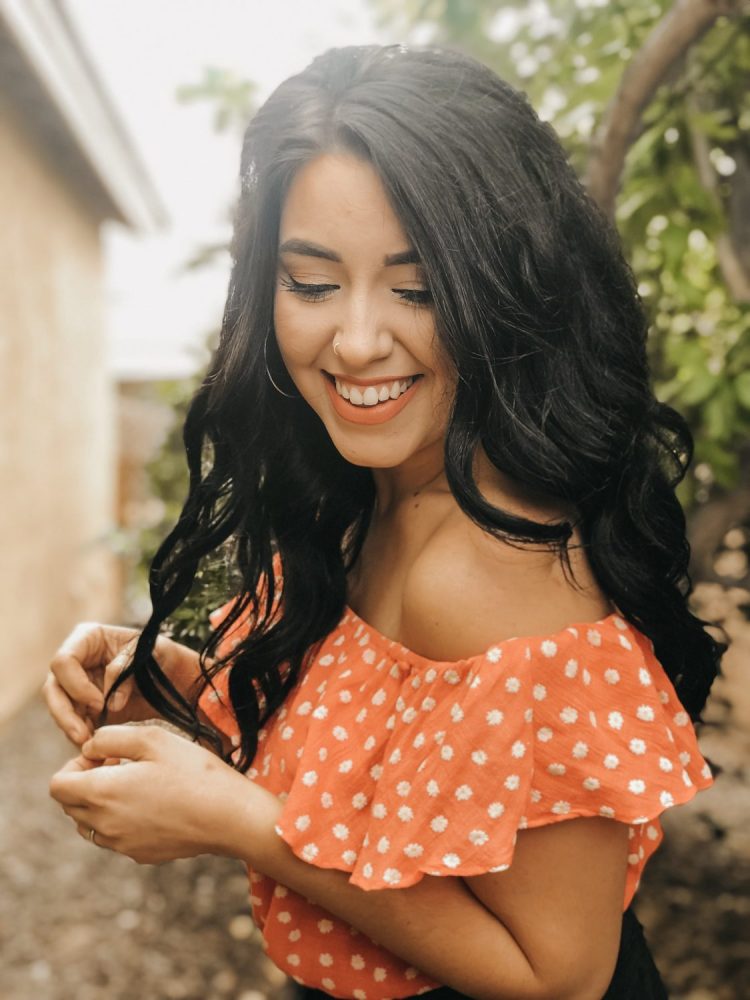 Name: Daryn Mae Stumbaugh
Age: 24
Title: Entrepreneur, Graphic Designer, Blogger, YouTuber
Married/Single: flirting with my hunky husband since 2017. *heart eyes*
Kids: someday, definitely. Right now, we are happy to be soaking up the time with just the two of us…and our two doggies, Brinkley and Shasta, who have extremely exhausting energy levels.
City you live in: proud resident of, Peoria, Arizona. We're up and coming over here on the upper west side *wink*
A typical day in my life includes… 
it starts by waking up and getting to my CrossFit box first thing in the morning. I love my workouts and try really hard to prioritize my health throughout the week! Then I'll get home to make a yummy green smoothie and get to my desk to work. I am a graphic designer primarily, so I will typically be designing websites or branding small businesses. Once the work day slows down, I love unwinding with a glass of wine and my husband while watching some crime documentary on Netflix. Everyday is different, but everyone is exciting and I'm blessed to be able to chase my passions and work towards my goals.
I was born… 
in Phoenix, Arizona on a lovely summer day in July. My poor mother, giving birth to a pretty chubby baby in the middle of Arizona summer. Definitely a labor of love…pun intended.
My favorite thing about Arizona… 
E V E R Y T H I N G. Literally. I love the heat, I love the sun, and I love our mountains, desertscapes, and how you can travel two hours and be in the middle of a snow covered forest. I love how Arizona knows exactly who she is. She's predictable and beautiful. It's underrated.
I'm listening to…
my speakers are always blasting country music. At all times. The in-between times, I love listening to my worship playlists; usually Hillsong, Bethel, Phil Wickham and so many other faves. I also am obsessed with Ben Rector, Ed Sheeran and Jack's Mannequin, but I can also get down to some G-Eazy, so let's just say I have a wide array of musical interests, haha.
My family… 
is one of the best parts about me. I'm so fortunate to be best friends with my family. We are extremely close-knit, and we do pretty much everything together. I've been so blessed with them. They truly are my favorite part about who I am.
If I could have dinner with anyone, it would be… 
I would love my husband and I to go on a double date with Chip & Joanna Gaines. They are the so influential to me, and I'm so proud of them, and they endlessly inspire me in their marriage, faith, and career.
One thing I cannot live without… 
Jesus. Without Jesus, I serve no purpose. I'm grateful for his endless mercy and grace.
When I was younger, I wanted to be… 
so many things. Interior designer, weather girl, artist and actress. I've always wanted to do something creative. I was never set on one career. I just want to express myself through some form of art and inspire people. Now that I'm older, not much has changed, I just want to be a vessel to bring people hope, inspiration, motivation and positivity!
I'm inspired by…
my mama and my sister. In everything they do, they have such grace and patience. They are truly incredible and I admire their confidence and their wisdom in all areas of their lives.
The one person who motivates me is… 
myself. That might sound weird but I am kind of weird, haha! I am not a competitive person with anyone but myself and that fuels me. I am motivated by being better than I was yesterday.
If I could change anything in the world, it would be… 
the cost of a Disneyland ticket so that I could go all the time. Oh, were you expecting me to say "world peace?" If Disneyland tickets were cheaper people would be much happier, leading to world peace. That's my theory.
The perfect day would be… 
my perfect day would start at my CrossFit box, getting in a great workout. Then I'd go out for some breakfast burritos and a big cup of coffee with my family, then we would hang out around a fire, with some music playing, enjoying the company of each other over some wine and beer. I'm easy to please. I'm a big believer in the little things and details of life.
My first job was… 
a hostess at Babbo Italian Eatery. It was there where I learned the true meaning of  what it meant when someone was "hangry!"
My favorite escape… 
Newport Beach, California. It's the place where so many of my childhood memories took place, and it's a place that continues to hold the sweetest memories for me. The ocean breeze, the sandy sidewalks, and the feel of perpetual vacation- count me in.
My life…
is like an old Taylor Swift record – amazing, mixed with a little bit of unfortunate, but ultimately beautiful. I'm proud of who I am, what I make, accomplish and the people I love. I wouldn't change any of it.
I'm currently working on… 
creating a list of brands and businesses that I would love to work with someday. My career goal is to make blogging and content creation my full time job, but I want to take pride in it every step of the way by being true to who I am, and working with brands that I fully love and believe in.
Always… 
use your manners. And if you don't have manners, get some. Oh, and always forgive. Grudges are heavy and end up making you look haggard.
Never…
make someone feel stupid or less than. Always leave people feeling better than before.
Favorite Quote… 
"What you do speaks so loudly that I cannot hear what you say."
Biggest Dream…
I would absolutely love to star in a film. I always used to say that my dream role is to be the best friend of the main actress in a romantic comedy. I still stand by that, and would love to have that opportunity someday.
My Pet Peeve(s)… 
I truly don't have many pet peeves. I guess you could say I'm a little impatient when I'm driving behind super slow cars, although I can't be the only one right, lol? I also don't like small talk. I'm guilty of it, but it frustrates me.
More About Daryn…
Daryn Mae Stumbaugh is Arizona, born and raised. She is an artist, designer and coffee lover on a mission to inspire, encourage and motivate people to do the things they're passionate about. She shares lifestyle tips, home decor inspiration, and everything else on her blog, Daryn Mae. You can also find her on YouTube doing her makeup and giving you all the hairstyle inspo!