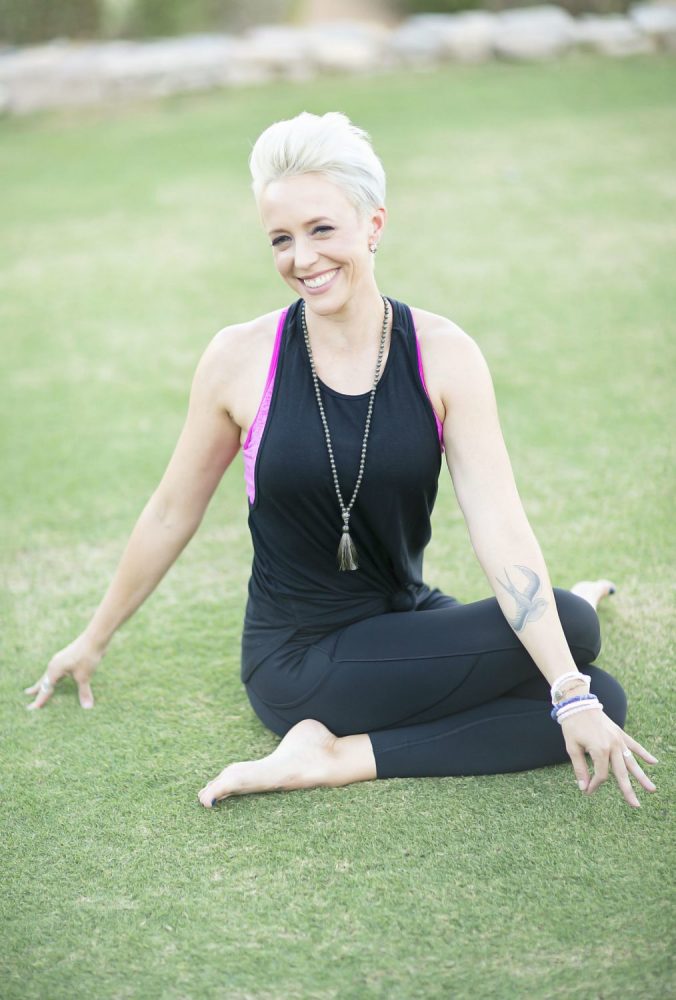 Name: Danielle Fryer, RD, CSSD, CSCS
Age: 41
Title: Director of Fitness & Wellness at The Country Club at DC Ranch
Married/Single: married 13 years!
Kids: the one and only, Sierra Rain.
City you live in: Scottsdale
A typical day in my life includes…
a morning jog or bike ride with my standard poodle, Sadie Pearl, a meditation after breakfast, and a lunch time strength training or yoga session. I read often, as I do not own a T.V. I write, both professionally and for personal pleasure. It's a creative outlet I've practiced since childhood. My work days at The Country Club at DC Ranch go by very fast, because I love what I do. I restore after my workday by taking a power nap and usually take SP for a walk before dark.
I was born…
to serve and learn unconditional love. I'm pretty sure the lesson will never be done! I believe emotions like anger, frustration, anxiety and judgement are opportunities to learn more about myself; my knowledge, limiting beliefs, and my attitude. They show me where I need to heal.
My favorite thing about Arizona…
is the climate and outdoor culture! AZ embraces my favorite outdoor activities, such as hiking, biking, and camping. Arizona is so beautiful! Its extraordinary natural features shake and wake up my soul.
I'm listening to…
The Indigo Girls. They're my favorite band since junior high. Their music and lyrics continue to have a spiritual influence on me.
My family…
is dysfunctional…I have to laugh or I'll cry my eyes out! They're the perfect group of people that continue to teach me what I need to know about forgiveness and surrender. I love them as they are.
If I could have dinner with anyone, it would be…
Joni Mitchell. Not only do I dig her music, I believe she is a kindred spirit.
One thing I cannot live without…
is creative expression.
When I was younger, I wanted to be…
a Solid Gold dancer and a Broadway musical star.
I'm inspired by…
nature, music, healthy living, movement, inner growth work, and recovery.
The one person who motivates me is…
I am motivated by a power greater than myself. God wired me quite the driven woman. Many people and circumstances inspire me to get motivated, but motivation means reason, so the reasons change with the seasons of my life. I love to learn! Whether I pass or fail, I'm motivated to go out on a limb, because that's where the fruit is!
If I could change anything in the world, it would be…
me! I can only change myself. Let it begin with me. Nothing else works. In other words: bless them, change me!
The perfect day would be…
it would include outdoor movement, perhaps a hike with Shane & Sadie Pearl somewhere beautiful, eating delicious food that I didn't have to prepare, laughing till I cried with people I love, a Thai massage would be stellar, and sleeping outside under the stars.
My first job was…
called "Fantasia Earrings." I started my own little business at age 11. I have to claim that as my first job, because I worked so hard! Ha! I made dip-n-drape earrings and mounted them to colorful poster board for display. I'd walk my neighborhood selling them to my neighbors. They were hot little numbers! Either that or the people that bought them enjoyed my entrepreneurial spirit.
My favorite escape…
is through movement and music. I absolutely love hitting the gym to lift weights and listen to my favorite tunes. I can feel an immediate shift in my perceptions as I become more alive in my body.
My life…
opens up the more I become a lover of reality. The allowing of what is, instead of trying to control what's out of my hands; people, places, circumstances.
I'm currently working on…
creating an epic fitness performance facility at The Country Club at DC Ranch. I get to design, equip, staff, cultivate and evolve the fitness and nutrition program with my fabulous new position. I am also in the final graphic design and edit phase of publishing my book, Evolve Healthy, A Mindfulness Guide to Food and Body Liberation. Stay tuned for its release at the end of 2018 or beginning of 2019.
Always…
listen first before reacting. I'm learning that a reaction isn't necessary, often times. We don't have to attend every argument that we are invited to.
Never…
be ashamed of your story. Own it completely. The world breaks everyone. Sooner or later you'll get strong at the broken places. Hang in there. We need you!
Favorite Quote…
"Onward ever, backwards never!"
Biggest Dream…
to live a long, super healthy life, travel all over, and maybe, just maybe, to star in a Broadway show!
My Pet Peeve(s)…
littering. I have a low tolerance for litter bugs!