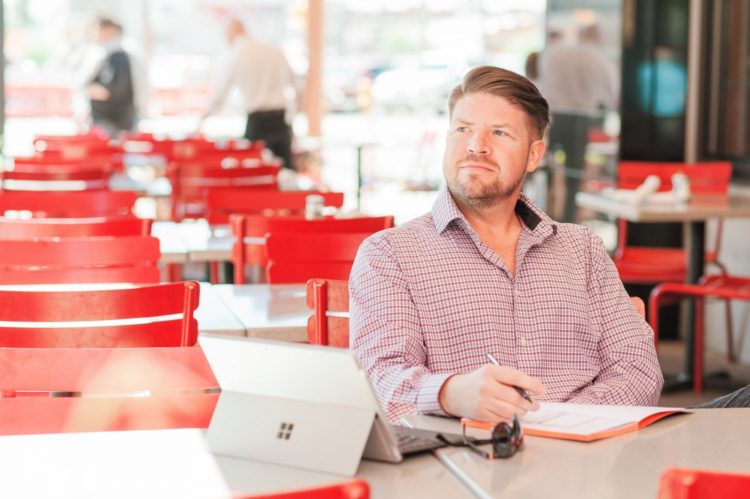 Name: Dan Bowman
Age: 41
Title: Founder and President of Bowman Design Group, Partner of Active Media Solutions and Past President of Scottsdale League for the Arts/Scottsdale Culinary Festival
Married/Single: single
Kids: not yet…
City you live in: Scottsdale, AZ and love it here! 
A typical day in my life includes… 
lately a typical day starts with the gym at 6:30am, quick breakfast (if I have time) before heading to the office to prepare for client meetings. I try to get in an hour reading a new book or industry research on new architectural design trends, job site visit to review the construction process of a project, then lunch with a new client or one of my many industry partners, back to the office to work on designs for a client's dream home in Paradise Valley or a restauranteur's new location in town, spend at least a couple hours working towards a new development deal, then one more quick cardio session before heading home by 8:00. Most days can be pretty full and still enjoyable! 
I was born… 
in a small town in Nebraska where I was raised with a strong work ethic and great values.
My favorite thing about Arizona…
there are so many things I love about AZ. The sunshine, the amazing desert landscape with unbeatable sunsets, the melting pot of people from all over the country that now call this their home, the proximity to beaches and snow-covered mountains, too many to list them all. I've lived here for over 11 years and still feel like I am on vacation! 
I'm listening to… 
Alexa…play 'classical station'. Once I am out of the office the music gets a little more amped up! 
My family… 
is spread all over the country and all of them are entrepreneurs. Lots of business owners in our bunch which shows a great passion for setting goals and creating the life you want.  
If I could have dinner with anyone, it would be…
Richard Branson. I could only imagine the stories he would tell about risks he had to take to make it to where he is today. Plus, I would hope that dinner would be on his private island!
One thing I cannot live without…
music.
When I was younger, I wanted to be… 
an artist, a famous musician and an architect. Music and art have been a major influence in my life since as far back as I can remember. I have always had this passion for design and the building environment which lead me to my profession today.
I'm inspired by…
colleagues that are living and working in their passion, friends that are giving back to their community, a beautiful house built into the surrounding landscape and my mom working her butt off every day to live the life she has created for herself. 
The one person who motivates me is…
anyone who has told me that I can't do it. There are so many people that do not want to see you succeed because they fear it will take away from their own success. 
The perfect day would be…
a beautiful morning on the beach, followed by lunch with some of the most delicious food where I don't get full and a sunset cruise with friends and family drinking amazing wine and cocktails. 
My first job was…
working on my family farm in a small town in Nebraska. Once anyone in the family was tall enough to work, it was time to get into the fields. Laying 40-foot irrigation pipe, driving the tractor at 9 years old, feeding the cattle, cutting thistles; I did it all.  
My favorite escape…
is walking across a beautiful beach to get on a boat and cruise on the ocean until the sun goes down. There is something so powerful about the ocean and extremely calming at the same time. 
My life…
can be just as challenging as it is rewarding. I am trying my best to not spread my time too thin and focus on what truly matters to me. 
I'm currently working on…
I launched my new Architecture Design Firm and Development Company this last year so really pushing everything forward with this exciting new business. Quite a few residential remodels and new builds. I am creating a few dream homes for clients and it fuels my passion for Architecture even more. Starting a new development deal and designing a Senior Living facility for a beautiful piece of property. I am always looking for my next venture into the volunteer world with another amazing non-profit. 
Always…
take the bite of desert, stay the extra hour with family or friends, spend time to learn every day, and appreciate great art, music, and design.
Never…
live in the past. It's great to remember amazing achievements and learn from disappointments. Today is a new day with unforeseen challenges and new accomplishments. You can always move forward towards future goals. 
Favorite Quote… 
currently… "The secret to happiness is freedom…and the secret to freedom is courage." – Thucydides.
Biggest Dream…
is to leave a lasting legacy. Whether it is through projects I have designed, communities I have impacted through volunteer work, helping others towards accomplishments of their own, or just inspiring others to go after and achieve their dreams. The words, "you inspired me" are extremely powerful. 
My Pet Peeve(s)…
lack of compassion or empathy towards others. It takes minimal effort to be kind.   
More about Dan…
Dan has worked in the Architecture industry for 18 years, most notably the last 11 years with some of the great Architects here in the valley like Erik Peterson, C.P. Drewett, Ken Allen, and Mark Philp. Learning about great Architecture Design as well as business acumen has only emboldened him to take the risk of starting a new firm. Dan has also spent a decade involved with the Scottsdale League for the Arts, presenters of the Scottsdale Culinary Festival. His roles in leadership positions for multiple years on the Board of Directors as Treasurer and President has really engrained his sense of community and giving back.  
Click here to order a Trendsetters reprint.