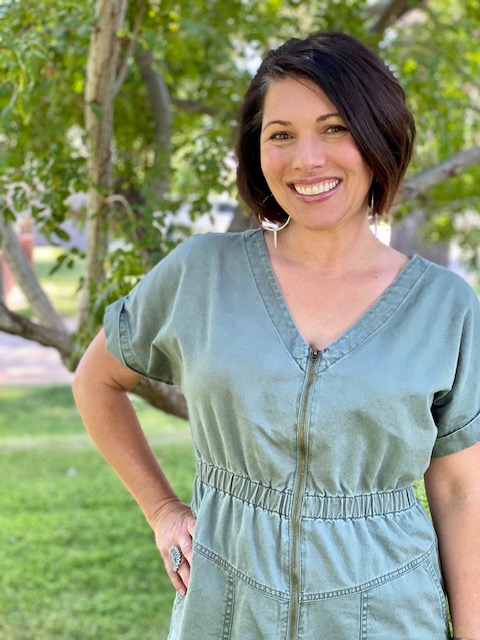 Name: Colleen Riske
Age: 40
Title: Co-Owner of Los Sombreros
Married/Single: Married
Kids: 2 boys – 6 years old and 5 years old
City you live in:  Scottsdale
A typical day in my life includes…
working as Director of Client Services for Amalyn Consulting, an employee benefits insurance agency. I also spend time working on growing the Los Sombreros brand. That includes working on new marketing initiatives and developing relationships within our communities, my favorite part! 
I was born…
in a tiny farm and mining town of about 5,500 people, Spring Valley, Illinois. My parents are childhood sweethearts and grew up down the street from one another. My grandparents owned local businesses and were children of immigrants from Italy, Lithuania, and Ireland. We still have family in Spring Valley and visit as often as we can. I have the best childhood memories of chasing fireflies, running through cornfields, and picking mulberries at my grandparents' farm. We moved to Arizona for more career opportunities for my parents and better weather when I was 5, but my family went back every summer when my siblings and I were growing up. 
My favorite thing about Arizona…
the diversity and uniqueness of our frontier! Yes, we live in the Sonoran Desert. Yes, it gets hot and we have the majority of the earth's population of our Saguaro cacti, but we also have all four seasons (granted you may have to take a drive up north to see the leaves change in the fall and snow each winter) and an incredibly diverse landscape. While we are land-locked we have so many beautiful lakes to explore and some of the most beautiful mountain vistas a person will ever lay eyes on. 
I'm listening to…
lots of Sturgill Simpson these days. I have been super inspired all year by his A Sailor's Guide to Earth album. "Keep it Between the Lines" and "All Around You" have been the top 2 played on my 2020 soundtrack thus far. Both songs inspire and motivate me. I was supposed to see Sturgill and his band play in L.A. this month and, of course, the show was canceled. I will be the happiest person once all is well and good for his tour to be rescheduled. 
My family…
is everything to be. More than anything in the world, I cherish my time with them. 
If I could have dinner with anyone, it would be…
Paul McCartney. Hands down. The Beatles were my first musical infatuation. When I was about 10 I became OBSESSED with them. I would sit in my room with an album playing and write out all the lyrics. I had pages and pages of bound hand-written lyrics. I have a hard time picking favorites, but Paul McCartney is the ultimate for me. That man has a gift for writing lyrics and melodies like no other and can also wail on any number of different musical instruments. I get choked up just thinking about him. 
One thing I cannot live without…
yoga. It centers me. My husband is known to tell me "go to yoga" when I'm getting a little too worked up about something.
When I was younger, I wanted to be…
a veterinarian. I love animals of all shapes and sizes. I grew up riding and caring for horses. I was the little girl always taking home strays, trying to convince my parents and later my boyfriends to adopt a hamster, bunny, kitten, gerbil, lizard, you name it, with me. Today we have our dog, Autumn, and a Beta fish named Rocky. I'm still working on my husband for a cat… and eventually, horse property!
I'm inspired by…
nature, music, art, and people. When I need a mental or emotional break you will always find me outside soaking in the beauty of a sunset or a wide-open space in Northern Arizona. Music speaks to me. It always has. I feel a good song in my bones and there is nothing that cleanses my soul more than a concert… preferably one outdoors under a star-filled sky. 
The one person who motivates me is…
my boys (I can't pick just one). I realize how incredibly blessed I am to have children who look to me (and my husband) as their biggest role models. Whether it is setting the example of how to respect your partner and live a happy marriage, how we react to challenges and stress in our lives, how to work hard, have fun, how we treat our parents, our siblings, our friends… they are always watching. Our actions and words play a humungous part in shaping who they are as humans and I'm incredibly driven to raise incredible humans.
If I could change anything in the world, it would be…
peace on Earth and full bellies for all beings on the planet. May all beings be happy, may all beings be free.
The perfect day would be…
unplugged on a mountain or beach somewhere with my family… nowhere to go, nothing to do, just playing together somewhere beautiful and soaking up the fresh air.
My first job was…
babysitting for all the younger kids in the neighborhood. My mom was a teacher in the neighborhood that I grew up in, so I had a lot of built-in business! My first "official" job was for Bagel Nosh in South Tempe. We used to get SO busy on Tuesdays for our "Two for Tuesday" deal and I loved the rush of having to get ready for the huge wave of business and then working through it. I worked there from 16 – 17 along with a couple of my high school friends before getting recruited by the flower shop 2 doors down for an extra $1/hour. 
My favorite escape…
the dance floor with my husband, Kurt. Preferably somewhere with live music that we can get lost in together.
I'm currently working on…
being more patient and balancing work with having my boys at home with us 24/7.
Always…
love hard, work hard, forgive and be "in the moment" as much as you possibly can. Life is short, as Ferris Bueller said, "life moves pretty fast.  If you don't stop and look around once in a while, you could miss it."
Never…
take yourself or life too seriously. Play. Laugh. Have fun. Find something to laugh about even on the heaviest of days. 
Favorite Quote… 
"Whether you think you can, or you think you can't – you're right" – Henry Ford. I say this to my boys all the time. It helps that it is also quoted in my youngest's favorite movie "The Little Engine that Could".  The power of our thoughts is crazy strong. I have found myself in more of a negative thinking tailspin during some of my life's more trying times. Through meditation, movement, self-care, and working to incorporate more positive thoughts into my day I have been able to pull myself out of such tailspins and start shifting energies in my life towards more rewarding moments and interactions. 
Biggest Dream…
I'm living it. I have everything I've ever wanted and all that I need.
My Pet Peeve(s)…
negativity and closed-mindedness.