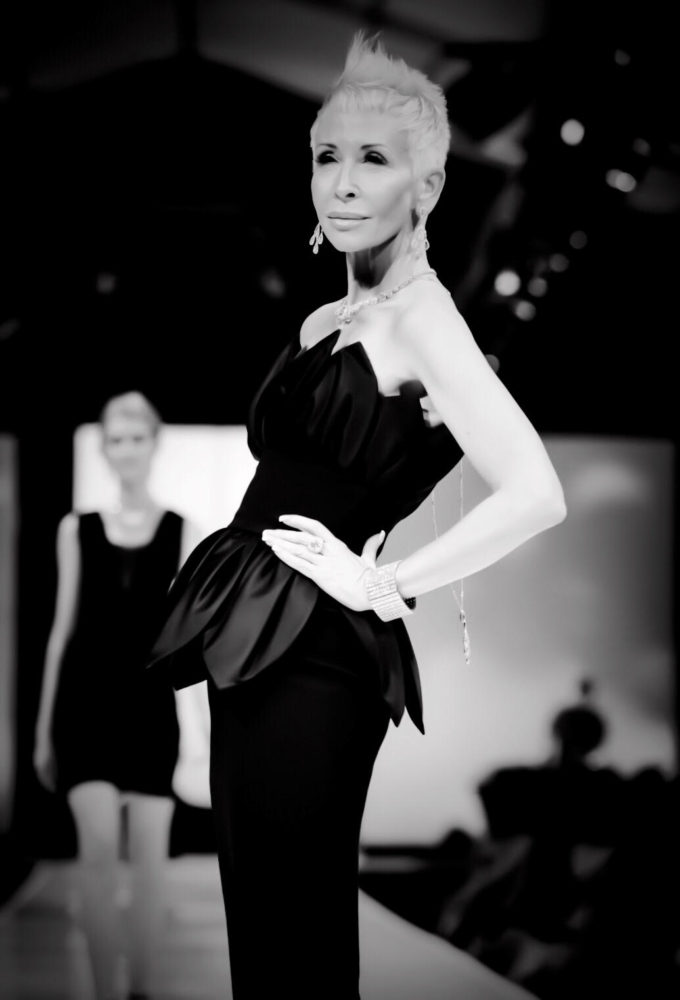 Name: Camerone Parker
Age: 51 
Title: Model; Television Personality; Philanthropist
Married/Single: Engaged to Dr. Robert McCulloch
Kids: Three grown children; Three grandchildren; 2 mini doxies
City you live in: Phoenix
A typical day in my life includes…
A 'typical' day for Camerone Parker? Hmm…the word 'typical' just doesn't exist in my world! Like everyone, I have good days and not-so-good days.
I was born…
sometime in September. My mother was in labor for several days (fabulousness does take time for an entrance). It's a running joke with my parents and has now become a funny tradition. I can expect a call wishing me Happy Birthday…on the wrong day.
My favorite thing about Arizona…
sunsets.
I'm listening to…
September by Earth Wind and Fire.
My family…
is PRICELESS. My parents, Elise and Bill Chambers are the greatest role models. They just celebrated their 55th wedding anniversary and are world travelers. Something I love dearly about them is their genuine hospitality. Throughout the years we have celebrated birthdays and holidays with an eclectic, colorful extended family. My childhood birthday parties were a hoot and with many attendees. It was only later in life did I learn the hilarious backstory …apparently my father (now retired from Sports Medicine) had casually mentioned his weekend plans to a few of his injured athletes. Apparently, football players (especially linemen) love themselves a stellar children's party complete with cake, ice cream and clown entertainment. From that moment on there was always a fun, incredible menagerie of Olympians, football and basketball players that came year after year.
If I could have dinner with anyone, it would be…
with all of my grandparents. Each embodied a unique talent and all were college graduates. I would love to hear their voice and laughter, see their smile and take in their iconic style. Sadly, both of my grandfathers had passed several years prior to my birth. My maternal grandmother passed when I was 5.
One thing I cannot live without…
Alabama Crimson Tide college football.
When I was younger, I wanted to be…
a veterinarian. In 4th grade I did a full year project and report that included shadowing a veterinarian. I got an A+!
I'm inspired by…
genuine laughter, a heartfelt smile, selfless acts of kindness, art and architecture in fashion, my amazing posse of friends who have absolutely been by my side through everything.
The one person who motivates me is…
Robert. He is the BEST part of my every day. I thank him every night for being my 'happy'!
If I could change anything in the world, it would be…
intolerance. Intolerant people who use their 'highly educated' pedigree to justify intolerance eventually show their true colors with an arrogant sense of entitlement and blunder. A truly profound education, whether in life or academic, breeds well-rounded humility.
The perfect day would be…
endless hours inside the Vogue Closet or the wardrobe archives at Paramount Studios
My first job was…
seriously?! Well let's see, that would have to be a flower girl at the age of 3. I was well paid…no, I take that back..,I was bribed heavily with candy. Crying and screaming were thrown in at no charge.
My favorite escape…
will be Sedona. We are currently in escrow on our getaway dream home.
My life…
is deliciously colorful…full of extraordinary highs and surviving insurmountable lows. No two days are alike! I am so blessed with many lifetime friendships.
I'm currently working on…
overcoming Alabama's loss to Clemson. I still burst into tears.
Always…
trend-SETTING.
Never…
trend-FOLLOWING.
Favorite Quote…
"A closed mind is the most expensive thing one could ever own"
Biggest Dream…
I have always wanted to be a mom and someday become a (very hip) grandmother. Well, this dream is now a wonderful reality! I am so very proud of the McCulloch kids: Ben and his wife Sara, Aleen, Danielle and her husband Avery. Add three grandkids to that list…Alyssa (13), Gavin (10) and Laya (5) – I am truly the luckiest gal in the world to celebrate life and love with this family.
My Pet Peeve(s)…
bad manners; rudeness; people in bathrobes at Starbucks, winter hats in the spring and auburn.
More about Camerone…
Enormously recognized in the world of high fashion and beauty, Camerone Parker has appeared in over 300 magazines worldwide. Proudly represented by the prestigious FORD agency in New York, Camerone has walked the runways for top designers as Vera Wang, Donna Karan and Giorgio Armani and has been seen on billboards nationwide for Ralph Lauren POLO. Her peers are consistent with high praise and acknowledge Camerone as one of the most 'all-around' professional models within the industry today.
In addition to her print and runway schedule – Camerone has returned to television as a fashion insider – covering the latest red carpet events from Hollywood to New York. Camerone has also been a featured guest on The Oprah Winfrey Show (Harpo Productions), Good Morning America (ABC), The Today Show (NBC), The View (ABC) and The Early Show (CBS).
Giving back to the community, she DOES! Camerone was bestowed the prestigious AFP National Philanthropy Day Volunteer Fundraiser Award celebrating the millions of dollars she helped raised for numerous charities.
With her life on a very public stage, Camerone held a secret that only few were privy to. In January 1998, Camerone was diagnosed with Multiple Sclerosis. The decision was made not to say anything to anyone other than her family. Understanding this diagnosis could potentially end her career – Camerone needed every modeling job possible to pay for her continued care and drug therapy (She had no medical insurance until 2003). Fast forward to October 2009 – Camerone made the decision to go public with her private battle. 'A Portrait in Courage' appeared in Tucson Lifestyle magazine and launched Camerone as a powerful celebrity voice in patient advocacy for MS and treatment. Today, she delights audiences nationwide as an in-demand speaker with her vibrant message of "Beauty and My Secret".