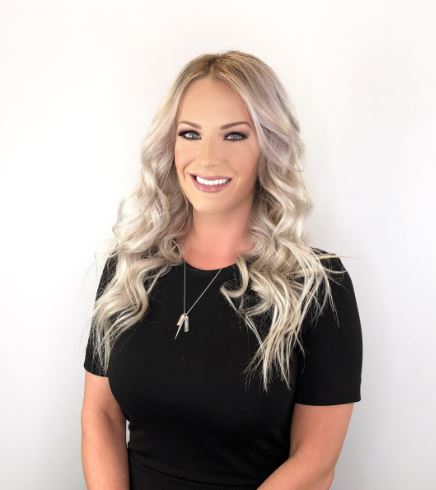 Name: Britney Jo Amato
Age: 29
Title: New Home Sales & Marketing Representative at Azure Paradise Valley, a Shea Signature luxury community.
Married/Single: Married
Kids: Vito and Vinnie… our French Bulldogs!
City you live in: Scottsdale
A typical day in my life includes…
waking up and heading to F45 Scottsdale-Midtown to get my HIIT workout in.  From there I make my way to Azure Paradise Valley, an enclave of 66 luxury new-construction residences, where I'm fortunate to be able to work alongside some of the industry's best, award-winning homebuilding experts and salespeople. After a busy day at work I look forward to heading home to hang out and eat dinner with my amazing Husband. My days off are spent exploring and traveling near and far.
I was born…
in Mesa, AZ.
My favorite thing about Arizona…
the stunning desert landscape that provides all kinds of beautiful terrains to hike and enjoy!
I'm listening to…
Beast Mode playlist on Spotify.
My family…
is everything to me. Even though we are spread out from California to Florida and everywhere in-between we are very close… and a bit cray-cray!
If I could have dinner with anyone, it would be…
my grandpa Dan. He was a WWII vet, professional TV/film actor, professional baseball player and an English and speech coach, just to name a few. He lived to be 92 and was the funniest, wisest, most incredible human being I have ever had the pleasure of knowing.
One thing I cannot live without…
dogs!
When I was younger, I wanted to be…
a veterinarian, I've always LOVED animals.
I'm inspired by…
strong, successful women in business.
The one person who motivates me is…
my husband, TJ.
If I could change anything in the world, it would be…
to eliminate ABUSE. Abuse of animals, people, power, the environment, etc.
The perfect day would be…
exploring a foreign country and learning about different cultures through history, landmarks, people and FOOD!
My first job was…
hostess at a sports bar.
My favorite escape…
solo snowboarding trips to Flagstaff.
My life…
revolves around family, friends, travel, work and is lived to the fullest.
I'm currently working on…
selling beautiful homes and planning fall events.
Always…
be a work in progress.
Never…
be idle.
Favorite Quote…
"Success is not final, failure is not fatal: it's the courage to continue that counts." – Winston Churchill
Biggest Dream…
to look back at the end of my life and know that I used up 100% of my potential.
My Pet Peeve(s)…
clutter, shoes on furniture, when my food touches other food on my plate and anything unsymmetrical.