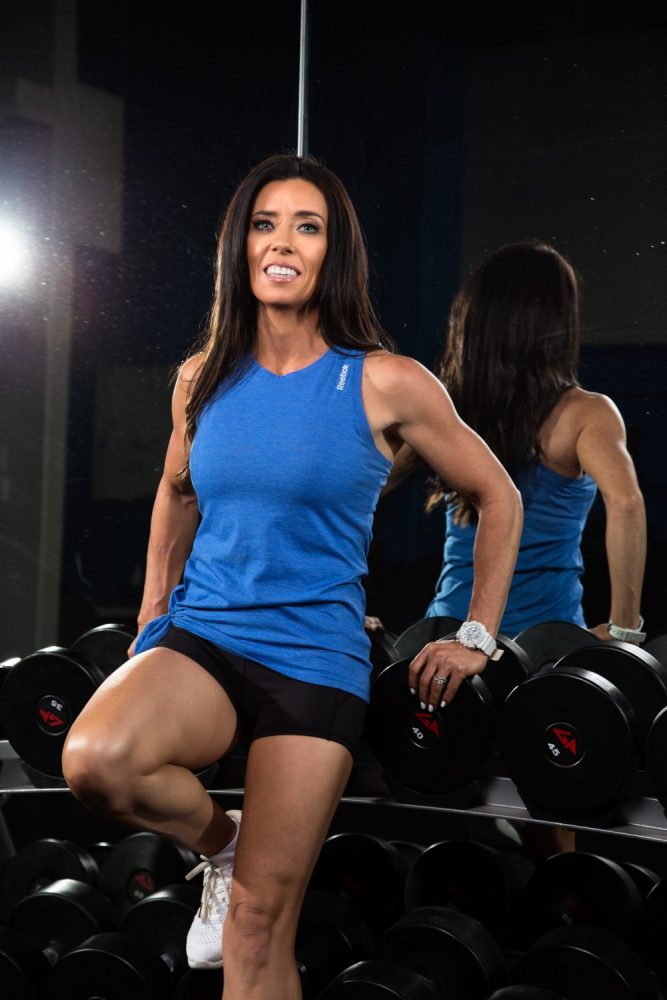 Name: Becky Hoodie
Age: 47
Title: Owner of Transform Scottsdale personal training studio in North Scottsdale
Married/Single: Married
Kids: Two, Brendan and Ethan
City you live in: Peoria, Ariz.
A typical day in my life includes…
most days start by making sure everyone in my house has what they need for a successful day. Then I head to the Transform studio to train. Afterward I head home to take care of house and business stuff, then off to basketball practice or a game, and hopefully some form of family time before the day ends.
I was born…
in Orange County, Calif.
My favorite thing about Arizona…
the weather, the sun, the people! In my experience, the people here are just happy and nice nearly all the time. I'm definitely an outdoors-kind-of-girl. I love warm weather…especially when it's 100 degrees or more!
I'm listening to…
rap, alternative, news and mainstream music. Music makes me happy and it's hard to go wrong with most types.
My family…
is amazing beyond description! I can honestly say I have enjoyed every single day with my boys…they are so happy, funny, thoughtful and light-hearted! My husband is the smartest, most gifted person you will ever meet and at the same time so surprisingly quirky and loving. My parents, brother and sisters are the hardest working, most resilient and genuine bunch of people I've ever known and so big hearted. I feel so lucky and blessed every single day that they are such a big part of my life.
If I could have dinner with anyone, it would be…
my husband. Between business, home and family obligations, we really never seem to have time where we just sit and be with each other. I definitely need more of that in my life!
One thing I cannot live without…
my family. As long as I have them, everything else in the world really doesn't matter.
When I was younger, I wanted to be…
a mom and Ms. Olympia! When I was 12 and all of my friends had posters of rock bands and boys hanging up on their walls. I had posters of Ms. Olympia, Cory Everson. She was my hero. I was fascinated by physique, training and just feeling strong. At that time, gyms wouldn't allow you to train until you were 13 years old. I can remember being so excited when I could finally go in.
I'm inspired by…
my clients. My ultimate goal for every client is to somehow improve their overall quality of life. When I hear about the differences in their lives because of the work we do at Transform Scottsdale… whether it's competing in a race, lifting or moving something they couldn't before, no longer needing a nap in the afternoon, hitting a certain weight for the first time since high school, not being concerned about getting down on the floor with their grandkids…just that sense of independence that you get from being stronger, more balanced and more energetic…there's nothing better than that! Every single client has at least once brought tears to my eyes with their accomplishments! No matter what age or where you come from, there is always opportunity to be in the best shape you've ever been in.
The one person who motivates me is…
I'm surrounded by amazingly hard-working people, but if I had to choose just one it would be my dad. After working in engineering his whole life, when his place of work was shutting down, he took a voluntary lay off and went back to school to be a nurse. He was never a school-type person so it was an incredible challenge but he never complained. He also fought cancer like a trooper. He works as an operating room nurse at an age where most are retired and always works hard and keeps smiling. He's that guy who would do anything for anyone and is loved by everyone. He's the guy who I hope my boys grow up to be.
If I could change anything in the world, it would be…
to make people understand the value of their health especially parents who are afraid they'll be missing something with their family if they take time to exercise. I say, take your kids with you! Incorporate your family into a healthy lifestyle. What better bonding experience is there than being active with your kids and spouse? I did my first sprint triathlon with my son when he was just six. In the end, even if you don't do it with them, taking that 30-60 minutes out of your day to take care of yourself will not only give your kiddos a happier, healthier, more energetic parent, but can also add 10 years or more to your life so you're actually GAINING time with your family.
The perfect day would be…
time at the beach with the people I love – warm weather, warm ocean water and no phones!
My first job was…
cleaning hotel rooms. At 15, not many places would hire me, but I ended up loving it! It was fast paced and I could work super early and be finished by the time my friends woke up.
My life…
is amazing! I do what I love every single day, I make a big difference in my clients' lives at Transform Scottsdale and I'm surrounded by great people. What more could I ask for?
I'm currently working on…
preparing for a nutrition seminar called Weight loss 101 at Transform Scottsdale where we will motivate and inspire people to take better care of their bodies. Registration is free on our Facebook page – https://www.facebook.com/events/2057834821175024/
Always…
look to progress! Whether in regard to your work, health, relationships or whatever, never settle… there is always room to improve!
Never…
forget your values and who you really are. We live in a social media obsessed world where we have far too much opportunity to compare ourselves to others and feel the need to be who they are. Every now and then just check to make sure that you're still you.
Favorite Quote…
"love life…face forward." To me this means, love big, appreciate something every day and live without regret.
Biggest Dream…
to touch as many lives as possible. I love hearing clients say they feel like we've saved their life!
My Pet Peeve(s)…
people too attached to their phones. Human interaction is important and I definitely do like trying to hold a conversation with someone who is looking at their phone the whole time.