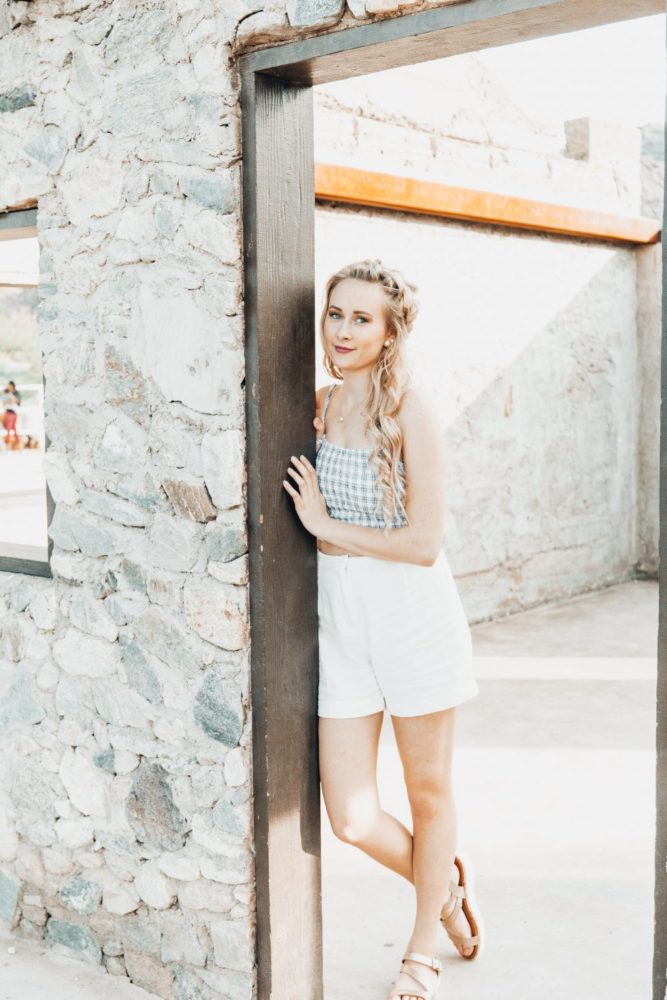 Name: Ashley Kirkpatrick
Age: 19
Title: Nursing student at Grand Canyon University, Photographer and Accessories Designer
Married/Single: single
City you live in: Gilbert, AZ
A typical day in my life includes…
a day in scrubs! I am currently a nursing student at GCU. If I am not in class or at the hospital I am studying. On the rare occasion, I get some free time, I love being outdoors and adventuring around our beautiful state! I also try and get in at least three workouts at Barre3!
I was born…
in Mesa, Arizona. Born and raised in Arizona and now get the opportunity to attend college here too!
My favorite thing about Arizona…
the endless number of things to do! There is so much to see. Especially as a photographer, I think I get to see it all in a new and fun way through my lens.
I'm listening to…
anything and everything country. I love Luke Combs, Morgan Wallen, Jake Owen and Brad Paisley at the moment!
My family…
is so close! I have three siblings; one older and younger sister and a younger brother. My parents are still together and have the sweetest marriage. I pray to have a relationship like they do one day! I also have a nephew on the way and am so excited for him to get here!
If I could have dinner with anyone, it would be…
a group of younger girls. I'd want to be able to tell them that they are so beautiful. This world can be so cruel and I think as women we lose sight of our worth. I wish someone outside of my family could have shared or shown me that at a young age. It is one thing that I know I struggled with growing up and still sometimes do, so if I could instill a confidence in these young women to be themselves and fully love who God made them to be, I would absolutely love it!
One thing I cannot live without…
my bible and devotionals. No matter what is going on around me, I can sit down and be still. It truly fills my cup and allows me to refocus my priorities.
When I was younger, I wanted to be…
exactly what I am doing now! My biggest desire was to help people. I really felt God was calling me to the medical field in high school and ultimately decided on nursing. However, I needed a way to express my creative side. So, I picked up a camera my freshman year of high school and the rest is history. I took two class in high school and have taught myself the rest!
I'm inspired by…
my parents. My mom is the strongest, most influential woman I know. Her heart for God and others is so inspiring. My dad is the most caring man. He will drop whatever he is doing to get to any one of his kids when we need him. I'd like to think I get my sarcasm and humor from him. Watching them build a life together, centered around the love they have for God and people is one of the most inspiring things to watch.
The one person who motivates me is…
honestly, my relationship with God. I try so hard to be in tune with what he has called me to do. I want to live out the purpose he has for my life by loving others well and pointing them straight back to him. I am not here on my own accord.
If I could change anything in the world, it would be…
the way we see ourselves. We are our own worst critic. I pray one day we each are able to see ourselves the way others and God see us. Could you imagine living in a world of people who were confident and felt beautiful each and every day? We would respond and love in such a different way.
The perfect day would be…
waking up early and heading straight to adventure with my camera in hand, having a picnic wherever our adventure leads us, spending time in my hammock with my devotional and country music playing, coming home to have dinner, and spending the night eating popcorn and watching a movie snuggled up on the couch.
My first job was…
a nanny! I was a nanny part time for a family with an 8, 6, 5, 3 & 1 year old! I absolutely loved it. My hope is to work in pediatrics as a nurse and they were a big part of that desire.
My favorite escape…
the beach. My parents always joke that I was adopted from a family in California because of my love for the water. Maui has been my favorite beach destination thus far.
My life…
is amazing. I am so blessed by the people that have entered my life over the past year. I truly believe God is working big time in my life during this season. The amount of growth that has occurred in my faith, in my relationships, and in my self-worth is so insane. I have had to learn that I need to be comfortable with being uncomfortable to grow and become the best version of myself. Especially, in this season of singleness, becoming the best version of myself for my future spouse is really important to me.
I'm currently working on…
nursing school. That's my first priority. However, besides school, I will be shooting a wedding this upcoming year and expanding my photography business! I also own a hair tie company that has been put on hold because of my insane schedule, so I hope to get it up and running again!
Always…
tell the people you love that you love them. Always love yourself. Always laugh and dance and be goofy. You'll never get these moments back.
Never…
apologize for being authentically you.
Favorite Quote…
Proverbs 31:25 She is clothed in strength and dignity and she laughs without fear of the future. This is my life verse because I have always struggled with having an anxious heart so this reminds me that I will make it through whatever trial I am facing and that I don't need to be fearful of what the future holds.
Biggest Dream…
to marry, travel the world and raise a family with the man of my dreams! Cliché, but I seriously am so excited to be a wife and a momma one day.
My Pet Peeve(s)…
negative people! I think there is so much in this life to be thankful for so people who constantly find the bad frustrate me.

Click here to order a Trendsetters wall plaque.