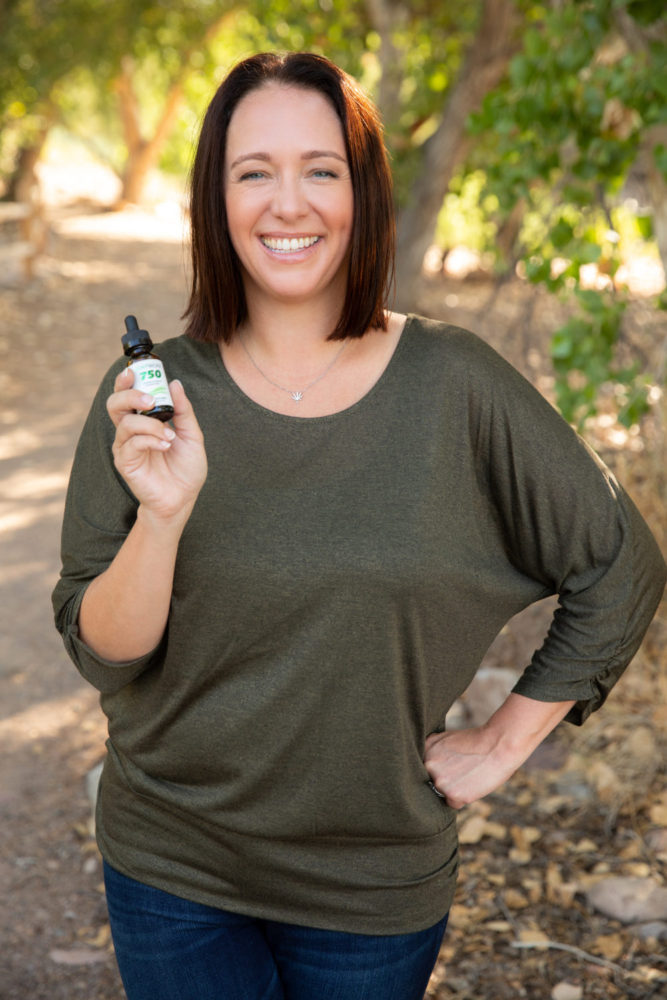 Name: Alicia Pesina
Age: 43 
Title: CBD Consultant, Trainer & Educator
Married/Single: Married
Kids: Nixon, who is 5 years old.
City you live in: Mesa
A typical day in my life includes…
yoga, coffee, kissing the kid goodbye and off to my backyard to work. On Wednesday I get out and network.
I was born…
in a small town in Pennsylvania.
My favorite thing about Arizona…
flip flops and sunshine all year round.
I'm listening to…
Audible. Always. I stopped listening to the radio years ago and feed my mind instead. My book can change from day to day depending on my mood and what I feel I need.
My family…
is awesome. I could not do life without them. We are a team.
If I could have dinner with anyone, it would be…
Eric Worre.
One thing I cannot live without…
cannabis.
When I was younger, I wanted to be…
my own boss.
I'm inspired by…
my son. His smile lights me up every morning to go make it a great day and get out and inspire others.
The one person who motivates me is…
myself. No one else is going to do it.
If I could change anything in the world, it would be…
to put a little hemp in everyone's lives.
The perfect day would be…
I live perfect days all the time. I have been able to create a life on my terms so I never allow myself a bad day!
My first job was…
slinging ice cream.
My favorite escape…
my backyard.
My life…
is ever-changing. No days are ever the same and I love it!
I'm currently working on…
writing a chapter for a collaborative book.
Always…
laugh. Find the humor in every situation.
Never…
compare yourself to someone else.
Favorite Quote…
"Fortune favors the bold who get shit done."
Biggest Dream…
to help motivate thousands to live their best life and to their full potential.
My Pet Peeve(s)…
leftovers.
More about Alicia…
Alicia has been a CBD Consultant, Trainer and Educator since 2017 and currently works with one of the largest hemp buyers in the country. She has seen the rise of the multi-billion dollar CBD (cannabidiol) industry and played an integral role in the education of its uses, results and the various products currently available on the market. 
She has trained teams from coast to coast and currently manages over 2,000 people to help them further educate their networks on what constitutes safe CBD versus fake CBD.
A typical day for Pesina can range from running CBD 101 seminars and attending networking events to helping clients choose the right CBD products for their needs and mentoring others in how to build their personal brands within this growing industry.
Previously in the network marketing industry, once Pesina saw first-hand how CBD can change people's lives in a matter of a day, it became her passion. That passion is also mirrored in her desire to connect with others in her role as Assistant VP to one of the largest BNI groups in Arizona, Paragon.
When not educating the general public on CBD and being a voice for the booming industry, Pesina enjoys spending time with her husband Daniel and their 5-year old son and two dogs, in addition to golfing and practicing yoga.