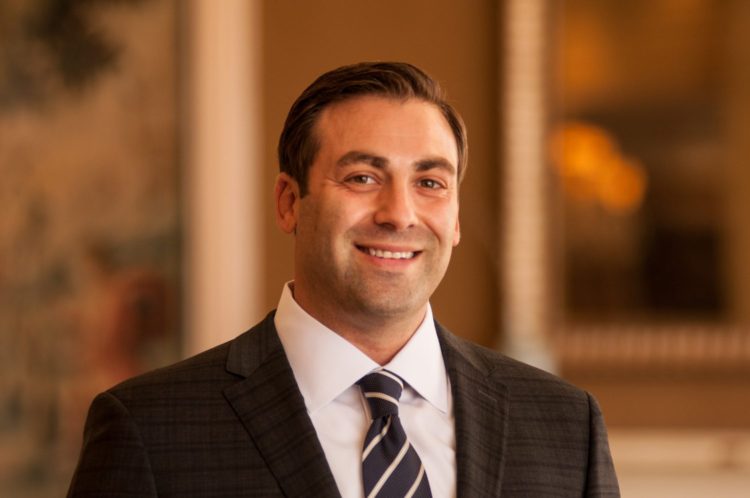 Name: Adam Finkel
Age: 35
Title: Principal at Tower Capital
Married/Single: married
Kids: 1 currently and another due December 18, 2018!
City you live in: Scottsdale
A typical day in my life includes…  
I wake up before my family is awake and I get ready for work. I give everyone a kiss goodbye and head to the office. When I get to the office I boot up my CPU and get the pot of coffee brewing. Then it's returning emails, phone calls, perhaps a site visit and collaborating with the other members of my team to find solutions for commercial real estate investors who are financing their projects.
I was born… 
on a bright spring day in Boston, Massachusetts.
My favorite thing about Arizona…
the quality of life and the many outdoor activities.
I'm listening to…
Spotify playlists and non-fiction audiobooks from 
audible.com.
My family… 
is my life.
If I could have dinner with anyone, it would be…
any one of my deceased grandparents.
One thing I cannot live without… 
my family (with pizza and ice cream tied for a close second place).
When I was younger, I wanted to be… 
successful.
I'm inspired by… 
other people's stories.
The one person who motivates me is… 
my children, because everything I do, I do for them.
If I could change anything in the world, it would be… 
eradicate evil and suffering, bring unity.
The perfect day would be… 
time spent with my family doing outdoor activities.
My first job was… 
shredding my dad's old legal files for allowance. My first W2 came from stocking shelves at Walgreens.
My favorite escape… 
reading and driving in my car listening to music.
My life… 
is blessed.
I'm currently working on… 
growing Tower Capital into an elite Structured Finance firm, continuing to support my community, learning and improving myself.
Always… 
improve, learn, and grow.
Never… 
say never.
Favorite Quote… 
"I don't know who you are. I don't know what you want. If you are looking for ransom, I can tell you I don't have money. But what I do have are a very particular set of skills, skills I have acquired over a very long career. Skills that make me a nightmare for people like you. If you let my daughter go now, that'll be the end of it. I will not look for you, I will not pursue you. But if you don't, I will look for you, I will find you, and I will kill you." – from the movie Taken (too dark?).
Biggest Dream…
grow old and watch my children grow and raise happy families.
My Pet Peeve(s)… 
when you go to froyo and the yogurt is runny.
More about Adam…
Adam is the co-founder of Tower Capital. During his career, he has been involved in the successful placement of close to $1 billion in debt and equity financing on behalf of his clients throughout North America. Adam has a diverse background in both finance, as well as commercial real estate leasing and sales. Prior to founding Tower, Adam served as vice president at Johnson Capital, which at the time was one of the largest independent commercial mortgage banking companies in the country. Adam also served as Designated Broker and Managing Director for Travers Realty Corporation in Phoenix. Adam has earned the designation of Certified Commercial Investment Member (CCIM), a title held by only a small group of elite commercial real estate investment professionals.
"We founded Tower Capital in the beginning of 2015 because we saw a need in the Phoenix market for an independent structured finance firm. We started with Kyle and myself wearing all the hats and have slowly grown our team, which now includes 5 capital advisors, a full time transaction manager and full time analyst. Tower Capital enables property owners/operators/investors to achieve their investment goals with the least amount of time, energy, and cost, while creating surety of execution and piece of mind."