Name: Gifti Moiwa Weihert
Facebook: Gifti Moiwa
Instagram: @wanderingwithgifti
Website: In Process
Age: 29 going on 21, which I hated when I was younger but I've now grown to appreciate as I got older.
Title: Claims Representative and Blogger for Fun
Married/Single: Married
City you live in: Glendale 
A typical day in my life includes… A typical day in my life on a day off ( Quarantine edition) Includes first starting off with some good food either by cooking or ordering from a  Favorite restaurant, having a personal concert / jamming out session to my favorite songs, learning new things, and spending time with my loved ones Including my cute and very smart puppy, Cloud.
I was born… In Liberia West Africa.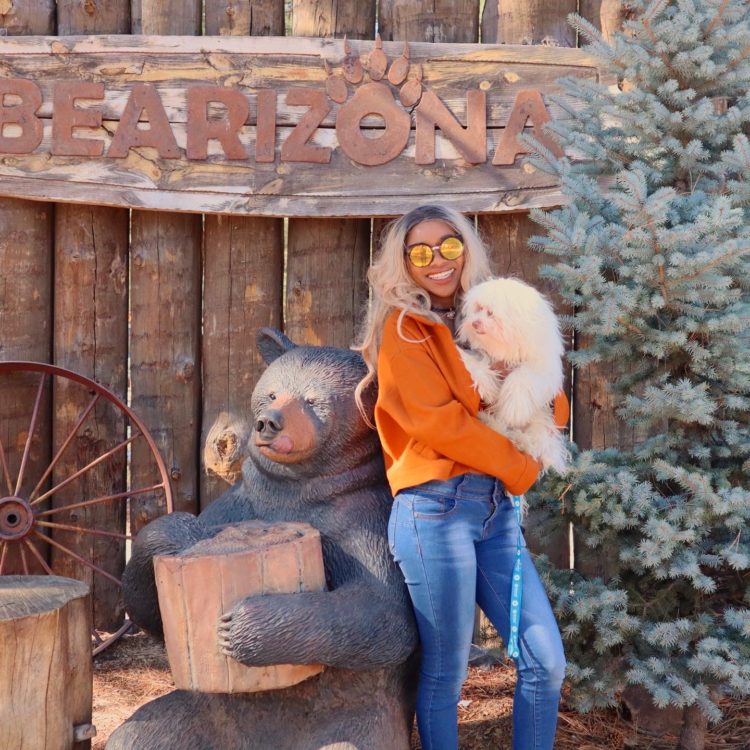 My favorite thing about Arizona… All the fun vibes! I love that it just never ceases to amaze me. So many hidden gems surround us. Another thing I love is the diversity in rich cultures and food. I love that I can enjoy variety of foods within just a short drive away. From Thai, to soul food,  Asian, Mexican, Indian, you name it!
I'm listening to… most likely the same ten songs I love on repeat 😹or some inspirational/motivational content. 
My family… I'm the middle child of five. Our Beautiful momma the OG name is Joetta.  Two  Beautiful older sisters; Princetta & Precious.  Two awesome Brothers; Omaru and Sam. Our darling nephew Darlington and the sweetest niece, Blessing.
If I could have dinner with anyone, it would be… Marilyn Monroe..  she was a lot more than meets the eye. 
One thing I cannot live without…God, my loved ones, and Food of course
When I was younger, I wanted to be…
Many things from a doctor, model, writer, to a singer (even though I suck at it). I just enjoy music so much and it's an excellent form of art and poetry. As I got older I took a love for psychology and wanted to be a Psychologist or Counselor.
I'm inspired by…Authenticity, Dreamers, lovers and kind souls.
The one person who motivates me is… My mom. She is a real warrior and Trooper. She's a superwoman in mom form.
If I could change anything in the world, it would be… Worldwide love, peace, unity, and Justice for all. Also if I had the ability to I would cure the world of all sufferings, but I know only a Higher Power can do that however, we all have the power to create change and make a good amount of difference.
The perfect day would be… Good vibes, good company, and good food.
My first job was at… A receptionist in the Art Department at Phoenix College.
My favorite escape…Somewhere In Nature or with great views. The Beach or a cozy Cabin by a river with lots of lush greenery and a fire place.
My life… Live, laugh, love, and being my authentic self. Plus adulting/working because well these bills don't pay themselves (wish they did) lol.
I'm currently working on…learning new skills and Leveling up my inner self.
Always… Stay true to yourself, Be Courageous, kind, and dream on.
Never… Never give up, better days are always ahead.
Favorite Quote… Keep smiling, because life is a beautiful thing and there's so much to smile about." Marilyn Monroe
Biggest Dream… To inspire people to live their best lives.
My Pet Peeve(s)… anything unloving.
More About Gifti Weihert:
My name is Gifti Moiwa; Married name Weihert. Yes, that is my real first name(thanks mom). Originally from Liberia West Africa which is a very common name there and in other countries as well. I moved to the U.S. in 2005 along with my Mom and Two Brothers due to civil unrest for an opportunity for a more stable and safer life.
I have a huge passion for fashion; I've been playing dress-up for as long as I can remember and I just never stopped. I'm a major foodie as well so you can always count on yummy food posts at least once or more a week on my stories. Some hobbies I enjoy are hiking (especially those amazing evening sunset hikes) dancing, brunching, cooking, and adventuring.