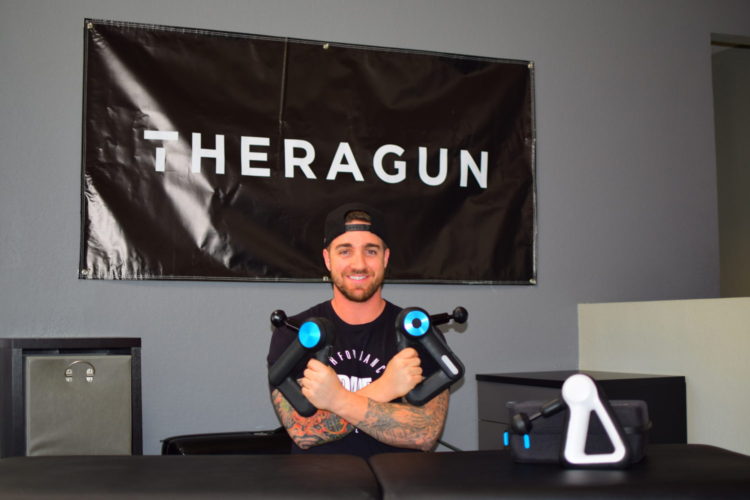 Name: Dylan Estfan
Age: 30
Title: Personal Trainer/Theragun Specialist
Married/Single: single
Kids: none
City you live in: Tempe, AZ
A typical day in my life includes…
waking up at 5am and starting my day with all my amazing clients. I train 30-40 clients a day along with fixing up every client I see with my Theragun. A day is not complete without every one of my clients getting their Theragun treatment. I end every night with watching whatever sporting event is on that day!
I was born…
in Phoenix, AZ.
My favorite thing about Arizona…
the weather! Yes, it can be very hot, but I will take the heat over treacherous snow any day. I also love how Arizona is an easy four-hour drive to the ocean as well as a ski resort.
I'm listening to…
a lot of sports podcasts and a lot of Drake radio!
My family…
consists of me and my momma! It was just her and I my whole life growing up.
If I could have dinner with anyone, it would be…
the MoveU team.
One thing I cannot live without…
my Theragun! I can't workout, golf, travel, or do a lot of things in life without using my Theragun first.
When I was younger, I wanted to be…
a pro basketball player, but then I stopped growing at 5'10.
I'm inspired by…
Dr. Jason Wersland. Learning about his life and his story that drove him to create the Theragun inspires me to want to help every single person I come in contact with in some way.
The one person who motivates me is…
my grandfather. Although he is no longer with us, he motivates me every single day and has helped me become the man I am today.
If I could change anything in the world, it would be…
how addicted people are to social media. I wish we could all just take a breath and realize that not everything we see on social media is real life!
The perfect day would be…
waking up in a beach front house, getting a good workout in, playing a round of golf, sitting on the porch watching a good football game with the ocean waves right in front of me.
My first job was…
working outside on houses every summer in the 110 degree heat.
My favorite escape…
not leaving my Man Cave (my garage) all day on a college football Saturday, watching 3 games at a time.
My life…
defines what life really is. I grew up with the most amazing family ever, not a worry in the world. As I got older real life hit, and it hit me pretty hard. There were a lot of ups and downs just like a lot of people in this world but I try to stay as positive as I can throughout this process. Life is short, we only get one of them so when times get tough we have to keep pushing, stay positive, and love the life you were given.
I'm currently working on…
a few different partnerships with my current gym. I am also working on a few different online programs, ranging from workout programs, movement specialized programs, soft tissue recovery programs, and a variety of nutritional programs.
Always…
be optimistic! Life is too short, never settle.
Never…
say never. There is so much opportunity in this world, GO GET IT!
Favorite Quote…
"You miss 100% of the shots you don't take."
Biggest Dream…
I'd love to one day own multiple health and wellness facilities that can offer everything under one roof. I'd love to own a place that offers personal training, muscle recovery, nutritional counseling, and much more. Your one stop shop for all health and wellness needs!
My Pet Peeve(s)…
driving too slow in the "fast" lane!