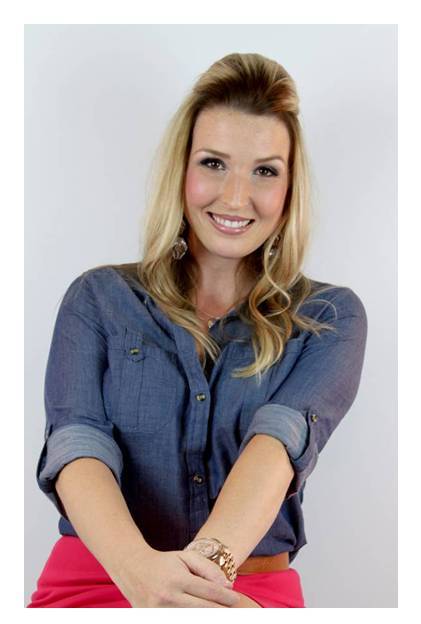 Meet Kristen as she tells us about herself.
Little ole me… well, I am really kind of a freak and I'm totally OK with it. The fact that I am totally OK with being a freak should tell you what a freak I am! I am really creative, but don't think I realized my creative potential until I was well into my left brained business career. I have been lucky enough to live a little, OK a lot in my short 29 years, and have been blessed to have all of those mistakes lead me to my true love, my husband Vince and now to our daughter, almost 2 year old, Harper Rose. I am obsessed with anything having to do with home decor or interiors, always been a fashion junkie- like order Italian Vogue although I couldn't tell you a word in there other than "Ciao", Trader Joes, my daughter's sporadic hair and nail polish. Oh and junk. I love junk. I really began my career in design/styling about 5 years ago and pride myself on being original, innovative and far from ordinary! Read how she finished these 20 sentences.
Name: Kristen Karen Forgione- used to be KK, now KF to most people!
Age: 29
Title: Founder & Stylist, THE LifeStyled COMPANY
Married/Single: very happily married
Kids: One daughter, Harper Rose- with hopefully more little kid shaped blessings in the future
Live: Cave Creek
I was born…
In San Diego, California! Never moved back but have lived in Los Angeles and Laguna Beach!
My favorite thing about Arizona…
The endless list of things to do! You can find an art fair down the street, or be in Mexico in 4 hours! It's the perfect place for baseball, garage-sailing, boating, bike riding, yoga and shopping!
I'm listening to…
Lady Antebellum! COUNTRY BABY! And I am a closet Usher freak.
My family…
is numero Uno. We are lucky to be just a few minutes away from my folks and are also lucky to have my husband's back east camp to visit! Hello New Jersey!
If I could have dinner with anyone, it would be…
at one huge table with all of my friends and family. Like a get together wedding style but for no apparent reason. The food is amazing and when you are finished, the dishes clean themselves and then make it from the dishwasher back to the cabinet!
One thing I cannot live without…
styling! I dream about it and wake thinking about it!
When I was younger, I wanted to be…
a teacher. I still think part of me is really "teacher". I love to teach "style"!
I'm inspired by…
momprenuers! Woman who are their husband's tryst, their children's heart and their own boss! I'm just getting into this sacred club and am honored to be in such inspiring company!
The one person who motivates me is…
I'm cheesy but my Mom. She is an amazing woman. She has been happily married for 30 years, raised me (freak and all), and had a career. A big time Executive career. She always smiles, always wakes up happy and always gives the best advice. She really is my inspiration. She listens even when it is tough and realizes that I am a different person than she thought I would be, and praises and encourages me to be who I am, not who she thinks I should be.
If I could change anything in the world, it would be…
anything harming children!
The perfect day would be…
waking up to my favorite coffee, HGTV in bed with my hubby and daughter, an at home blow out and a day full of food, drink, smiling photos and fun! This could really be at home in our backyard, or out on the town!
My first job was…
at a dry cleaner. The dry cleaner later hired my best friend; we ruled that place
My favorite escape…
MAUI!
My life…
is more blessed and fulfilling than I ever could have imagined I would be deserving of.
I'm currently working on…
launching our SHOP at THE LifeStyled COMPANY! We will have a bunch of gaga home décor items and LCo originals like the "Anti-Bed in a Bag" and more!
Always…
thank your lucky stars, or God or Krishna or whoever for what you have; It could all be taken away in a heartbeat
Never…
ignore your authentic self. Be who you are. And embrace that "who" with or without make-up on!
Favorite Quote…
"Look like a girl, act like a lady, think like a man and work like a boss!" Or, for my daughter, "You is kind, you is smart, you is IMPORTANT!
Biggest Dream…
to be able to make a comfortable living after building my dream, THE LifeStyled COMPANY and being able to have the flexibility to be the support my husband and family need, be the inspiration to my children that my mother is to me and to look absolutely stunning, in my own way, doing it all. It can happen.
My Pet Peeve(s)…
passive aggression. Enough said.