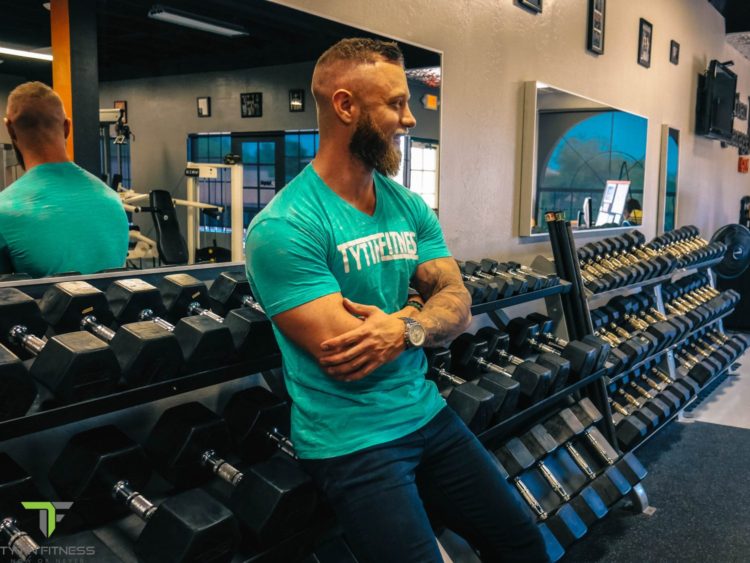 Name: Ty Mealey
Age: 25
Title: Fitness Entrepreneur, Owner of Tytin Fitness LLC, Men's Physique Competitor
Married/Single: Spending forever eating donuts and lifting with my better half, Monique!
Kids: 1 crazy cat and 1 ferocious shih-tzu
City you live in: Chandler
A typical day in my life includes…
Waking up around 6am to touch base with my international clients that are 7 to 11 hours ahead of our timezone. This is promptly followed by chasing my Shih-tzu around for about 15 minutes, which accounts for my morning cardio. I then devour half a box of cinnamon toast crunch and a carton of liquid egg whites for breakfast. After gathering up my meals and clientele training programs for the day, I head to the studio around 9am to check in with in-person clients and start personal training for the day. I work from about 9am to noon, workout myself and run errands from noon until about 2pm, and then finish of the day with demonstrating the proper form for lifting stuff up and putting it down until about 9pm!
I was born…
at Tempe St. Lukes at a whopping 4lbs and 6oz and was 6 weeks early! Since I was premature, I actually was born with esophageal atresia, where my esophagus was not fully formed and was not connected to my lungs. Having this invasive of a surgery as a premie was very dangerous. I am blessed to be alive and feel fortunate each and every day that I am able to pursue my passion.
My favorite thing(s) about Arizona…
are Bosa Donuts, Hurts Donuts, In n out burger, and the fact that I can wear tank tops all year long!
I'm listening to…
random stations on Pandora and YouTube depending on my and my client's preferences and moods. If I'm not listening to music, I'm spending my time listening to podcasts and other informational broadcasts to expand my knowledge.
My family…
Taught me that anything is achievable through hard work!
If I could have dinner with anyone, it would be…
with entrepreneur and four-time New York Times bestselling author, Gary Vaynerchuk.
One thing I cannot live without…
is my gas guzzling, Twin turbo Camaro, "Tytin," that gets me from point A to B wayyyy to fast! I contribute my need for speed to Paul Walker and all 47 Fast the Furious movies! haha
When I was younger, I wanted to be…
a doctor or something in the medical field that could help people. This was my ongoing dream until I was 18 and had to handle the cadavers in the Pre-Med/Exercise Science program at ASU. At first, moving and touching the cadavers and their muscles did not bother me. Once I made it back to my dorm room and I could still smell the formaldehyde on my clothing, it started to set in that I was not cut out for this field of work because of the overwhelming sensation of nausea it caused me. I soon changed my major, which is why I graduated with a Bachelor's degree in International Business and Economics instead!
I'm inspired by…
My girlfriend and business partner, Monique Machiz. On July 31st, 2015, while sitting in a Tokyo Joe's restaurant, contemplating what I wanted to do with my future, I asked her whether I should take a job I was offered at a prestigious Financial Advising institution, or take the huge financial risk and pour my money market account into building my own small business in personal training. One option was secure and safe, while the other was risky with no promise of future return. Personal training had always been a hobby of mine, but fitness was my true passion since it is something that I, myself, embrace and emulate in my daily life as a fitness competitor. Monique believed in me and expressed that I could be successful, even though I had my doubts. Because of her motivation and kick in the butt, I decided to pursue my passion and live out my dream of being a full-time personal trainer and business owner.
That is the number of client's lives that Tytin Fitness has touched since that day in 2015.
The one person who motivates me is…
it honestly isn't just one person. All of my clients motivate me as they each put forth great effort day in and day out, no matter how hard the task may be.
If I could change anything in the world, it would be…
That everyone would get to experience a fresh glazed donut!
The perfect day would be…
Waking up around 9am and getting a good breakfast of biscuits, gravy and protein pancakes from US Egg! I then would follow this up with watching some Shameless or Flash on Netflix with Monique, while the 5lbs of food I consumed for breakfast digests. After a power nap, I would hit the gym with my swolmate to put those calories to use. After the gym, we would probably end up at a sushi restaurant with a dozen rolls in front of us. Once we've consumed the whole menu, we would probably end up right back at home watching more of our favorite shows.
My first job was…
working customer service at a dry cleaners in Ahwatukee.
My favorite escape…
is the beach in Rocky Pointe, Mexico, with all the tacos, chips and salsa I can eat!
My life…
is a never ending loop of eating food, responding to texts/emails from clients, lifting stuff up and putting it down, petting animals, and sleeping!
I'm currently working on…
2 new business ventures! One within the fitness industry and one in the automotive industry, which is also a major passion of mine!
Always…
leave a situation better than when you entered it. Hold a door for the person behind you. Eat a good breakfast.
Never…
hold a grudge. Let anyone down. Take anything for granted.
Favorite Quote…
"The only thing standing between you and your goal is the b******* story you keep telling yourself as to why you can't achieve it." -Jordan Belfort
Biggest Dream…
would be to create a calorie free donut and pizza! My abs would thank me for it!
My Pet Peeve(s)…
people who blow their noses at the table while eating. People who do not rerack their weights. Driving a black car in a state that has haboobs. Slow drivers in the HOV lane.
More about Ty…
I started my journey with fitness in 2002 at the age of 10.   My mother, who is a lifelong gym goer, felt that she would rather have me in the gym and working out with her instead of having me sitting at home and playing video games like other kids my age did back then. I started out slowly by focusing on learning how to use the most basic machines properly and understanding the dynamics of a gym.  I was amazed by this place where people came to stay in shape, get strong and be healthy.  I spent a few years teaching myself how to work out and pay attention to form by looking at the big guys at my mother's gym and copying what they did.  With more knowledge than most kids my age I began my journey with bodybuilding by my freshman year of high school.  I was 14 years old measuring 5' 10 and weighing in at a whopping 125lbs, I was a small guy with dreams of getting big.  I picked up my first muscle and fitness magazine and seeing guys like Jay Cutler and Ronnie Coleman and seeing their size and strength motivated me to pursue my own goals.  Trying to emulate what I saw in the pages of those muscle magazines, I saved all my money and bought into all of the weight gainers, multivitamins, and of course pre-workout powders I could get my hands on! I hit the gym every day and took my supplements and managed to gain about 10 lbs in two months but was still nowhere close to those guys. My senior year of high school was when I first decided I wanted to compete. I was still only about 145lbs soaking wet so I knew bodybuilding in the near future was still out of the question but I still made it a goal for me.  In 2010 the new category of Men's Physique hit the competition stage and I was so excited because this was a good place for me to start. The guys in Men's Physique had the look I wanted and could shoot for! Soon after I started my freshman year at Arizona State University and added Exercise and Wellness to my Business degree to learn more about the human body.  Through my exercise and wellness courses, I learned all about the human body, how the muscular system contracts and works and how vital the central nervous system is for muscular growth and development. Trying to add size I went full bore in the bulk concept because I wanted to grow and be MASSIVE even though I was trying to compete in Men's Physique.  I ate burgers, fries, pizza, ice cream, nachos, etc. The end result was about a 20lbs gain in two months but mainly in my midsection. I added size but did it wrong.  I had to reset.  I reached out to a close family friend who was a competitive body builder to seek guidance in preparation for my first competition which was summer of 2012.  Finally, with the knowledge provided by my own experiences at the gym, my education and the guidance of several people, I got my act right and was able to put in all the components together to get me competition ready.  My first competition was the NPC Arizona Open where I placed too 10.  It was such an amazing feeling and it catapulted a drive in me to achieve more and continue on my fitness path.  Since then, I have competed at multiple Arizona regional competitions and most recently the Dennis James Classic.  Throughout my fitness journey, friends, co-workers and colleagues started noticing the changes I was making and this prompted some of them to come to me for tips, guidance and ultimately training.  By now, I was done with my degree in Business Economics and was working a full time Job as Member Solutions Representative at Desert Schools Federal Credit Union.   I began training a few friends on the side just to keep myself in the fitness world.  I realized shortly that becoming a trainer and helping people achieve their fitness goals was something I could do and I could do it successfully.  As more people came to me for training, word of mouth kept bringing me new contacts that were now becoming paying clients.  I left my 9-5 to pursue training as a full-time job.  Tytin Fitness was born in early summer of 2016 and I haven't looked back.  Fast forward to today and I have been operating as a full time personal trainer, fitness and nutrition coach and competition coach.  I have a high roster of private training clients and a handful of competing athletes that have won and placed high in their respective categories.  Never did I expect at 10 years old when I first walked into that gym that I would one day own my own fitness studio and that people would come to me to help them become the best version of themselves.  I am lucky and grateful that being taken to the gym at such an early age and becoming knowledgeable about fitness and training so early on now allows me to do what I love.  Gains all around.