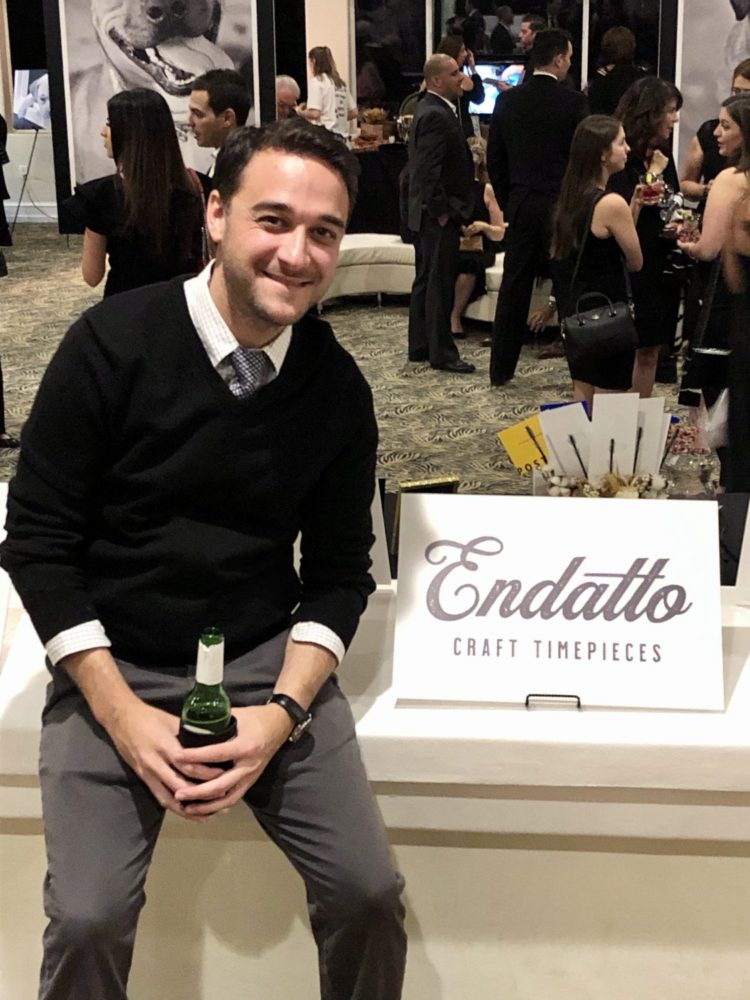 Name: Ted Verderame
Facebook: Endatto
Instagram: @endattousa
Website: endatto.com
Age: 33
Title: Founder/Owner of Endatto Craft Timepieces
Married/Single: Single
Kids: None
City you live in: Phoenix
A typical day in my life includes… Everything it entails to run a business! Social media, website maintenance, packaging and shipping, a ton of reading. If there is a Diamondbacks or Liverpool game, you can bet I'm watching that as well.
I was born… in Phoenix, Arizona on February 21, 1987.
My favorite thing about Arizona… the state-wide scenery and the winters
I'm listening to… anything from the 60s, 70s, or 80s.
My family…is active around the Valley! My father founded his law firm in town years ago, and my brother is an attorney at the firm now. My mother is very involved with PCH, and my sister is an entrepreneur as well, with her own Pilates business in Arcadia while also playing a big role in working with Almost There Rescue.
If I could have dinner with anyone, it would be…Bill Gate.
One thing I cannot live without…This answer was probably a bit different pre-pandemic! But the thing I have with me most is my reusable water bottle.
When I was younger, I wanted to be…a helicopter pilot.
I'm inspired by…entrepreneurs. Now that I've become one myself, I know how difficult it is to start your own business.
The one person who motivates me is…myself. If you can't convince yourself that something is worth doing, no one else is going to be able too.
If I could change anything in the world, it would be…get rid of Daylight Saving Time. I applaud Arizona's non-conformity, but I hate spending half the year on Pacific time and half on Mountain time. Also, simply deciding that it's all of a sudden a different time twice a year doesn't really make sense to someone who operates a watch company.
The perfect day would be…spend the morning watching European soccer, get outside for a bit (preferably in a pool), read and nap in the afternoon before dinner and drinks at a local spot.
My first job was…working the baked goods table at Vincent's Farmers Market when I was 13.
My favorite escape…a good book.
My life…is like a box of chocolates.
I'm currently working on…growing Endatto!
Always…treat others as you would like to be treated.
Never…leave the house without a watch.
Favorite Quote…"You may delay, but time will not." – Benjamin Franklin
Biggest Dream…to be able to afford a second home, in Europe.
My Pet Peeve(s)…an unorganized or inefficiently loaded dishwasher!
More About Ted Verderame:
I'm Ted Verderame and I was born and raised in Phoenix, AZ. After graduating from Arcadia High School I received my degree in Business Management from the University of Denver. I'm a big sports fan, cheering on all the local teams as well as Liverpool Football Club. I love traveling and have lived in Denver, Washington DC, and Chicago, in addition to a couple of short stints in Europe. I read non-fiction non-stop and spend as much downtime as possible with my friends and family (socially distanced at the moment, of course!).
The first decade of my career was spent in the management consulting industry, where I helped start and fix businesses of all shapes and sizes. I worked on projects as large as government contracts and as small as mom and pop shops. However, I've known for a long time that I wanted to run my own business, so in the spring of 2019, I founded Endatto right here in Phoenix. Endatto is an independent brand selling attainable, Swiss-made timepieces. We pride ourselves on versatile watches featuring unique, eye-catching designs. Despite the hurdles of the pandemic, we were able to officially launch on June 17, 2020 and began fulfillment shortly thereafter.