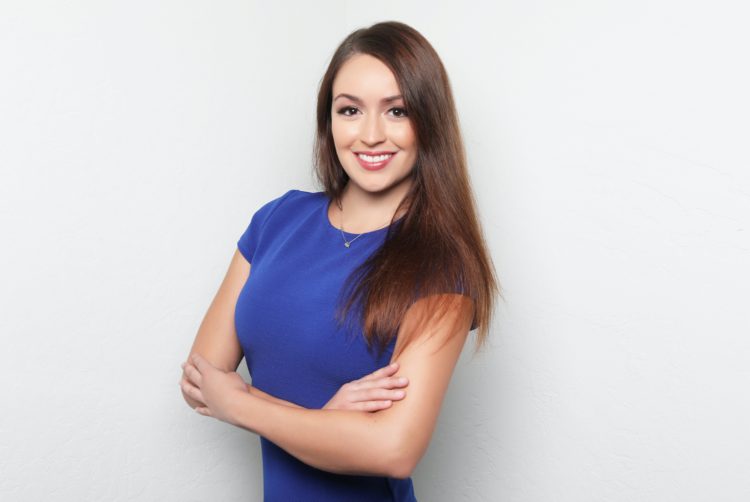 Name: Rebecca Sweeney / TheMaskHeadband™
Facebook: TheMaskHeadband
Instagram: @thebexxter / @TheMaskHeadband
Website: www.TheMaskHeadband.com
Age: 27
Title: Founder & CEO
Married/Single: Single
Kids: Just my sweet little fur baby!
City you live in: Old Town Scottsdale
A typical day in my life includes… Waking up at 6 am to workout, followed by reading and a short meditation, then it's off to work! After a day of work at my main job, I head home to continue working on my own business (TheMaskHeadband!) Somehow; I manage to fit a quick dinner and a nice walk with my dog in before its finally time to head off to do my skincare routine and go to bed. Ahh, the luxury of being single with no kids, haha.
I was born… among the beautiful horse farms and rolling bluegrass hills of Kentucky!
My favorite thing about Arizona… The heat! No kidding… I am not made for cold weather.
I'm listening to… children laughing and playing out in the neighborhood.
My family… is the most important thing to me – my three younger siblings and I are especially very close. Growing up in a military family, we moved a lot, so our closest friends were often each other. We've maintained a very tight-knit relationship into adulthood, and always serve as an immense source of support for each other.
If I could have dinner with anyone, it would be… my future self, whom I would interview extensively on life decisions and how to get the most out of my life's journey.
One thing I cannot live without… my puppers.
When I was younger, I wanted to be… A neurosurgeon and a mother… what can I say, I was very ambitious as a child… and still am!
I'm inspired by… The human capacity to give selflessly towards others.
The one person who motivates me is… my mother! Her focus on self-improvement, growth, and education is admirable, but her strength and courage are what inspire me most. At 20 years old, she moved to the States all by herself, not knowing English and leaving her family behind in France, all to pursue (and achieve!) her dream of becoming a PA. Her work ethic and tenacity to achieve her goals is what motivates me to never give up on mine.
If I could change anything in the world, it would be… to create more light and laughter in the world.
The perfect day would be… spending time with loved ones outdoors.
My first job was… a waitress at a small, family owned Italian Restaurant in Mclean, VA. Shout out to Rocco's! I have yet to find any Italian food that compares to their generations-old family recipes.
My favorite escape… Adventuring through woods and white waters!
My life… is a constant opportunity for learning and growth.
I'm currently working on… myself, as I always will be.
Always… coffee.
Never… Stop moving forward.
Favorite Quote… "Perfection is not attainable, but if we chase perfection we can catch excellence." -Vince Lombardi
Biggest Dream… To own my own business and be financially free.
My Pet Peeve(s)… pettiness, dishonesty, and poor table manners.
More about Rebecca Sweeney:
I began this company to support my baby sister who recently began her nursing career. She had expressed to me that wearing masks all day was causing the back of her ears to become raw and sore. She told me that the only other solution was a mask that tied around the back of her head instead of around the ears, however, her hair would constantly get caught in ties so it wasn't much of a solution.
I began producing headbands for her and her colleagues, as well as donating hundreds to my local hospitals. The demand became so high due to the pandemic that I had to find a way to make them more available to the general population, so I created TheMaskHeadband!
My hope is to make the mask-wearing a little more comfortable for everyone, especially those who have to wear their masks all day. I love to celebrate individuality as well, so I have modeled my business in a way that people can design their own headbands to match their outfits, their school or business colors, or to just simply express their personality!
I also offer wholesale and branding options for those who want to supply these headbands to their employees, teams, or classrooms.