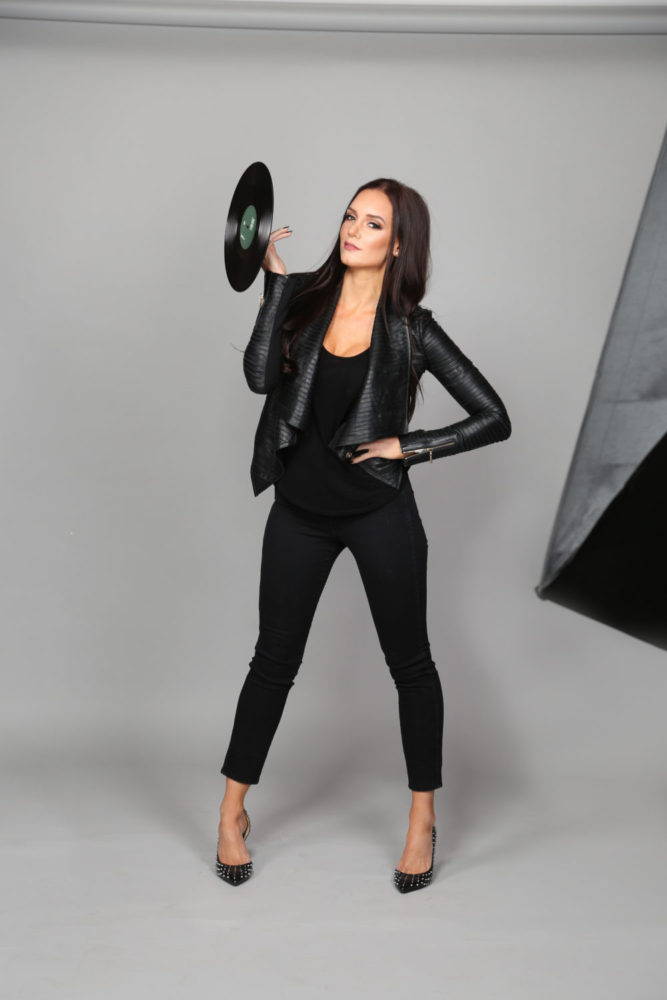 Name: Yvonne Matejka
Twitter: Not a fan
Facebook: YvonneMatejka & YvonneBlack
Instagram: @TheYvonneRE @YvonneBlackDJ
Website: www.YvonneMatejka.com & www.YvonneBlack.com
Age: 37
Title: Realtor – DJ
Married/Single: In a serious relationship with real estate
Kids: Fur baby – Disko
City you live in: Scottsdale
A typical day in my life includes… pilates, coffee, searching for opportunities/driving neighborhoods, and random music sessions in my home studio. And of course lots of walks with Disko.
I was born… in Ontario, Canada.
My favorite thing about Arizona… golf!
I'm listening to… House music all night long with a sprinkle of 90's Hip Hop & Alternative. 
My family… is amazing! I couldn't have asked for a better support system. 
If I could have dinner with anyone, it would be… Grant Cardone.
One thing I cannot live without… Starbucks.
When I was younger, I wanted to be… Fashion Designer. In my early 20's I graduated from FIDM in Los Angeles and started my own swimwear/clothing line.
I'm inspired by… Philanthropy. I miss doing my monthly fundraisers, but helping my clients and friends fills this void.
The people who motivate me are… my parents. They came to this country from the Czech Republic with nothing and built a beautiful life. 
If I could change anything in the world, it would be… to rewind before COVID and prevent it from ever happening. I am truly saddened by how this virus and the pandemic overall has affected lives. A sincere thought to anyone who has had to confront this, especially those who were forced to grieve. 
The perfect day would be… turning my phone off and falling asleep on a private beach.
My first job was… slingin' shoes at Lady Footlocker. 
My favorite escape… is DJing. You can hear my original music on iTunes, Spotify, and BeatPort.com (with mixes available at YvonneBlack.com). I'm a resident at a few of Scottsdale's finest establishments, 16 years in the business and still loving it. Big shout-out to Dakota West Recordings in Los Angeles!
I'm currently working on… top secret stuff, stay tuned! 
Never… give up!
Favorite Quote… "Keep your heels, head & standards high." – Coco Chanel
My Pet Peeve(s)… People who eat with their mouth open and slow drivers.
More About Yvonne Matjeka:
Yvonne Matejka is a savvy and experienced negotiator, Top 1% Individual Volume in Maricopa County, 2020 Rising Star – The Agency RE, two-time nominee Rookie of the Year in Arizona Business Journal, 40 under 40 SAAR, Humanitarian of the Year Award 2019, and has served on the Board of Women's Council of Realtors for two years and counting. A trusted adviser throughout every step of a real estate transaction, Yvonne is dedicated to helping her clients achieve their goals with patience, diligence, and discretion.
When she's not serving her clients in real estate, Yvonne enjoys spending time producing music, Djing, golfing, hiking with her dog, traveling, and hosting fundraisers. She organizes monthly charity events benefiting various local non-profits and devotes her time and resources to Foothills Animal Rescue, Habitat for Humanity, and Women's Council of Realtors, to name a few. She is fluent in Czech and a member of Scottsdale Leadership Class XXXIV.