Photos by: Jennica Maes from Amaes Photography
Name: Alex Molleo
Facebook: Alex Molleo
Instagram: @alexmolleo
Website: www.alexmolleo.com
Title: Luxury Home Specialist at The Brokery
City you live in: Phoenix, Arcadia
Occupation: Realtor
A typical day in my life includes… Waking up to a smack in the face from my son yelling "DADA"..no need for an alarm clock. Iron my clothes, I really like to iron. Once I'm dressed, I kiss my son and I'm out the door.

My journey starts with a pit stop at the Brokery office in Arcadia, I take this time to do market research, touch base with my colleagues, and bounce questions off of the big guns. From there I'm prospecting, meeting with clients and smashing through my to-do list. By late afternoon..depending on the day I'm either coaching soccer, cruisin' Arcadia with the family in a golf cart or cooking up a mean Carbonara. For my wind down, you'll hear a cork pop on a bold red Italian.
My favorite thing about Arizona real estate is… the current pace. With Phoenix Metro being a top 3 destination, the competition is stiff but the speed and efficiency in which agents perform is a beautiful sight.
I'm listening to… J. Cole, Kendrick, Nightmares on Wax and 98.7 to get my sports fix while I'm driving, among countless others.
If I could have dinner with anyone, it would be…Tom Brady…I mean, he's the GOAT.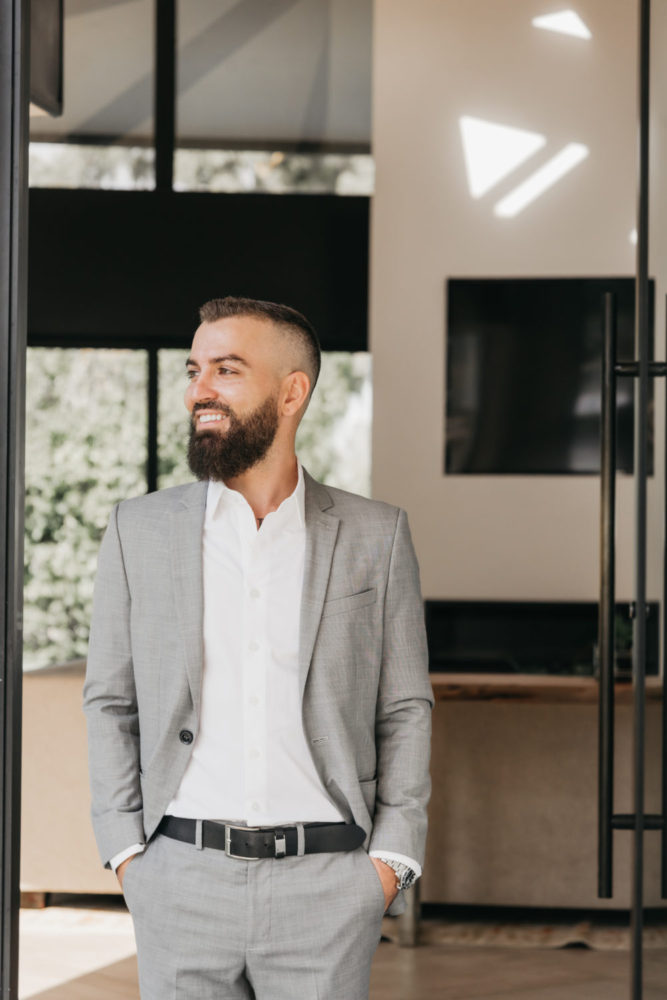 One thing I cannot live without…my tailor…shoutout to Phil Zizzo in Arcadia. To quote the great Deion Sanders "If you look good, you feel good, If you feel good, you play good, if you play good, they pay good."
When I was younger, I wanted to be…an athlete turned sports agent. (Jerry Maguire got me hooked)
I'm inspired by… many. Family, friends, colleagues and strangers. It's not often I don't have a takeaway from a face to face or a conversation. Hopefully it's the same for them.
The one person who motivates me is…my wife and kids. When I kiss them on my way out, it sends me on a mission.
I'm currently working on…investment opportunities. Although real estate is my passion, I'm focused on exploring more opportunities when it comes to investing. I recently finalized a restaurant partnership close to my hometown in Massachusetts. It's a beautiful spot right on the water in Salem. Stay tuned!
My current listings are… soon to be sold. I'm fortunate to represent two amazing properties going live next week. One for $5 million and the other for $500k…come to take a look before they're gone!
Always…let your wine breathe.
Never… let your pride get in the way of a good pedicure. Listen men, don't skip the paraffin wax, trust me.
Favorite Quote…"A man that has no imagination has no wings" -Muhammad Ali
Biggest Dream…to travel the world with the whole fam without the concept of time……..oh also a vineyard in the Campagna region of Italy. That'll do it. 
More About Alex Molleo:
Alex Molleo is a 34-year-old father of four who lives in Arcadia and is originally from New Bedford, MA. He is a Realtor, investor, sports coach, and mentor. In his spare time, you can find him traveling, inhaling sports, and acting like Gordon Ramsay in the kitchen. Alex works at The Brokery in Arcadia and his most recent endeavor is a new restaurant concept coming soon to Salem, MA.