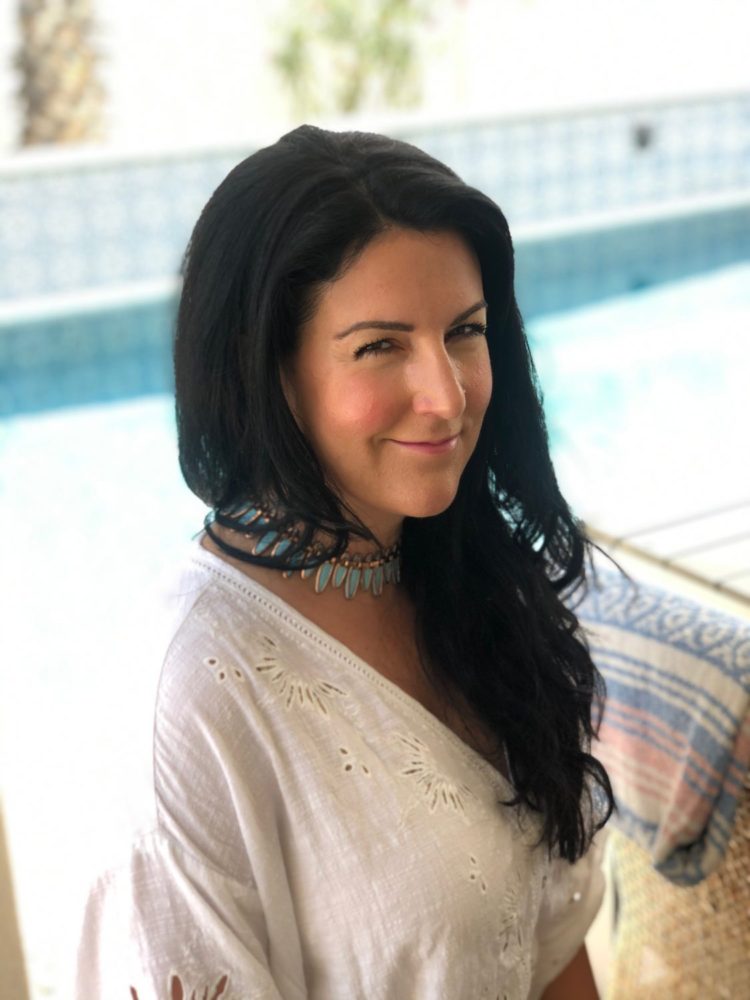 Married/Single: Married
Kids: 0
City you live in: Scottsdale
A typical day in my life includes… I wake up at 6:00 (coffee, write down my dreams, journal, and write down what I am grateful for) Prepare for the day, pamper beautiful people at Aloe Beauty, head home, workout, and make dinner (I LOVE to cook). Relax with my husband for the rest of the evening.
I was born… in Columbus, Ohio.
My favorite thing about Arizona… the weather and all the amazing things you can see and do outside.
I'm listening to… silence, I love to sit in silence. When not sitting in silence I love to listen to EDM.
My family… I am married to my wonderful husband, Cameron. We have two amazing dogs, Frank and Hugo (both are rescue dogs).
If I could have dinner with anyone, it would be… Oprah
One thing I cannot live without… a toothbrush.
When I was younger, I wanted to be… a combination of a rockstar with neon pink hair (i.e. Jem and the Holograms) AND an astronaut. And I totally thought this was possible.
I'm inspired by… Louise Hay – all the odds were against her and she not only turned her life around, but she has inspired millions to do the same. I love people that rise from nothing and make the world a better place.
The one person who motivates me is… Tony Robbins.
If I could change anything in the world, it would be… For everyone to come from a place of love, it would be the most powerful and positive thing we could do for humankind.
The perfect day would be… very simple, a long walk with my dogs on the canal, relax by the pool, and a dinner date with my husband (we love trying all the new restaurants in town)
My first job was… working on a horse farm cleaning horse stalls. I made $4 an hour and I thought it was the best job ever.
My favorite escape… anywhere in the Caribbean but especially Tulum.
My life…. Life is truly what you make it. It took me a while to figure that part out, but once I did my life has been magical.
I'm currently working on… creating my own skincare line.
Always… be respectful
Never… break a promise.
Favorite Quote… "Do one thing every day that scares you." Eleanor Roosevelt
Biggest Dream… To protect all animals!
My Pet Peeve(s)… waiting in line, it seems so uncivilized.
More about Kelly Lavelle:
Kelly Lavelle, a former sales executive, who has always been passionate about skincare got the idea of "Aloe Beauty" when she discovered her acne-prone skin responded well to a more gentle and effective Korean beauty skincare regimen. She was so thrilled with her findings that she wanted to help others achieve healthy, glowing, bouncy skin as well!
Her passion has always been at the forefront of her lifestyle. Kelly Lavelle has been a licensed aesthetician for 17 years. She has worked in a clinical skincare day spa and was a trainer/educator for an international natural skincare company. She took a temporary hiatus to pursue a career in corporate America and couldn't be more ecstatic to be back in the world of beauty to fulfill her dream of helping people achieve fabulous skin.
Beyond finding Kelly working diligently to make your skin glow, you can catch her walking her dogs, attending a hot yoga class, or hiking Camelback Mountain.