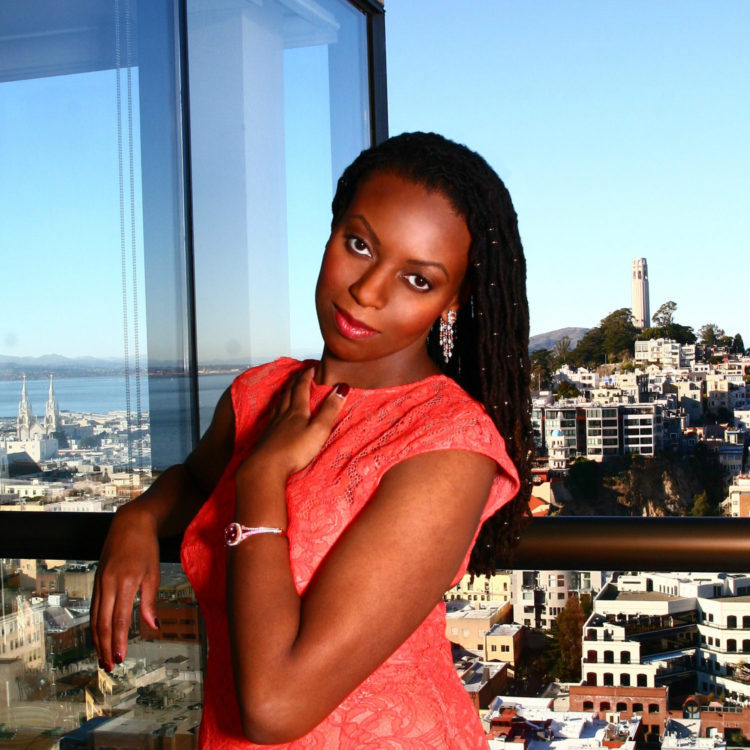 Name: Alexia Connellan
Facebook: https://www.facebook.com/alexiaconnellanjewelry/
Instagram: https://www.instagram.com/alexiaconnellan/ handle: @alexiaconnellan
Website: https://www.alexiaconnellan.com
Age: 37
Title: Fine Jewelry Designer
Married/Single: Happily married to the most charming Irishman alive!
Kids: One adorable and mischievous 4-year-old boy.
City you live in: Princeton, NJ, about an hour from New York City.
A typical day in my life includes… : Singing superhero theme songs with my son, talking about old films with my husband, reading books to inspire my designs, and investigating new gem discoveries. Purplish pink diaspore gems recently found in Afghanistan currently have my attention!
I was born… : In Jamaica, West Indies.
My favorite thing about Arizona… I adore all the gemstones that can be mined in Arizona, like turquoise, amethyst and topaz. And I love attending the Tucson Gem and Mineral Show. It is heaven on Earth for a gem lover!
I'm listening to… 90's pop hits because they make me laugh, and we all need more laughter right now! I also have reggae classics by Marcia Griffiths, Desmond Dekker and John Holt on constant repeat because classics never go out of style.
My family… means the world to me. I am thinking of them first thing in the morning, and last thing at night.
If I could have dinner with anyone, it would be… Elizabeth Taylor. I read her book, "My Love Affair with Jewelry" and I know we would be kindred spirits!
One thing I cannot live without… My Pentel .3mm mechanical drafting pencil, in bright yellow. It's the only pencil I sketch with.
When I was younger, I wanted to be… an artist or a scientist. Luckily as a jewelry designer I'm a bit of both!
I'm inspired by… Nature, architecture, history, and beautiful places and experiences.
The one person who motivates me is… my son. I want to leave the world a better place for him to inherit.
If I could change anything in the world, it would be… I would end the pandemic. It has had so many negative far reaching effects from lost jobs to lost dreams and lost lives. I'd like to the see the world rebuild and dream a brighter and happier future now instead of later.
The perfect day would be… My husband and I taking our son to Disneyworld. My little boy loves Mickey Mouse and many Disney characters. His excitement and joy would make me so happy! I could not imagine a more perfect day than one that made my son smile.
My first job was… Making frames and selling art at a custom framing store when I was a teenager. I could differentiate between the 100 different shades of white matboards in the framing catalog. The owner hired me on the spot!
My favorite escape… Reading beautiful and large jewelry book. I recently tracked down an out of print copy of a book on Suzanne Belperron. I did a little happy dance when it was finally shipped to me!
My life… Is always evolving. I'm never bored or listless.
I'm currently working on… Bigger and bolder pieces of jewelry. I'm incorporating more sculptural elements and carved stones with rare gems in my next collection. I'm challenging myself both intellectually and artistically.
Always… be learning something new! Push yourself! I have been learning Japanese during pandemic and it has been mind-bending and tongue-twisting fun!
Never… be unwilling to change or try something new. With a few tweaks, the best of everything could be right around the corner! I'm wearing bold colors and complex patterns to help lift my mood. It's new and just the jolt of excitement I need in my life right now.
Favorite Quote… "Imperfection is beauty, madness is genius and it's better to be absolutely ridiculous than absolutely boring." – Marilyn Monroe
Biggest Dream… Having a Metropolitan Museum of Art retrospective of my jewelry design while I am still alive!
My Pet Peeve(s)… People who rub my engagement ring and leave lots of grimy fingerprints behind. Look but don't touch!
More About Alexia Connellan:
Alexia Connellan is an award-winning fine jewelry designer specializing in one-of-a-kind inspired jewels using rare gemstones. She is also a classically trained artist, gemologist, and gem collector. Connellan draws each design by hand and chooses the best gem for the design from her extensive gem collection. She employs an ethical and sustainable ethos in gem sourcing, metal usage, and jewelry manufacturing. Everything that Alexia Connellan produces is infused with love, joy, and beauty from beginning to end!