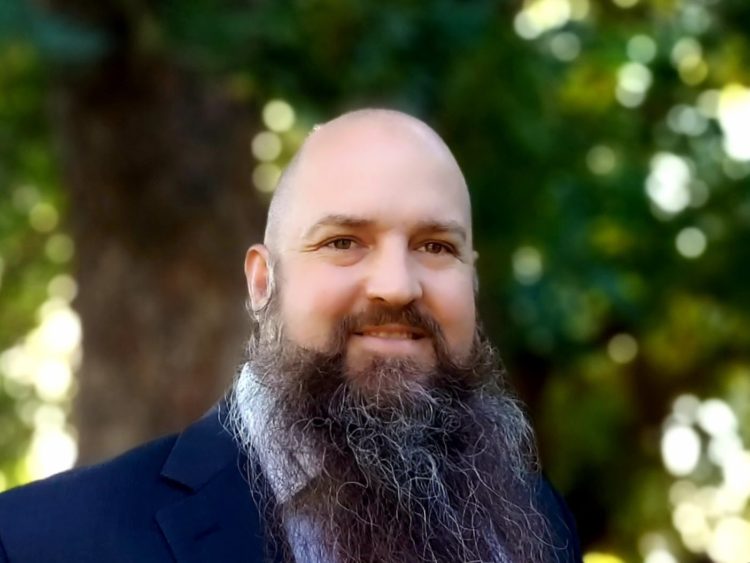 Name: Ben Smith
Twitter: https://twitter.com/GnosisIq
Facebook: https://www.facebook.com/GnosisIQ/
Website: https://gnosisiq.com/
Age: 41
Title: CEO, Founder
Married/Single: Married
Kids: 3 – Chloe (18), Cadence (13), and Broderick (11)
City you live in: Mesa
A typical day in my life includes…
I wake up around 7 a.m. and try to start every morning by spending a few minutes talking with my wife and kids about their plans and goals for the day and try to support them through anything they're struggling with. From there, it's straight into my home office to review any new emails and scan academic data and trends from Gnosis IQ and public data sources. I then follow up on emails, host demos and meetings, and occasionally take a lunch. Regardless of what I am working on, I stop what I'm doing to pick my kids up after school and either take them to their sports practices or get them started on their homework.
Then, it's back into my office to continue with emails and meetings until about 6pm when I take a break to cook my family dinner. After dinner, I head back into my office and shift gears to work on research related to my PhD. The amount of time I spend on my research will depend on how much energy I have from the day but will typically take me well past midnight – occasionally going as late as 4 or 5 a.m.
I was born…
in Layton, Utah and moved to Mesa, Arizona when I was four years old where I lived until I was nine. At that point, I moved to Scottsdale where I eventually attended Coronado High School.
My favorite thing about Arizona…
is the weather. I am completely content cooking in 115+ degree temps for a couple months in exchange for nine or more months of beautiful weather.
I'm listening to…
When I am trying to focus, I listen to Enya. However, when I want to be creative, I switch gears and listen to Classic Rock. My favorite bands include AC/DC, Aerosmith, and ZZ Top.
My family…
loves to travel to the ocean and the mountains. Prior to Covid-19, we spent a week in Hawaii, and would plan to visit Southern California every six to eight weeks – depending on the kids sports schedules. While we are fans of the beach, the greatest draw for my family in California are the theme parks. If we couldn't find time to make it to California, we would head to our second home in Pinetop, AZ.
If I could have dinner with anyone, it would be…
my wife. With the busy work, school, and kid schedule, my wife and I rarely have the opportunity to get out. The second person I would love to have dinner with is Glenn Stearns. I would choose Glenn Stearns because of his entrepreneurial drive and humble approach to life.
One thing I cannot live without…
is gummy bears. While I drink caffeine on occasion, I chew on gummy bears to keep my focus and stay awake. Not the healthiest thing, but it could be worse.
When I was younger, I wanted to be…
an Astronaut. After researching the path, I committed to joining the armed forces and was met with disappointment when my physical limitations prevented me from enlisting. So, I did the second-best thing and earned my private pilot license.
I'm inspired by…
people who think bigger than they are. At the top of that list is Stephen Hawking, who viewed the world differently than anyone has before him. While I am not working on Theoretical Cosmology, I take inspiration from his approach when I consider problems in education.
The one person who motivates me is…
The one person who motivates me isn't just a single person, it's kids. As someone who struggles with dyslexia, I know how hard it can be to be successful when traditional educational approaches don't align with the way you learn. In my case, my dyslexia went undiagnosed until I was well into my bachelor's program in college. Rather than give up, I innovated at a young age and was able to develop tools and methods that allowed me to overcome my challenges.
This innovation led to me completing high school at 16, making my way through multiple degree programs in college, and eventually starting a PhD. Understanding that most kids might not have the opportunities that I had, I have spent my professional career working to innovate to develop tools to support young learners, regardless of their struggles.
If I could change anything in the world, it would be…
the global reliance on fossil fuels. I am a huge fan of solar, and plan to join the millions who have made the shift to electric vehicles. My goal is to one day generate enough renewable energy to support myself and my family without the reliance on fossil fuels.
The perfect day would be…
waking up on a cool spring morning and taking a bike ride with my family. This would be followed by a light lunch and an afternoon hike. The day would end with a date night with my wife. Is this realistic? Not yet. My mind does not stop long enough for me to relax that much in a single day. At some point, maybe, but not now.
My first job was…
working as a cashier at an Arby's in Scottsdale. I was so desperate to start working that I modified my birth certificate to show that I was 15 when I was 14. Was it right? No. Would I recommend it? No.
My favorite escape…
My favorite escape is my animals. When I need to clear my head, I sit and listen to my birds, rest in a recliner with one of my cats or dogs, or get mentally lost in my backyard koi pond. These things help me clear my head and reset any frustrations I might be dealing with.
My life…
is good. I have built a comfortable life for me and my family, but it's incomplete. As someone who has focused their career on innovating in education, there is always something that can be addressed. When I started my career, I worked on e-learning solutions that would engage learners and adapt to their learning styles. While successful, I am always looking for ways to improve learning.
I'm currently working on…
In addition to my PhD in Psychology with a focus on understanding the psychological impact of technology in education, I am also working on refining an academic approach to AI (Artificial Intelligence) in education. Our latest product includes a tool that students can use to self-report their emotional state to their academic stakeholders (parents, teachers, counselors, principals, etc.).
By combining academic performance information with the social-emotional health of a student, academic stakeholders are presented with a more complete picture of a learner than what is currently offered. With this holistic view of the learner, educators can take a targeted approach to ensure their students' academic success.
Always…
be an open book and never do anything that you would be ashamed to tell anyone. This will allow people to see who you really are and can build trust when it's really needed.
Never…
lie or do anything you would be ashamed of telling someone.
Favorite Quote…
My favorite quote is from Stephen Hawking who said, "Intelligence is the ability to adapt to change." This is one of the reasons I am inspired by him and drives my innovative mind.
Biggest Dream…
As I did as a child, I still dream of going to space. I doubt that will be a dream that I ever let go of, regardless of how old I get.
My Pet Peeve(s)…
My pet peeve is poor grammar. As someone who still struggles with dyslexia, poor grammar can distract from my focus and causes headaches when trying to process important information.
More About Ben Smith:
Ben Smith is the creator and CEO of Gnosis IQ, an enterprise-level educational reporting tool that utilizes machine learning and artificial intelligence to create intuitive and directed performance reports for all educational stakeholders.
From Superintendents all the way down to students, Gnosis IQ empowers the users and exposes opportunities for improvement, and guides intervention before it's too late. As the Founder, President, and CEO, I have full oversight of all aspects of the business and work daily to advance the technology and promote the success of the organization.