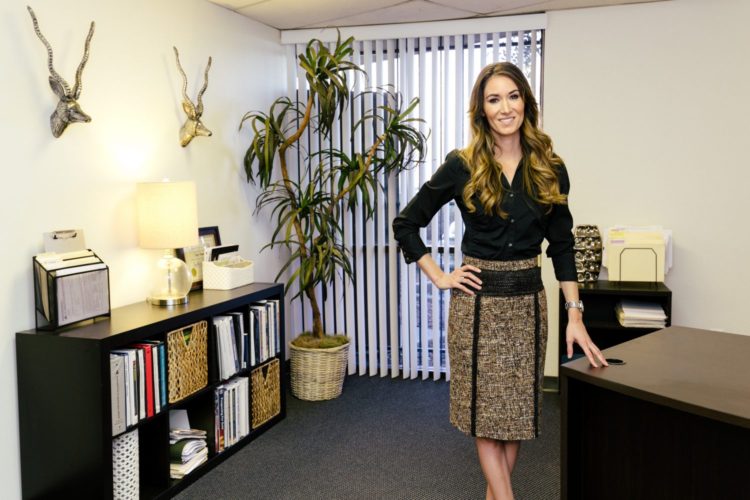 Name: Tracy Royce
Age: 30-something
Title: Owner, Royce of Real Estate
Married/Single: unmarried
Kids: no kiddos, but an animal lover!
City you live in: Scottsdale
A typical day in my life includes…
if you've ever seen one of those "home flipping" shows, imagine that, perhaps a little less dramatic. On other days, it's that on steroids. I've also been learning to integrate a bit more counterbalance into my life (balance, what's balance?!) so I try to prioritize non-work related things like exercise, time with friends, family, and doing things that bring me joy.
I was born…
in Germany; my parents were military. We hopped-skipped between Guam and the Philippines before landing in Southern Illinois, where I grew up.
My favorite thing about Arizona…
there really is so much to explore and do here. I've been here for over 20 years and am still finding new things to check out.
I'm listening to…
a mix between business podcasts like "Eventual Millionaire" at work and "Odesza" and similar music to chill out at home.
My family…
is this incredible lot of people who are just refreshing to be around. We don't have family drama and they are just calm, attentive and funny. I'm so blessed!
If I could have dinner with anyone, it would be…
perhaps Tony Robbins? I envision a really deep, profound conversation sprinkled with uproarious laughter!
One thing I cannot live without…
coffee, my AmeriSleep bed, having a pet…ok, that's already 3 things. There's very few things I probably couldn't live without, but I wouldn't be living well!
When I was younger, I wanted to be…
a business owner.
I'm inspired by…
tenacity. People from all walks of life, with different setbacks just finding a way to create what they want from life. There's something so inspiring about risk-taking and the courage and vision to just keep going that lights me up.
The one person who motivates me is…
I'm fueled a lot by other entrepreneurs and successful business owners.
If I could change anything in the world, it would be…
where can I post a comprehensive, bulleted list!? Too many to mention.
The perfect day would be…
traveling with loved ones and exploring new places.
My first job was…
probably mowing lawns and mucking stalls, on my own accord. I was never afraid of hard work!
My favorite escape…
a rainforest or beach. I always find myself seeking out nature reserves, rainforests and new beaches to explore when I travel.
My life…
is an evolution of what I choose to focus on and give space. I'm still waiting to see what I'm going to be when I grow up!
I'm currently working on…
not being a workaholic and being a better leader. (Stands up in front of group, coffee in hand…"Hi Everyone, my name is Tracy and I'm recovering workaholic…")
Always…
keep going. Most of the time our biggest breakthroughs are after the biggest breakdowns. It doesn't mean doing the same things at your peril, it just means, keep moving forward.
Never…
let doubt outweigh the ability to take action.
Favorite Quote…
"It's not the mountain that we conquer, but ourselves."
Biggest Dream…
have a wildly successful career, incredible marriage and traveling the world. If I knew I was giving back my talents and making a difference on a larger scale, that would be a dream come true.
My Pet Peeve(s)…
littering, ignorance and unnecessary drama.