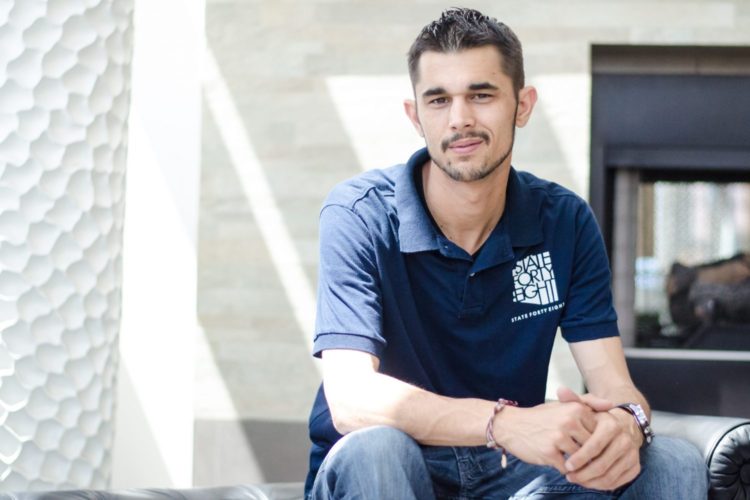 Photo by Jennica Maes | aMaes Photography
Name: Stephen Polando
Age: I just turned 30 on March 14th—same birthday as Einstein. Time really does fly.
Title: Founder and Co-Owner of State Forty Eight
Married/Single: I have a soulmate. Her name is Valerie.
Kids: I have an eight month old Border Collie named Mose. He is my son.
City you live in: Chandler, Arizona
I was born…
Detroit, Michigan
My favorite thing about Arizona…
Arizona is the champion of sunsets and no other state comes close
I'm listening to…
Skinny Love by Bon Iver is my favorite song right now. The emotion is so real. It never gets old.
My family…
has truly loved me unconditionally and because of them, I love that way too. I'm super lucky.
If I could have dinner with anyone, it would be…
I could never have enough dinners with Valerie. She is electricity to my soul.
One thing I cannot live without…
is music…
My
Ultimate
Soul
Invigorating
Confidant
I made that up.
When I was younger, I wanted to be…
a hockey player. Most days I still want to be that.
I'm inspired by…
addiction. I want to help people suffering from it get another chance at living their life. I know first-hand how good it feels to over it.
The one person who motivates me is…
my State Forty Eight teammates motivate me every day. I never want to let them down and I strive to help us all be successful every single day. They are both my brothers at this point.
If I could change anything in the world, it would be…
in my life, I hope to change the way addiction is dealt with and treated. I hope to raise awareness and give people the courage they need to have the difficult conversations with the addicts in their life. I also hope to help addicts understand that life can still be fun and that it is actually so much better once they escape the abyss they have created for themselves.
The perfect day would be…
the perfect day for me would start with playing hockey and end with some ice cream, my dog, and my soulmate relaxing to a great sunset and some good tunes.
My first job was…
bagging groceries at Albertsons. But telling people that sucked, so I always said that I worked at Albert & Sons, an imaginary law firm I created to not be a grocery bagger.
My favorite escape…
is definitely the ice rink. The ice cold air hitting me at 6 a.m. as I get my blood flowing is euphoric to me.
My life…
is filled with amazing people and animals and that makes waking up every day really. I am thankful for that.
I'm currently working on…
I am currently working on trying to "let it be". Trying to take my hands off certain situations, not trying to force them, and just letting life work out however it is supposed to work out. It's a lot less stressful and the outcome is usually the same.
Always…
be honest, no matter how difficult. Dishonesty is a cancer to any relationship of any kind.
Never…
stop chasing your dreams because the alternative is to help somebody else chase theirs.
Favorite Quote…Biggest Dream…
"The affect you have on others is the greatest currency there is" . I hope to greatly affect others.
My Pet Peeve(s)…
I absolutely can't tolerate pathological liars and one-uppers. Who are you trying to impress? We are all human and we are all flawed. That's okay.