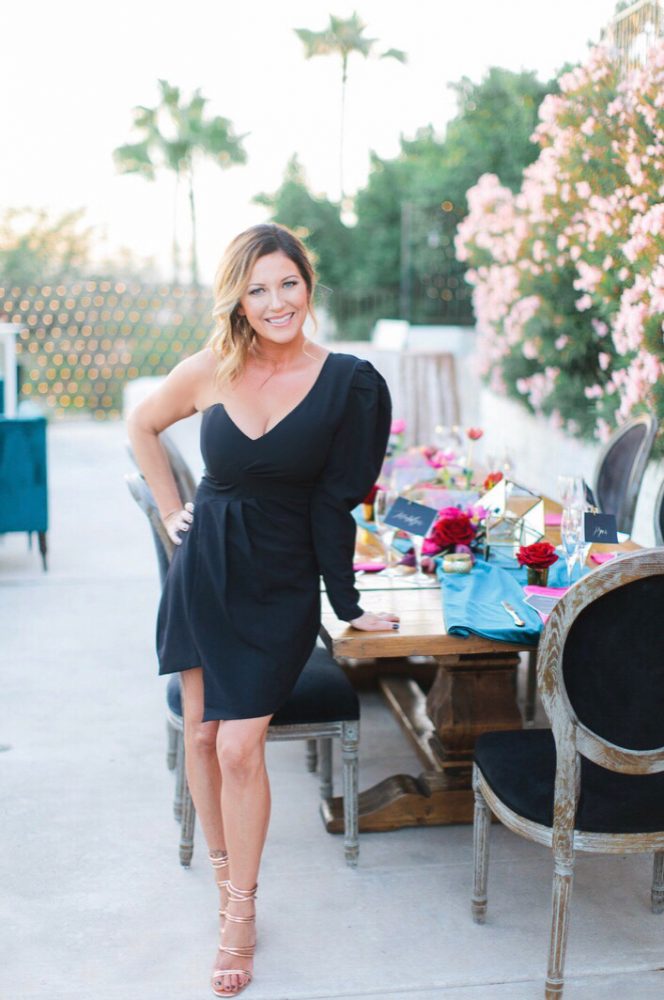 Name: Stephanie Antoinette 
Age: 34
Title: Owner/ Lead Planner at Stephanie Antoinette Weddings. But really, I have too many… wife, mother, sister, daughter, friend, business owner, event planner, wedding coordinator, chauffeur to my three beautiful daughters, fundraiser… we could go on for hours!
Married/Single: Married
Kids: 3 lovely little ladies, Kiana (14), Ella (3), Scarlett (7 months)
City you live in: Currently in Phoenix
I was born…
in Plano, Texas and then we moved to Minnesota when I was 7 years old.
My favorite thing about Arizona…
the sunshine, the warm weather, the palm trees! I remember when I first moved here just driving to the grocery store felt like I was on vacation! After all, I moved here from Minnesota!
I'm listening to…
jazz Music, and my two little ones playing.
My family…
my husband, Andrew, and our 3 daughters are my world! I love weekend mornings when I don't have an event and we make pancakes, snuggle up, and watch movies. I am also the youngest of 5 siblings. We are all spread out now since our parents passed away.
If I could have dinner with anyone, it would be…
Audrey Hepburn. Her class, sense of humor and style were so admirable.
One thing I cannot live without…
well, the obvious answer would be my family, but a fabulous pair of heels and handbag would be tough to go without!
When I was younger, I wanted to be…
ha! I just read a report I made in 1st grade and apparently I said that I wanted to be an ice cream truck driver. In my adolescent days I always thought I would do something in the fashion area (hence the shoes & bags).
I'm inspired by…
people who do not let anything hold them back from achieving a dream! I have had mountains placed in my path, but I have found that facing challenges and fears head on is the key to moving forward!
The one person who motivates me is…
honestly, I motivate myself. Failure has never been an option in my world. Also my girls, I want to set a prime example of what you can achieve with hard work and passion.
If I could change anything in the world, it would be…
to have my parents still here with me.
The perfect day would be…
a day in Coronado with my family.
My first job was…
bagging groceries.
My favorite escape…
reading, Pinterest viewing, or watching Bravo (all with a glass of Pinot Gris preferably).
My life…
is truly blessed with a wonderful family and incredible friends. I get to run my own business that I absolutely love, and create memorable events for my clients.
I'm currently working on…
I just finished planting a small vegetable garden with my 3 year old. I also have more work to do on a beautiful, new floral design for one of my bridal clients.  
Always…
say "I love you."
Never…
stay mad too long.
Favorite Quote…
this one's from Audrey Hepburn – "I believe in pink, I believe that laughing is the best calorie burner, I believe in kissing, kissing a lot. I believe in being strong when everything seems to be going wrong. I believe that happy girls are the prettiest girls. I believe that tomorrow is another day and I believe in miracles."
Biggest Dream…
to live long, be happy, and enjoy life in every moment possible.
My Pet Peeve(s)…
I have a few – slow drivers in the left lane, guests who do not RSVP, and a messy house (which is definitely a challenge with 3 kids!)
Click here to order a Trendsetters reprint.