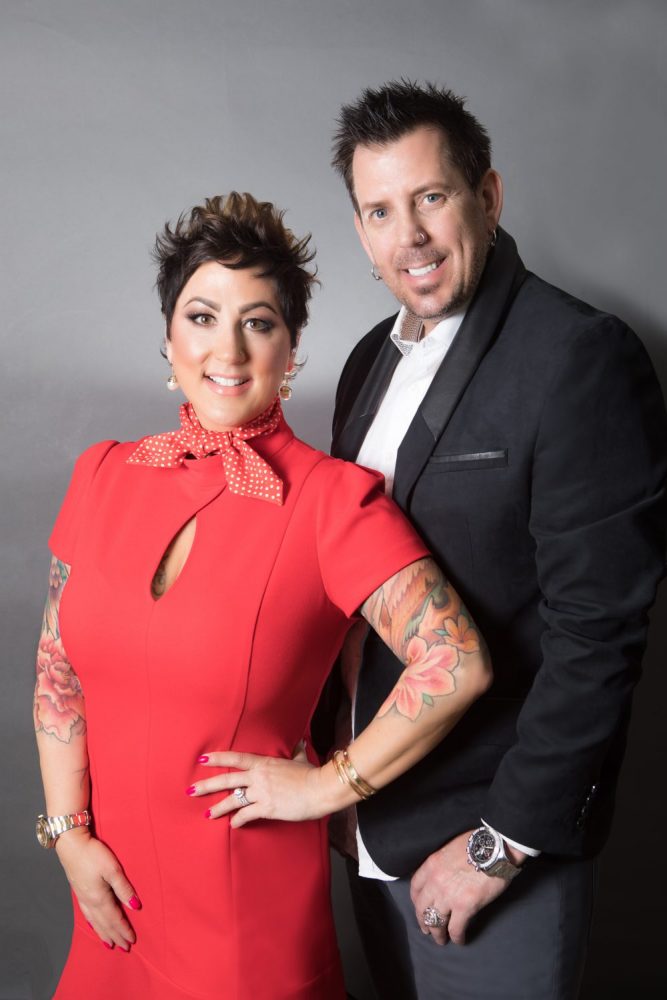 Name: Sean Dowdell
Age: 44
Title: CEO & Founder of Club Tattoo
Married/Single: Married
Kids: 2 boys- Brennen and Carston
City you live in: Queen Creek
A typical day in my life includes…
waking up, working out, talking with my wife about the upcoming day or goals. Saying goodbye to my kids as they leave for school and playing with our dogs Ernie and Pearl. Off to the office most days and then to our store locations on somedays to give facetime to our team and get an overview of the business on the ground. Make any needed adjustments and head home to spend time with my family.
I was born…
in Scottsdale, Arizona and grew up with my mother Kathy, father Kip, sister Shannan and brother Kelly. I had a lower middle-class upbringing, my parents taught me my work ethic.
My favorite thing about Arizona…
the sunsets, wide-open spaces and lack of traffic.
I'm listening to…
an audiobook most of the time, at least one a week. Right now it's a book on Josephine Bonaparte. I'm fascinated with history.
My family…
is the only thing that matters long term. I want to spend as much quality time with them as possible.
If I could have dinner with anyone, it would be…
my mother.
One thing I cannot live without…
is my wife & kids.
When I was younger, I wanted to be…
a rockstar. I played drums in a band called Grey Daze and loved playing live and writing and recording songs.
I'm inspired by…
other hard-working entrepreneurs and people who have overcome adversity in any shape or form.
The one person who motivates me is…
my mom.
If I could change anything in the world, it would be…
access to fresh water around the world. I truly believe it is attainable, and something that would absolutely change the world and empower humans to help themselves.
The perfect day would be…
waking up near the beach, eating Mexican food and having drinks with my wife.
My first job was…
as a screen printer for my friend Shannan's father. After that I was a busboy at a Mexican restaurant.
My favorite escape…
any beach in Mexico.
My life…
is an absolute blessing and I am incredibly grateful.
I'm currently working on…
expanding our business and reinventing our brand.
Always…
work harder than the people around you.
Never…
give up on your dreams or something you believe in.
Favorite Quote…
"The path to change is through MASSIVE and DETERMINED action" – Tony Robbins.
Biggest Dream…
retiring very young and continue traveling the world and learning.
My Pet Peeve(s)…
people who pretend to be entrepreneurs or pretend that they are doing something while doing nothing, creating nothing, and riding the coattails of those they manage to get close to.
More about Sean…
Sean and Thora Dowdell are the founders and owners of Club Tattoo, a multimillion dollar empire and one of the largest and most successful tattoo and piercing studios in the country.
Sean opened the first Club Tattoo studio in 1995. Thora joined the business shortly after they met in 1997. Early on, the couple saw opportunity and capitalized on the untapped tattoo industry. Club Tattoo has become the most successful tattoo & piercing studio in Arizona and is at the very top of the industry as innovators and influencers.
Working side by side for 21 years, the power couple became titans of the tattoo and piercing industry, creating a business model worth $30 million. Club Tattoo currently has six locations, four in Tempe, Mesa, and Scottsdale, and two on the Las Vegas Strip, inside Planet Hollywood and The LINQ Hotel and Casino.
Sean and Thora turned the tattoo industry on its side when they avoided the typical unapproachable environment of most tattoo studios and instead took a high-end, modern and customer service focused approach to their studios, bringing the business of tattoos to the mainstream in the process.
Utilizing their individual strengths, Sean serves as the CEO, while Thora serves as the COO.
The entrepreneurial couple constantly push themselves by setting their sights on new challenges. They both enjoy mentoring young entrepreneurs, and giving back to the communities they live and work in. They can add Inventor, Author, Public Speakers, and Business Consultants to their ever-growing list of passions.