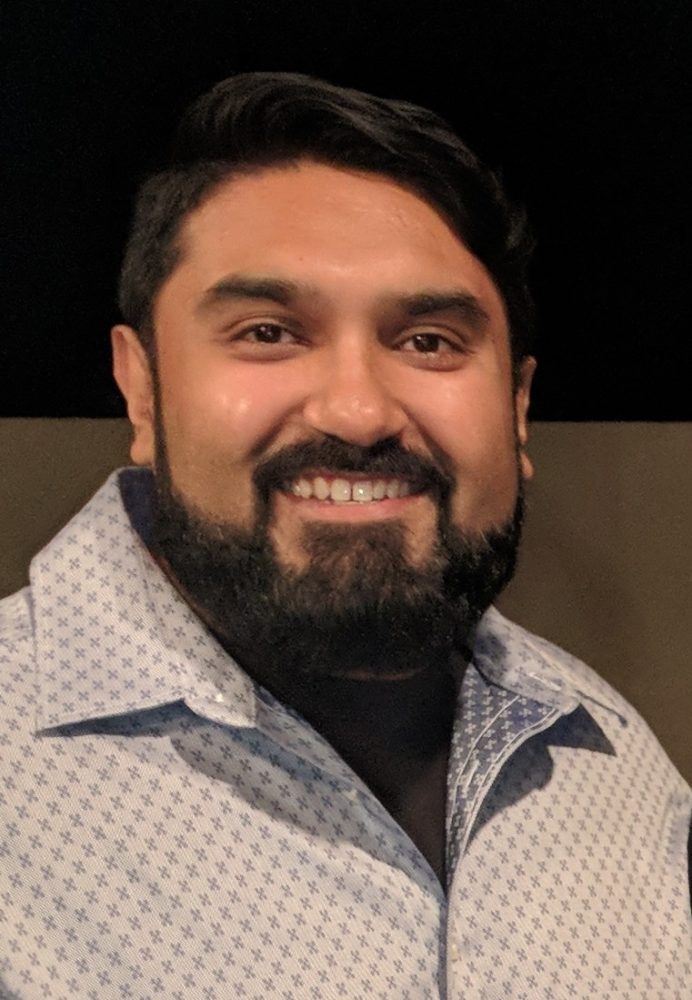 Name: Narender Raju
Age: 38
Title: CEO of RSVP Group LLC, AURA and The Pressroom
Married/Single: Married to my beautiful wife Rosy
Kids: 2 amazing children Shaan (7) and Arjan (3)
City you live in: Good Ol Anthem AZ
A typical day in my life includes…
getting my 2 kids ready and dropped off at school, hitting the gym, and then starting off by talking to my team about the day ahead. Most of my day is focused on fielding emails, texts, and calls about multiple concerts and events with different groups and promoters, plus dealing with the day-to-day action at both AURA and The Pressroom – so there is A LOT of driving around. Then ending the day hanging out with my family, enjoying dinner and some quality time.
I was born…
in Chicago.
My favorite thing about Arizona…  
well the answer you hear from everyone is always the weather, which I do believe is a solid point, but I believe it's a state that is going through a business revolution. There is innovation all around us with massive national and international players coming in and investing in commerce which in turn is bringing transplants from all over the nation. This was what I saw in Phoenix 13 years ago, a place on the verge of being a major contender amongst other states and that's why I wanted to start our empire here.
I'm listening to…
Armin Van Buuren, Kendrick Lamar, Odesza, Diddy, Alesso, Future, Coldplay and we can't forget my Punjabi Roots – Manj Musik, Diljit Dosanjh, and the list goes on and on. I've always listened to many different genres of music. It keeps things fresh.
My family…
is my everything. They are my driving force day to day.  With running both venues, I deal with a multitude of issues on a daily basis and when I need some advice or just someone to bounce ideas off of, there are 2 people that I call:  my wife and my right-hand man Cahleb. Usually we talk things through and develop a strategy to deal with any scenario. My wife is my world and I love that she has started this journey with me, but I am also beyond grateful to have such an amazing team that has helped me create 2 world class venues and that's why I always consider them family.
If I could have dinner with anyone, it would be…
Elon Musk. I feel like there is so much to learn from a person like him. How he balances work and home, how he takes an idea and brings it to fruition. How he doesn't let the masses, who are constantly telling him it can't be done or that is crazy, get to him. How he is able to run multiple companies at the same time while bringing new ones to market. It's just amazing what he has accomplished in such a short amount of time and what he has in store for us all in the near future. I find his innovations amazing and feel like I could learn more in the time it took to get appetizers then I could in years of trial and error.
One thing I cannot live without…
music. Ever since I can remember music has always been with me. From the earliest of memories I can remember, they are always brought about by music. From dancing in the basement of our home in Chicago when I was 3-4 years old to the breakups in High School, music has always played a role. From good to bad music has always been there for me and it only makes sense that its now helping me create so many amazing memories for myself and thousands of other at AURA and The Pressroom.  Just recently I've had the opportunity to talk to 2 different couples that met at one of my venues and ended up getting married. It's amazing how music can bring everyone together.
When I was younger, I wanted to be…
well that's a hard one. Being raised in an Indian household you are taught from a young age to help others as it is our duty to do so. So, the logical path is normally medicine. For most of my life I geared myself towards Med School, but I always had a knack for business and technology. So much so that I started my very first business at 15-years-old with a good friend, selling custom built computers. It did so well that I actually got a corporate client though our ads in the paper. After a few computers were received, the client loved them so much that he invited us out to meet them. When we got there, he was completely blown away that he had been dealing with two 15-year-olds and not someone much older. He told me something I would never forget, he said, "You were made to run a business." That left such an impression on me that I knew I was destined to create and run a multitude of businesses. Because of my love of music, I always wanted to be in the industry. I always envisioned a place where people could hear different kinds of music and just dance and be free. That's what led me to open The Pressroom and now Aura.
The one person who motivates me is…
my father. I can't begin to tell you all he has seen in his lifetime. Living through the wars in India then coming to the U.S. with $10 in his pocket and working 16 plus hours a day until he could open his own business. Let's not forget Mom, she also went above and beyond to help all of us, and to this day still works massive amounts of hours. Working day and night to put 3 sons through college and helping countless family members to come the US. No matter the problem, no matter how big the issue he would always find a way through it with a smile. HE WILL NEVER GIVE UP. And even now he works harder than anyone I know. I assure you he could run circles around plenty of guys in their 20's.  Whenever I feel a little down, or need words of wisdom, I can always count on him to make me feel like there is nothing in this world that can ever stop me.
If I could change anything in the world, it would be…
poverty. I feel like this world is full of abundance, yet we fail to use our resources properly.
The perfect day would be…
waking up without an alarm, phone call or text. Just hanging out with my family, playing some board games, going out to the park, walking around the mall, grabbing some dinner and ice cream. Maybe catching a movie. All of us cuddling in bed at night and watching a movie and passing out in the middle. I know this must bore you as they are such normal things for so many, but these are things I rarely get to do so it would be perfect. Of course, waking up in Santorini, Greece with the breathtaking views of the ocean, spending the day on the beach and sailing the waters then ending with a beachside restaurant eating fresh seafood and hearing the ocean waves crash on shore would be pretty perfect too.
My first job was…
see above.
My favorite escape…
that's a hard one as I only count on little mini escapes to get me through life. I feel like the big escapes like traveling are great but too far between and usually end up being stressful with planning and kids. So, I count on the little things like hitting the gym, watching Game of Thrones or just playing with the kids, which can give me that little bit of "me time" to forget all that's going on.
My life…
is pretty amazing. I have a loving and supporting family at home. I have a loving and supporting family at work. We all work together to create a unified vision on a daily basis that is ever expanding. I wouldn't change a thing.
I'm currently working on…
one of my childhood dreams, AURA. I've created a nightclub, lounge and event venue all in one space. I get to bring together all types of genres of music for people to enjoy in a carefree environment. A place where you can let loose and just be yourself. A place that caters your senses and emotions. A place where you can relax but also dance the night away.  Our concept was to create a place where we can bring today's top musical acts and amazing stage and lounge production into the mix. It's really a dream coming true and I can't wait to share with everyone.
Always…
smile. No matter the situation no matter how good or bad it is, a smile can help it. I have solved more situations with a smile and calm voice than anything else.
Never…
would I ever jump out of a plane. Seriously why would you do that?!
Favorite Quote…
"Work like you don't need money, love like you've never been hurt, dance like nobody's watching."
Biggest Dream…
my biggest dream has been to create venues throughout the Unites States that are all encompassing, from private events to concerts and everything in between, that also give to back to the local community.
My Pet Peeve(s)…
wow, for a person like me who deals with so many different types of people on the daily this is a hard one. But I would have to say, just not listening. So many people nowadays just are so busy and moving so fast that they forget to just listen. They get distracted with other things and then having to call or text to ask what it was again. Which creates more work and in return makes you busier. It's becomes a perpetual ever growing circle.