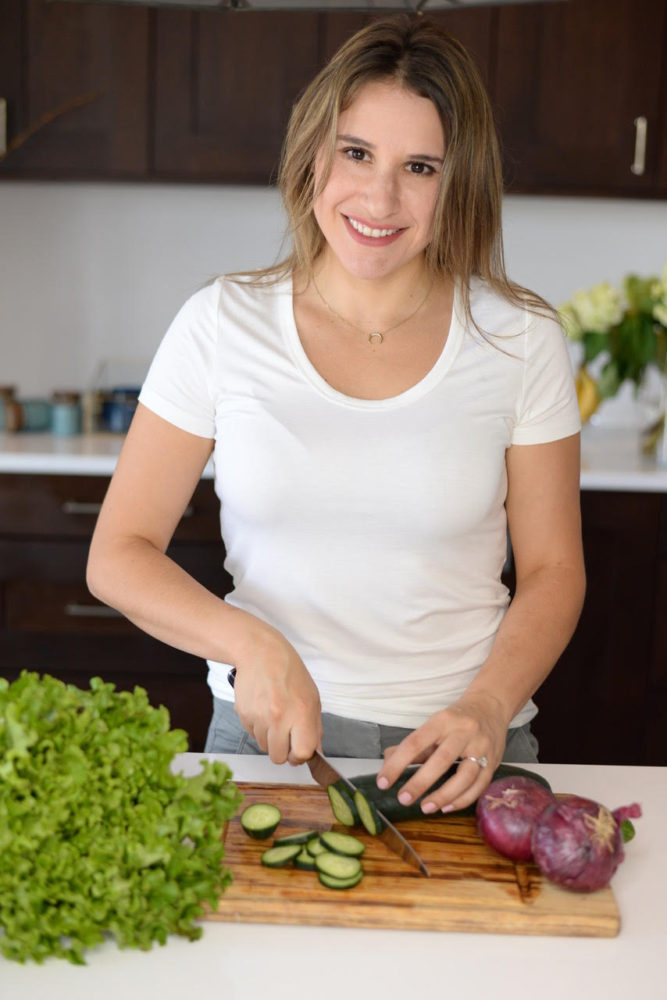 Name: Nadia Aidi
Age: 20. I mean, technically I am 30 but 30s are the new 20s right?
Title: Food Blogger
Married/Single: I am REALLY married. As in married once, divorced once and remarried the same man this year. What can I say? Love doesn't fit in a neat little box.
Kids: I have four; a two-and-a-half year old mini me and 3 cats. I am married with a kid, so I guess that means I am NOT a crazy cat lady right? RIGHT?
City you live in: Oro Valley, AZ.
A typical day in my life includes…
getting woken up by a crazy toddler asking for 'cocolate.' Every. Single. Morning. I proceed to feed her something other than chocolate and then immediately play Mickey Mouse Clubhouse because it ensures I will get to drink my coffee in peace. After that, I'll create a new recipe to photograph for Instagram. Most days include a trip to the gym but also enjoy running/walking outside. On days that I don't cook for my clients, I try to create 2-3 recipes and take photos to constantly have material. I play with my toddler while my husband gets home so we can eat together. Bryan usually puts her to bed, and I unwind with some Big Bang Theory or something on the food network while sipping my nightly tea (magnesium, detox tea, turmeric, collagen and cayenne pepper). I usually finish off with a book, and time to sleep.
I was born…
to eat. Fine, and cook. Oh, you meant where? In Tucson. I am an AZ girl!
My favorite thing about Arizona…
the mountains, hands down. Another thing I am absolutely loving about AZ lately is the potential I see. Arizona's culinary scene is growing so much and I want to be a part of that wave.
I'm listening to…
right now or in general? Right now, I am actually listening to an old couple discussing whether or not their socially awkward grandson with weird hair will ever find a woman. Not joking, you can't make that stuff up. But in general, I usually listen to classic rock (Petty, Queen, CCR, Van Halen, etc) with the occasional Pearl Jam & The Killers. No audiobooks for me, can't concentrate.
My family…
is a little crazy and less than perfect but they are by far the most important part of my life.
If I could have dinner with anyone, it would be…
narrowing it down to one person is tough. I'll go with Tom Petty, but we run into Theo Epstein at the restaurant and he invites us to sit at the table he is sharing with Thomas Keller and Sam Fox. That would be an epic dinner for sure.
One thing I cannot live without…
I can't live without high quality coffee…(sorry Lululemon, you came in a close second).
When I was younger, I wanted to be…
an entrepreneur and someone whose opinion mattered. I had a lot of ambitions – I also wanted to be an actress, car mechanic, writer, sportscaster, TV chef…
I'm inspired by…
people that are out there, unapologetically living their dreams and going after what they want. People that believe in themselves even though no one else does, which is the kind of person I strive to be. I am also VERY inspired by my toddler and have learned perseverance from her. Remember the daily 'cocolate' request?. I mean, that kid has failed more times than anyone I know and every morning she goes after her dream again and again. She is also resilient and keeps trying to find creative ways to reach the chocolate chip bag. You will succeed Eliana. Although I am rooting for you, I am also changing the chocolate chip bag's location.
The one person who motivates me is…
myself for sure. I know it sounds kind of 'hallmarky", but I truly am my best motivator/pusher.
If I could change anything in the world, it would be…
I will get serious and say I wish the intolerance to 'different' could disappear. Most of the problems we have in this world stem from the fact that we hate/fear others who look/think/act different than us. I am not even going to say I wish we could just all love and celebrate each other. I believe most problems would go away if we just learned to accept others as they are.
The perfect day would be…
waking up in Chicago and going for a run along the lake before stopping for an almond milk latte at a local coffee shop. Then I'd grab something delicious to eat, walk around the city a little more, maybe shop a bit and try to catch a Cubs or Blackhawks game (depending on the season). I would end the night dressed up, having dinner and drinks at a nice restaurant.
My first job was…
as a hostess/server/cigar cart pusher at my dad's restaurant in Mexico but I also played bartender and cook when he wasn't around.
My favorite escape…
is hosting a dinner party or going to dinner with friends. Nothing beats good company combined with amazing food and drinks. I gotta give the whole 'staycation' concept a go at a nice place in AZ and see how that works.
My life…
has already been a wild and crazy ride filled with blessings, heartbreak, impulsive decisions and food. There really has been a lot of food.
I'm currently working on…
developing my blog and creating a personal brand.
Always…
go the extra mile.
Never…
forget you are here with a unique purpose and you can't covet someone else's because you will never be satisfied unless you are living your own purpose. Comparing yourself or where you are in your journey with others is the most self-destructive thing you can do. Been there, done that so I know what I am telling you.
Favorite Quote…
"Have the courage to follow your heart and intuition, they somehow know what you truly want to become." – Steve Jobs
Biggest Dream…
*drumroll* to somehow become Anthony Bourdain. Fine, if I could wave a magic wand I would travel, cook and eat for a living while maintaining my same jean size.
My Pet Peeve(s)…
people that don't keep their word. If you say you'll do something, then do it or don't say you will! I also can't handle finding hair in my food. I could be at the best restaurant in the world, but my experience is ruined if a hair shows up in my food. Somehow, this does not apply to pet hair.