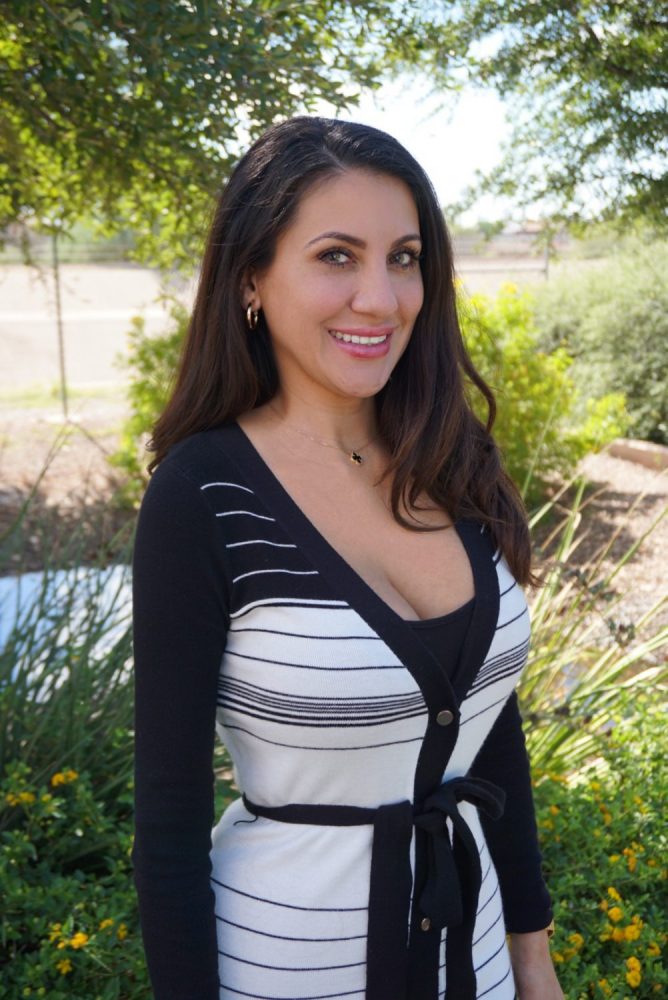 Twitter: Green Pharms Dispensaries ,  The Marijuana Doctor , Mad Terp Labs
Facebook: Green Pharms Mesa , The Marijuana Doctor , Mad Terp Labs
Instagram: Green Pharms Dispensaries , The Marijuana Doctor , Mad Terp Labs
Website: Green Pharms Dispensaries , The Marijuana Doctor , Mad Terp Labs
Title: Owner & CEO of Green Pharms Dispensaries, Marijuana Doctor & MadTerpLabs Extractions
Age: 34
Married/Single: Married to my best friend of 19 years, Arvin.
Kids: 2 kids, 13 years old and 18 years old.
City you live in: Phoenix, Arizona
A typical day in my life includes…
many different activities, everyday is different and no day is the same. The only consistent things are pulling teeth to get my kids out of bed in the morning, Red Bull, and my phone going off non-stop.
I was born…
in Los Angeles, California
My favorite thing about Arizona…
is the famous sunsets that Arizona is known for. I love looking at them. What I love even more are all the great people I have met since moving here.
I'm listening to…
anything Lil Pump, although I've had Lil Pump and Kanye's "I Love It" on replay. Brian McKnight and K-Ci & JoJo are also a must.
My family…
it may sound corny, but I would not be where I am in life without my family. I have made many mistakes, but my family has been there to pick me up with pure love even when I didn't deserve their support. They have my back even when I'm wrong. I bust my butt not just for me, but for them because I can have their back and it actually means something that I am now a force not to mess with.
If I could have dinner with anyone, it would be…
my grandparents who have passed away. I would ask them to tell me childhood stories about my parents and memories of my parents when they were young so I can pass them off to future generations and their legacy stays alive.
One thing I cannot live without…
is having long, flashy nails. I think having my signature nails and not just the boring, short nails that most professionals have gives people a first impression about me without saying a word. I don't fit the typical professional archetype, so why should my nails? I think they let people know I do what I want. 
When I was younger, I wanted to be…
a homicide detective and a pathologist. I really wanted to do both and thought I could split my day between both.
I'm inspired by…
anyone that doesn't let obstacles get in their way of success. I'm inspired by women that are in 4 inch heels for 12 hour days without sitting or taking a break. It makes me want to pull through my day without putting flip flops on.
The one person who motivates me is…
myself. I'm my own biggest cheerleader and I find motivation in proving those who doubted me wrong.
If I could change anything in the world, it would be…
that people would say what they are thinking. I think we would have less issues and more problem solving that way. There is a reason God did not put hair on our tongues. It's so we can speak our minds and be heard. Everyone deserves to be heard.
The perfect day would be…
discovering an extra day in the week. I would use it to attempt to organize my husband's office and file all the random papers he leaves lying around.
My first job was…
passing out flyers outside of my mothers salon on the weekends for free. I guess there were no labor laws back then — just kidding! 
My favorite escape…
is one of the biggest cities in the U.S. — New York City (Manhattan, Bronx, Brooklyn). I honestly feel at home there because it's such a fast-paced city and a place full of people that are very straight forward, just like me. Talking about NYC gives me butterflies.
My life…
is exactly where it should be. If I was in another profession, I would be just as happy, because I believe God has a plan for us all and we just have to have faith and let God show us the way. 
I'm currently working on…  
expanding my brands to other states. We are currently set to open in Michigan as well as New York. I am venturing more into apparel for my brands as well, it has been something patients have been asking for.
Always…
remember to thank God for my family and what I have been given. And always stay true to who you are. 
Never…
forget where I came from. Never be embarrassed of my past. Never forget to be proud of my heritage. Never forget the values I was taught. Never let anyone tell me I can't do something.
Favorite Quote…
"Not everyone will like you, but not everyone matters."
Biggest Dream…
is to be able to prove to everyone who has doubted me that I can make my parents proud.
My Pet Peeve…
is repeating myself. I feel like repeating myself when I am trying to help or explain something is a waste of my time. Another pet peeve is people who don't use q-tips.