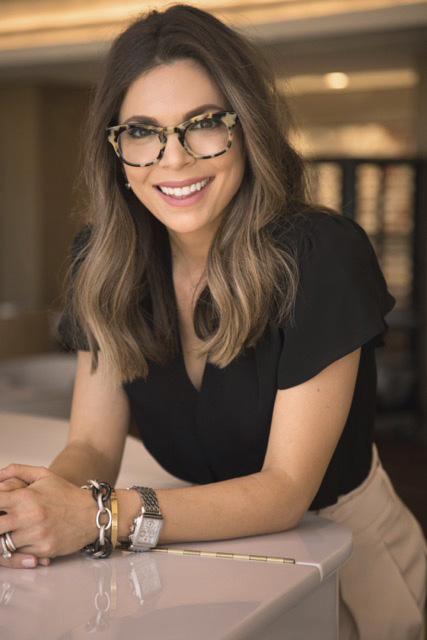 Name: Lauren E. Rossi
Age: 32
Title: COD – Chief of Details at Visuelle Design Group
Married/Single: married to Kyle, my total sweet 'book end'.
Kids: this may be the year! Presently practicing on "Sophie", our amped up Boston Terrier.
City you live in: Scottsdale
A typical day in my life includes…
design, sleep, repeat! Four am exercise, vendor emails, client chats, site visits, design specs, details beyond…and it can't ALL possibly fit in a sentence!
I was born…
in Scottsdale, McCormick Ranch. I'm a native!
My favorite thing about Arizona…
it's easy to work, live and play in Arizona. We have a great entrepreneurial spirit, not to mention mentoring and opportunities.
I'm listening to…
Money Radio. Listen up: saving and investing are a passion!
My family…
is diversely dynamic. I am the only girl and oldest of four, yes you read it, four brothers! My parents, in-laws and extended family are entrepreneurs – just call us the independent bunch.
If I could have dinner with anyone, it would be…
Kelly Wearstler.
One thing I cannot live without…
chocolate (hidden from plain sight).
When I was younger, I wanted to be…
fashion designer, interior designer.
I'm inspired by…
everything around me; the air, the people, the colors, all the feels…
The one person who motivates me is…
me, myself and I – my own expectations are over the top.
If I could change anything in the world, it would be…
women genuinely supporting one other, 100%.
The perfect day would be…
designing and creating with NO limits!
My first job was…
a receptionist at the age of 12 for my mom's marketing and public relations firm.
My favorite escape…
traveling to new places that aesthetically inspire holistic and healthy living! Hello Kukui'ula.
My life…
is on an amazing passion trajectory – love, LOVE my life, work and design passion.
I'm currently working on…
six residential projects!
Always…
do more than you think you can – you got this!
Never…
turn down a challenge to do something uncomfortable. Exceed, stretch, grow and experience.
Favorite Quote…
"My mission in life is not merely to survive, but to thrive; and to do so with some passion, some compassion, some humor and some style." – Maya Angelou
Biggest Dream…
to live like tomorrow were the last. The sky's the limit. Go for it!
My Pet Peeve(s)…
inconsistent coffee.