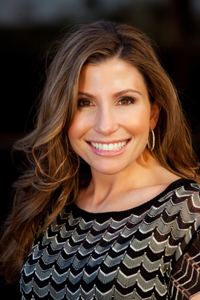 Name: Lisa Bienstock
Age: 33
Title: Doctor of Dental Medicine (DMD)
Married/Single:  It's Complicated, oh wait, this isn't Facebook!
Kids: None
Live: Paradise Valley
Meet Lisa Bienstock, Doctor of Dental Medicine.  Lisa is a partner at Desert Ridge Pediatric Dentistry and a Board Certified Pediatric Dentist.  She trained at Columbia University and practiced in Manhattan before moving back to her native state of Arizona.  If you see her in her office, chances are you will hear her say, "Open big like a lion!" (Depending on their age of course).  Read how Lisa answered these 20 fun questions.
I was born…
in Phoenix Arizona at Good Samaritan hospital the year after the Salt River flooded.
My favorite thing about Arizona…
is that my parents,Steven and Diane, live here.
I'm listening…
to Coffee House on Sirius XM Channel 31 – it's the best station; I am hooked!
My family…
means the world to me.  I can count on them for anything I can think of.
If I could have dinner with anyone, it would be…
Mrs. Armstrong, my second grade teacher at Cherokee Elementary School here in Phoenix.  She was such a visionary for that time and I admired her point of view of the world.  Mrs. Armstrong, if you are reading this, call me!
One thing I cannot live without…
dental floss. "…You shouldn't neglect your gums!"
When I was younger, I wanted to be…
an actress opposite Fred Savage in the TV show "The Wonder Years."
I'm inspired…
by my patients.  I treat children from newborns to adolescents, some who are healthy and some have special needs.  They are all so innocent and true to themselves.
The one person who motivates me…
is my business partner, Dr. Lidieth Libby.  She is an amazing woman, partner and friend! She goes above and beyond for every family.  Her dentistry is perfection and her ethics are infallible.
If I could change anything in the world…
it would be to not have children suffer from illnesses; developmental, genetic, or otherwise.  A child should be able to enjoy their youth without any worries in the world.
The perfect day…
would be a day trip to Sedona in good company.
My first job…
was working at Gap Kids in Scottsdale Fashion Square Mall.
My favorite escape…
is on a good run.
My life…
has been full of exciting chapters.
I'm currently working on…
opening a new location of Desert Ridge Pediatric Dentistry at City North.  We hope to bring vibrancy back to that center.
Always…
smile, laugh and mind your manners.
Never…
forget to brush your teeth before bedtime.
Favorite Quote…
"I've learned that people forget what you said, forget what you did, but people will never forget how you made them feel."  –Maya Angelou
"Live as if you were to die tomorrow.  Learn as if you were to live forever." –Mahatma Gandhi
"You know you are in love when you can't fall asleep because reality is finally better than your dreams. " –Dr. Seuss
Biggest Dream…
would be to have children.
My Pet Peeve(s)…
is being asked what my pet peeves are. 🙂