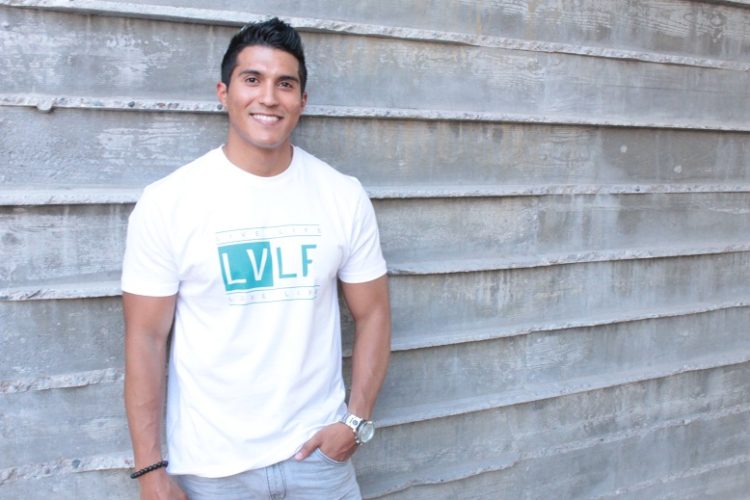 Name: Josh Zuniga
Age: 24
Title: CEO/Founder of LVLF Apparel
Married/Single: Single (who knows for how long)
Kids: In the future
City you live in: Phoenix
A typical day in my life includes…
waking up early for work, checking in with friends and family, marking off goals throughout the day, and ending it by reading a good book or watching a television show.
I was born…
Phoenix, AZ.
My favorite thing about Arizona…
the breathtaking sunsets.
I'm listening to…
Alesso – Heroes, Michael Brun – Sun In Your Eyes, Sam Smith – Latch, Magic – Rude, Andrew Rayel – One In A Million, and Classical.
I have a true appreciation for all music and love how it communicates with us on another level. In some cases we can go into a trance like state because we feel the music and lyrics so vividly as if we are living them at that very moment.
My family…
is everything to me! They are the reason I am where I am today. My parents have done such a wonderful job raising my two older brothers' (Leo and Pete) and I. I consider myself very fortunate to be born into such a loving family that has given me support in every aspect of my life. It is important to have that foundation because that love and support stems into all aspects of one's life.
If I could have dinner with anyone, it would be…
Neale Donald Walsh. He is the author of the bestselling book Conversations with God. This book revolutionized my life and the way I saw everything around me at age of 19. It helped shape me into the person I am today and I will continue to be in the future. It was given to me as a gift from a friend stating that "I was ready for this book." I had no idea what he meant by it until I read the first chapter. It had me in tears. This book was made for me and it found me at the perfect time in my life when I was going through changes and trying to discover who I really was and the meaning of my life.
One thing I cannot live without…
the ability to travel and see the world.
When I was younger, I wanted to be…
paleontologist. I used to love dinosaurs when I was younger. Land Before Time was my favorite movie and Little Foot was my favorite character. It was my dream to find a dinosaur fossil in the ground. I always convinced myself I would find one in my backyard but I had to stop since my dad didn't like all the holes I was making.
I'm inspired by…
people. People are my true inspiration. I find it exciting and unique when I meet new people and they tell me their life story. I embrace everyone and their passions. I want them to know that I am here for them and want to help in any type of way. I want to inspire them to follow their goals and their dreams to the fullest. It's important to always encourage people and one another instead of criticizing or putting people down. We want to motivate as much as possible.
The people who motivate me are…
my family and friends, Les Brown, Eric Thomas, Zig Ziglar, Jim Rohn, Robert Kyiosaki, Neal Donald Walsh, etc.
So many people have touched my life directly and indirectly that it's hard to say just one person. True inspiration comes from so many different sources that they all can and need to be used to fuel ones passion and purpose in life.
If I could change anything in the world, it would be…
changing the mindset of people that take life for granted.
The perfect day would be…
spending quality time with friends and family detached from all technology and distractions.
My first job was…
Circuit City: Lost Prevention. I got to wear a cool ear piece that's about all that was exciting about the job.
My favorite escape…
Sedona. Place of peace and tranquility.
My life…
has been truly blessed.
I'm currently working on…
living out my dream/ I have had a vision of helping and inspiring others for the past few years. How I was going to do it… I did not know. Then a sudden idea of LVLF as a brand came to me one day and I saw that I could use this as a vehicle to touch people's lives. The shirt means nothing. It's the meaning behind it. Its true essence and message that I want to get across. To establish an understanding that life truly is a gift no matter what walk of life you come from. I want people to wear this brand when they are Living and Loving Life to the fullest. Whether it's traveling, time with the family, community service, sports, outdoor activities, etc. The possibilities are endless.
Always…
will I show love to other and everyone around me. Love is a universal language that we all know and feel. We can explain it. We can see it. We can touch it. We can feel and embrace its true power and beauty. Love is the most powerful emotion in this world and it needs to be shared as much as it can with one another. Love Changes Lives. Love Creates Change. Love, Will Set You Free.
Never…
will I ever give up on myself and my dreams. I have an obligation to seek them out and attempted to put forth my best effort to try and make a difference in this world. Even if I only have an impact on one person, it's all worth it.
Favorite Quote…
"When you want to succeed as bad as you want to breath, then you will be successful" – Eric Thomas
Biggest Dream…
to be able to travel the world and see its natural beauty. To have an impact on people's lives and allow them to see how great this world is that we live in. It is all perception and just by changing they way you see life, life changes around you and you being to truly cherish it for what it is and have and understanding and appreciation for the gift of life you are given.
My Pet Peeve(s)…
hearing someone say "I can't".