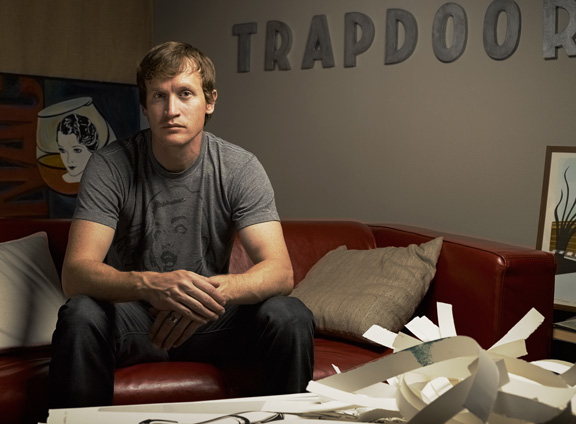 Name: Jon Arvizu
Title: Illustrator/Designer/Printmaker
Age: 40
Married/Single: Married
Kids: 2 (4 and 7 years old)
City you live in: Scottsdale
A typical day in my life includes…
the gym, a coffee, then kids to school. Sketches, illustration or design work all morning. A handful of chips or almonds and another coffee. Preschool kid pickup at noon and kid lunch. Afternoons are a mishmash of design work, artwork framing, project research and management, client communication, print production, art delivery and installation; whatever the day calls for. I spend as much time in the studio as possible. Delivering good work is time consuming and having a young family soaks up the rest of my waking time.
I was born…
in a little Midwestern town, and moved frequently throughout the western U.S. until finding a home here in Scottsdale.
My favorite things about Arizona…
to name a few: Midcentury architecture, the beautiful Sonoran desert, inspiring sunsets and "desert casual" dress code.
I'm listening to…
Chet Faker, Alt-J, Dave Brubeck, Cage the elephant and a lot of 80's/90's playlists lately (feeling nostalgic).
My family…
is everything to me.
If I could have dinner with anyone, it would be…
a few good friends who are easy to talk to. 
One thing I cannot live without…
my independence and self respect.
When I was younger, I wanted to be…
an artist.
I'm inspired by…
simple, elegant solutions to problems; vintage graphic design.
The one person who motivates me is…
me. there is no playbook to being a working artist, aside from being true to oneself as much as possible, balanced against the need to support a family.
If I could change anything in the world, it would be…
more people being real.
The perfect day would be…
draw something for myself in the morning, eat a fantastically huge lunch with friends and have a beer on a patio, under shade trees, enjoying a cool breeze.
My first job was…
dishwasher at a barbecue restaurant.
My favorite escape…
visiting my friends in Dallas, eating Tex-Mex. (Noticing a food pattern here?)
My life…
and my existence are frustrating and glorious at the same time.
I'm currently working on…
new serigraph designs, branding and logo design, Beverage packaging, Apparel design and Illustration, and shaving my face regularly.
Always…
be open to new ideas.
Never…
Name drop on me.
Favorite Quote…
"The roots of education are bitter, but the fruits are sweet." – Aristotle
Biggest Dream…
being relatable to others through my artwork, and getting paid what my time is worth.
My Pet Peeve(s)…
haggling.