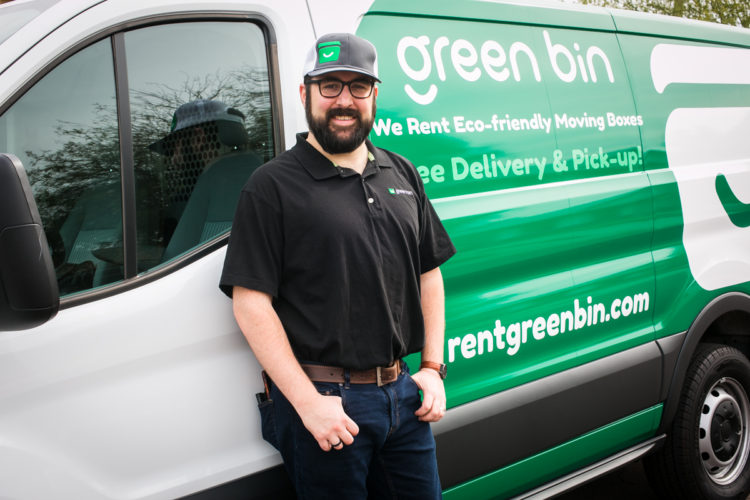 Name: Jeremiah Rosenthal
Age: 35
Title: CEO & Co-Founder of Green Bin
Married/Single: Married
Kids: 2 dogs
City you live in: Scottsdale
A typical day in my life includes…
waking up, telling my wife I love her and playing a bit with the dogs. Then I'm usually making Green Bin deliveries or pick-ups throughout the Valley and working on setting up meetings. For dinner I typically cook a meal that balances my wife's vegetarianism and my celiac disease. After dinner I'm off to JesterZ where I teach improv and am a main stage performer.
I was born…
in the Bay Area of California.
My favorite thing about Arizona…
it's a toss up between the people and the sunsets. Both are amazing, and you don't find them anywhere else in the world.
I'm listening to…
a mix of house music, jazz and classic music, with a dash of yacht rock mixed in.
My family…
I grew up with an older and younger sister in a small farm town close to Stockton, California.
If I could have dinner with anyone, it would be…
if they are living: Bill Gates, to ask him how he transitioned from building one of the most successful business's in the world to now running a foundation that is saving lives and how he's able to keep his drive for doing good going. If they have passed away: I'd want to have dinner with Benjamin Franklin and ask him about his ideas for the United States.
One thing I cannot live without…
music, it's the plus one of the universe. It makes everything a little better.
When I was younger, I wanted to be…
an astronaut, because that is really the coolest job either on, or off, this planet.
I'm inspired by…
nature. There is so much beauty in this world that too many people don't take time to enjoy. I love that at Green Bin we donate a portion of our sales to the Arizona Sustainability Alliance's Urban Forestry project that plants trees in low-income communities in the Valley.
The one person who motivates me is…
my wife, she's continuously making me want to be a better version of who I am today.
If I could change anything in the world, it would be…
compassion, I would give every person a little bit more compassion for each other. If we had that we would take better care of everything and everyone.
The perfect day would be…
October 30th 2015, the day I had my first date with my now wife.
My first job was…
working at a hardware store in a little farm town.
My favorite escape…
reading a book or playing a video game.
My life…
has been a series of events that has led me here and I'm very excited about where it is leading me in the future.
I'm currently working on…
Green Bin, where we rent eco-friendly moving boxes that cost less than buying cardboard. Our goal is to lessen the environmental impact of local moves.
Always…
give a compliment, if you're debating if you should or not.
Never…
stop wanting to become a better version of who you are.
Favorite Quote…
"Fate favors the bold" – my dad.
Biggest Dream…
change the way people move locally by saving them time, money and sanity.
My Pet Peeve(s)…
when people choose to be rude versus being kind.