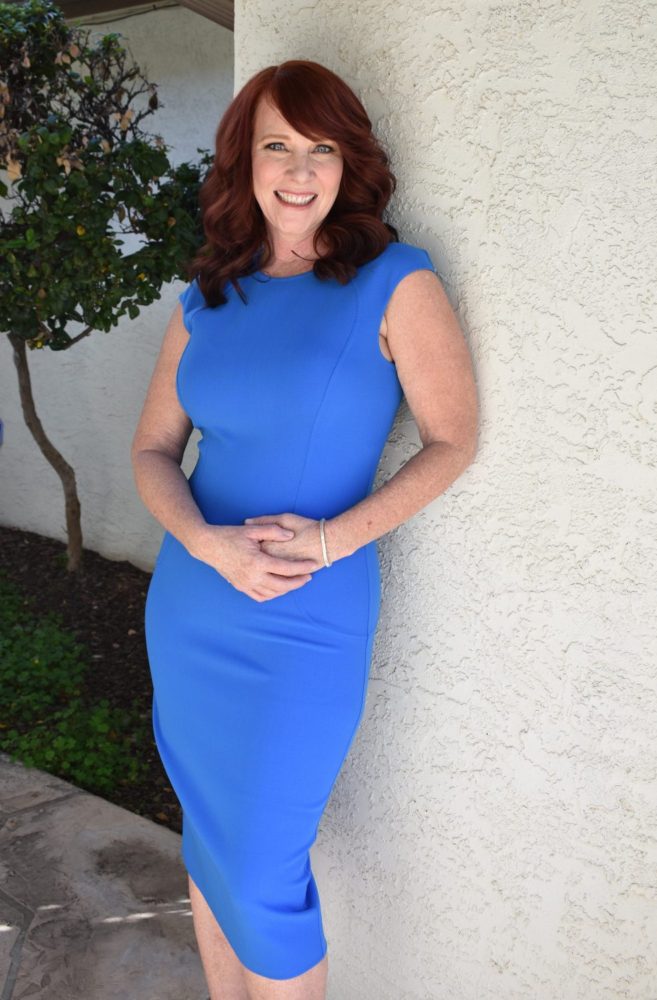 Name: Holly Rose
Age: 47
Title: Founder & CEO of Don't be a Chump! Check for a Lump!
Married/Single: Married – I met my husband, John, 25 years ago on the beach and I'm still madly in love (some days just mad, but most of the time madly in love)!
Kids: 2 lovely girls! God blessed us in that department for sure!
City you live in: Phoenix, Az.
A typical day in my life includes…
coffee, computer, cleaning, kids, cooking, cuddles, and exercise. Not always in that order.
I was born…
in Phoenix, AZ
My favorite thing about Arizona…
I love that I can go outside to exercise in January amidst beautiful mountains and sunsets and I'm wearing shorts and a tank.
I am listening to…
I'm married to a record store owner and collector, so my music library spans every genre. It's hard to pick just one. Right now I'm listening to the birds happily chirping in my backyard.
My family…
is what I treasure most. Being faced with my own mortality during breast cancer I never thought, "If only I could work more," or "If only I made more money." My only thought was how to bargain with God for more time to spend with John and our girls. I appreciate every moment with them.
If I could have dinner with anyone, it would be…
P!nk – so I could convince her to come perform at our PINK OUT! I want this event to take us way beyond pink tiaras and tutus for breast cancer. I'm determined to motivate women to 'Step Up To Prevention!' and raise funds to sustain our free wig assistance program.
One thing I cannot live without…
I have two – coffee and kisses! I'm a bit needy for both on a daily basis.
When I was younger, I wanted to be…
a wild life photographer for National Geographic. Good thing I didn't pursue it, as I developed a few phobias including: Claustrophobia, Acrophobia (fear of heights), Ophidiophobia (fear of snakes) and we can't forget Triskaidekaphobia (fear of the number 13). Not sure how my panic attacks in the jungle would have suited a career as a wild life photographer.
I am inspired by…
my daughters! They amaze me with their talent, creativity and insight into this world! I want to create and leave them a legacy they can be proud of. I love them so!!!
The one person who motivates me is…
me. Life is hard and often knocks you down and throws you a few curveballs. The only 24/7 cheerleader you can bank on is yourself.
If I could change anything in the world, it would be…
eliminate greed. I think that would solve so many problems – from politics to climate to poverty to disease. It's evil.
The perfect day would be…
coffee in bed, kisses, a jog down the beach (sidewalk not sand) with a new awesome playlist on a sunny day, a large donation to help sustain our non-profit, lunch with my friends, a fairy princess with a wand to make all of my laundry go away, watch our youngest perform dance, our oldest belt out her punk lyrics in her band, then laughing over dinner with my husband and our girls, and maybe end the night off cozied up on the couch with a film noir, a nice bottle of pinot noir and some rain!
My first job was…
oh dear! I was 13 when I worked at Phoenix Trap and Skeet! The men with their rifles hollered out, "Pull!" and I pushed the button sending a clay pigeon in the air for them to shoot and then scored a hit or miss. However, most of the time I was in the lounge and I learned how to play a mean game of Rummy with Betty and the boys.
My favorite escape…
Laguna Beach. It's been our family tradition for years.
My life…
turned out so much better than I ever thought it was going to be! I feel blessed and grateful!
I am currently working on…
our WIG OUT Gala on March 11th! It's the best fundraiser you will ever go to! All of our guests wear wigs, the crazier the better, and the theme this year is 70's. It's one giant costume party for a great cause!
Always…
smile at someone. It's a tiny little gift that can work miracles. This is something I am working on myself, since I think my inner shyness can sometimes cast an unintended grimace.
Never…
never give up! Again, life is hard and often beats you down. You have to pick yourself up, dust yourself off and keep going. Dreams don't happen sitting down or while feeling sorry for yourself.
Favorite Quote…
"When you want something, all the Universe conspires in helping you to achieve it." Paulo Coelho – The Alchemist. I believe the world conspired with me to make Don't be a Chump! Check for a Lump! come to fruition.
Biggest Dream…
retiring in Southern California steps away from the beach!
My Pet Peeve(s)…
frames off center. Why? There is just no need for it. We have tape measures, levels . . . every tool imaginable. Center the frame and level it for the love of God!