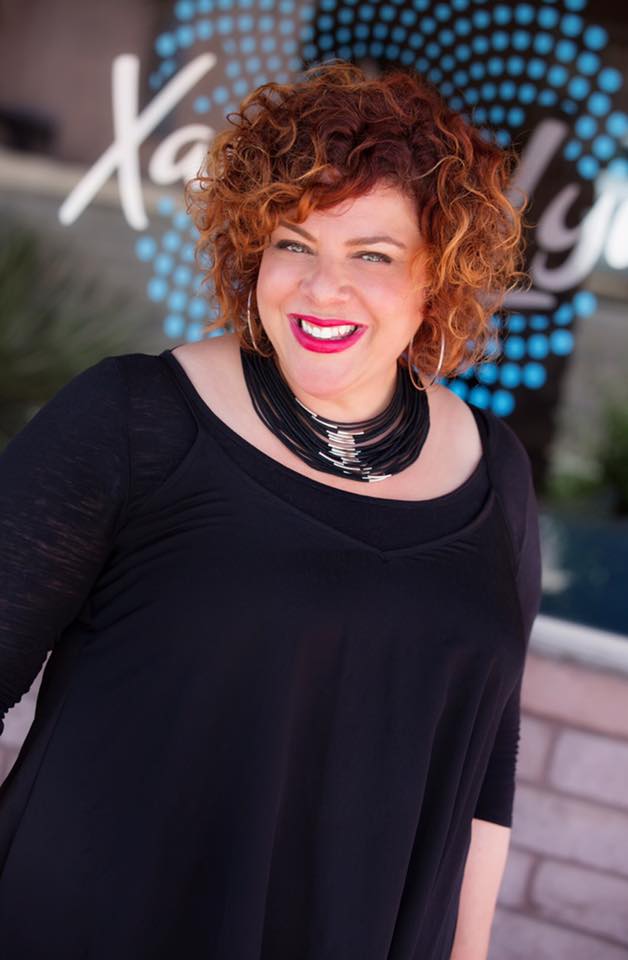 Name: Gaby Miley
Age: 45
Title: Salon Owner, Artist, Kuene International Educator
Married/Single: Married …to Michael.  He tends to be my structured side, since mine is absent at times! Although he is not a hairdresser, he is always researching our "creative quirkiness".  I love this man inside and out!
Kids: 2; Alexander and Madeline.  The names combines actually make up "XanderLyn"
City you live in: Gilbert
A typical day in my life includes…
I wake up to around 100 new emails and immediately start sorting through those and any texts. Then I look at my client schedule to get a better idea of my day. Next I check in with my kids, ones away in college and ones at home finishing high school. Then I work, work, work, making everybody beautiful. Part of being a salon owner means having to work with a million different personalities, so my days are often pretty interesting. I'm also working on the opening of XanderLyn Beauty Lounge. At the end, I go home, wash my face and brush my teeth, watch the news and go to bed. Repeat.
I was born…
in Queens, NY.
My favorite thing about Arizona…
how clean it is. And, of course, sunshine nearly all day, everyday!
I'm listening to…
I have an amazing playlist on Spotify, everything from real oldies to current tunes. Lots of dancing!
My family…
is often compared to My Big Fat Greek wedding, but Italian style.
If I could have dinner with anyone, it would be…
Angelina Jolie.  I'd love to pick her brain on everything.
One thing I cannot live without…
fantastic skin care products.
When I was younger, I wanted to be…
a hair dresser but my dad made me go to college. So I thought I wanted to be a lawyer and then a music teacher.
I'm inspired by…
youth. I love the spirit of younger people and how carefree they are. Millennials really inspire me too.
The one person who motivates me is…
my kids. Their structure and creativity is mind blowing.
If I could change anything in the world, it would be…
no cancer!
The perfect day would be…
half the emails…lol. And no schedule.
My first job was…
at K-mart.  On my 16th birthday I became the blue light queen specialist for all K-mart departments!
My favorite escape…
anything around water, with an iced-latte in hand.
My life…
is positive.  I have no complaints. I know I am so lucky.
I'm currently working on…
XanderLyn Beauty Lounge.
Always…
wear sunscreen, drink water and be grateful. Gratitude gets you far in life.
Never…
mix your alcohols. Or wash colors with whites.
Favorite Quote…
"Embrace what you need to accomplish what you want." I made that up!
Biggest Dream…
that my kids lead healthy, happy, successful lives and my XanderLyn family, aka the "xamily", has all the happiness and riches they dream of.
My Pet Peeve(s)…
when people leave cabinets open.
More about Gaby…
Gaby Miley is a distinguished industry leader, salon owner, current Kuene International Educator, and prior Redken Global Educator.  She has traveled to 22 countries educating professionals, creating red-carpet styles, and supporting the beauty industry.
Growing up, Gaby was always inspired to "bring Barbie to life."  Her core values and passions have consistently been in education and the arts, so it's no surprise that Gaby eventually attended college with the intentions of becoming a music teacher.  The search for a summer job eventually led Gaby to Beauty School, where her passions seemed to cosmically align. With instructors urging Gaby to "go big-time," Gaby apprenticed and then worked at big-named salons throughout the Scottsdale-area.  She was soon sought out by Redken to become an educator.  She stayed at the forefront of the beauty industry while working closely with the global brand. After 12 years with Redken, Gaby was pleasantly surprised to sample and fall in love with the product line, Kuene. She is now using her education and talent to assist in the growth of Kuene, a Netherland-based company that has been in the United States for 20 years.
Gaby is the owner of XanderLyn Salon a high energy, full-service hair salon and beauty lounge located in the heart of Old Town Scottsdale, that rivals no other.  The salon culture revolves around the science of beauty, as well as creativity, innovation, and collaboration. From haircuts to color, styling, and extensions, as well as a full service beauty lounge, their elite team of trend setting, beauty image artists works tirelessly to ensure clients feel amazing in their own skin.