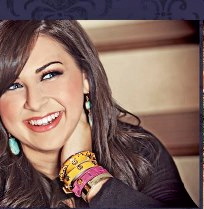 Meet Allie.  She's only 23 years old, but she's the founder of Allison Lauren Jewelry.  See how this young entrepreneur finished these sentences.
Name: Allie Goldstein
Age: 23
Title: Founder of Allison Lauren Jewelry
Married/Single: Single
Kids: 0
Live: Scottsdale Arizona
I was born…
On July 22, 1989, In Scottsdale Arizona.
My favorite thing about Arizona…
Feeling like I'm on vacation 365 days out of the year. I love being able to sit outside at all of the great restaurants with a view of the gorgeous scenery!
I'm listening to…
At the moment, I'm listening to the new Justin Timberlake cd. Obsessed. Mirrors is my favorite song off 20/20 Experience. Cannot wait for his and Jay-Z's tour!
My family…
are my best friends. We are very close and each other's biggest support system. I'm fortunate enough to live in the same city as them and get to stop by whenever I want.
If I could have dinner with anyone, it would be…
Ooo that's a hard one! Maybe Myself in 20 years so I can see what mistakes I have made so I can try to avoid them, the people I should hold onto, the ones I should let go of, the bad habits I shouldn't start, the good ones I should and where I was most happy and productive.
One thing I cannot live without…
Well obviously, I could not live without my family. But other than my parents and brother (and German Shepherds!), I would have to say my cell phone. It's what keeps me in contact with my customers. I form close relationships with them so they often text me a picture of how they're wearing their Allison Lauren Jewelry or I ask them how they like their new purchases. I also set up business meetings and trunk shows with my cell phone, as well as post pictures on my Instagram account @AllisonLaurenJewelry and my Facebook page. Follow me!
When I was younger, I wanted to be…
a Pediatric nurse.
I'm inspired by…
my mom. She has amazing style. I love going shopping with her (at the mall and in her closet) to see how she would style something. She has a mix of classic, timeless, and trendy style. I am also inspired by Pinterest and style blogs. Currently, my favorite blog is Cupcakes and Cashmere.
The one person who motivates me is…
my dad. Every day he gives me great advice. He owns a fine jewelry company and has other businesses as well. He has great customer service and great products he stands behind. He's taught me so much about how to run Allison Lauren Jewelry and make it into a successful company.
If I could change anything in the world, it would be…
world peace, duh!
The perfect day would be…
My perfect day would be to start my day with an iced coffee and get a massage, go shopping with my mom at Fashion Square or scottsdale quarter and then host an Allison Lauren trunk show. Then, I would end the day with drinks and dinner at True Food (or Ocean Club) with great friends. Fun, good food, being outdoors, shopping and work…all of my favorite things, as well as being with my family!
My first job was…
a camp counselor.
My favorite escape…
in Arizona, the Montelucia resort. I love relaxing at their spa, and then laying by the pool. If I had to choose an escape outside of Arizona, that would be a tough choice between Maui and New York City. Both are great places I love to visit.
My life…
is getting better each day! I have learned so much and gained a lot since starting Allison Lauren Jewelry. I've learned to be outgoing, a savvy businesswoman and a creative designer. I've come in contact with so many great people that have really added to my life and made it that much more fulfilling.
I'm currently working on…
my next jewelry collection. I'm constantly looking at what's trending and what is coming up in the next season. This year I will be traveling all over the country and going to jewelry shows. I'm very excited!
Always…
DREAM BIG!