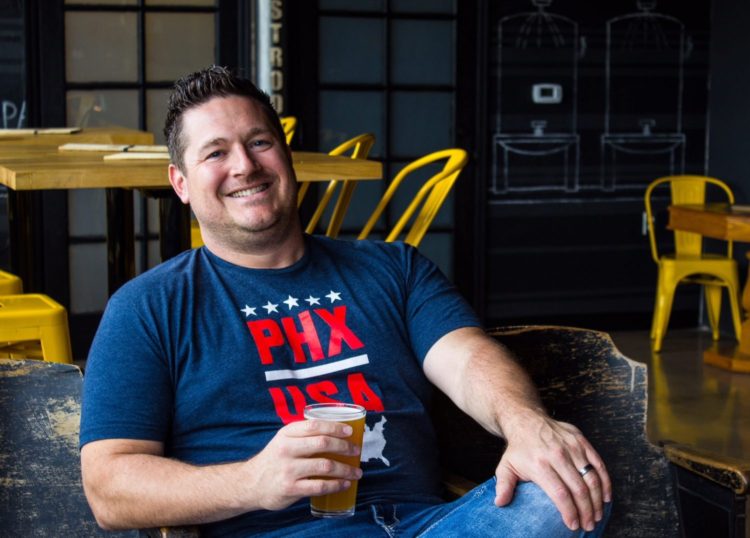 Name: Eric Walters
Age: 39
Title: Founder/Host of Tap That AZ Podcast
Married/Single: Married
Kids: 2 daughters, ages 4 and 6. I actually share a birthday with my 4 year old. She was born on my 35th birthday.
City you live in: Phoenix
A typical day in my life…
is non-stop from 4am until about 9pm. I can't stop. I'm like a shark; if I stop I die (or just get tired/bored). Work-life balance is essential to me so when I get home from my 9-5 I do my best to spend undivided time with my family and then before I go to bed I try to get some beer stuff (the podcast or the AZ Food and Beer brand I am trying to help launch) done.
I was born…
in a small town in Ohio outside of Youngstown. It's an old steel city that has struggled to recover. I always wanted to move away and I'm so glad that Arizona ended up being that place.
My favorite thing about Arizona…
is the sunshine. It does wonders for your mental health. Even when its 176 out still seeing sunshine is great. Plus you can escape the heat and go to beautiful places like Flagstaff and Payson. But every year by the end of August I ask myself why I stay here. Then November rolls around and I'm like "ok, THIS is why".
I'm listening to…
a few things. I rotate between podcasts, audiobooks, and music. I just found a great new beer podcast called Craft Beer and Brewing Podcast. Episode 1 had an interview with Sam from Dogfish Head on it so I was hooked from the start. I also just finished the audiobook version of "The 5 Second Rule" by Mel Robbins. A little long to be a full book but the concept is simple and life-changing. Musically I recently rediscovered My Morning Jacket. Jim James' voice is just so mesmerizing.
My family…
is my world. My wife is my #1 fan by far and the most awesome person in the world. I would have never done any of the things that I've done without her support and her ability to keep my crazy mind reeled in somewhat. My 2 daughters also help to keep things interesting. My family is the best.
If I could have dinner with anyone, it would be…
Bruce Lee. He just seemed to "get it". He had a philosophy about life that transcended martial arts. My favorite philosophy of his was the whole "be water, my friend". Basically saying be flexible; know when to be tough and know when to be gentle. Don't be so rigid in your thoughts or actions. Be open-minded. I feel like he would have been a Double IPA kind of dude too.
When I was younger…
I wanted to be so many different things: kindergarten teacher, FBI profiler, architect, NFL football player. To be honest, I am SO glad none of those came true. Except maybe an NFL football player. Maybe a punter so my risk for injury would have been much lower. Retired at 35 with lots of money? That would have been pretty sweet.
I'm inspired by…
Guy Fieri. I really love that guy. Say what you will about his hair and flame shirts but he seems like a genuinely good guy whose show does amazing things for local restaurants. He is truly passionate about the food and is an ace at describing what he is consuming. I look to his show for inspiration of what I want Tap That AZ to become for the Arizona beer scene and to him for what type of host I want to be.
The one person who motivates me…
is my wife. She sees my true potential and pushes me to believe in my visions even in times when I might doubt it. I mean, show me one other wife out there who ENCOURAGES her husband to go to the breweries and drink beer and BS with people. She's truly the best.
If I could change anything in the world, it would be…
that everyone in the world would discover their spirit beer. When I hear people say "I don't like beer" I pretty much hear "I haven't found the right beer for me". If more people drank (good) beer I think the world would be a better place. Or maybe worse because some people can't handle their booze. Ok, world peace.
The perfect day would be…
to wake up early and get a breakfast burrito from Lox Stock and Bagel in Scottsdale. And then grab a nice strong coffee from a local place like Lux or Cartel. Then a drive to Sedona for some awesome hiking with a backpack full of some of the best Arizona beers. Lunch at Blanco for their amazing nachos. Then more brewery hopping just to finish up with Stromboli from iL Capo. Somehow I'd fit in a burger and fries from Diablo Burger in there too. If you can't tell, I love food and beer. Pretty much all of my vacations are focused around beer and food. Maybe that's why I'm so ripped.
My first job…
was at McDonalds. I used to hide Quarter Pounders in the mop bucket and then sneak into the bathroom to eat them. Yeah, I now realize how gross all that sounds.
My favorite escape…
is downtown Flagstaff. With so many great beer and food spots in such a small area I could just stumble around town all day and love every second of it.
My life is…
the best. I am very fortunate for the people who have been put into my life and I am grateful for every one of them. Even the jerks because they often teach you more about yourself than the people you like. Even if at the time it doesn't seem like it.
I'm currently working on…
turning my obsession with the Arizona craft beer scene into something I can dedicate my full time attention to. For 38 years I tirelessly searched for that one thing I was meant for. I was almost at the point where I felt like maybe it didn't exist but in 2016 I discovered that purpose and now I am dedicated to making that my full time career.
Always be grateful for…
what you have. We often get too caught up in the things that we want or don't have. But when that happens you tend to look past the awesome things you have right in front of you. Gratitude is a major key to a happy and fulfilled life. Also, ALWAYS drink craft beer.
Never…
complain. 98% of the time it's unnecessary and 100% of the time it doesn't help and is annoying.
Biggest Dream…
to look back on my life and think "You know what? I did that on MY terms".
My Pet Peeve(s)…
people who speed up when you try to pass them. Seriously, why did you drive 10 miles an hour under the speed limit for 10 minutes and the minute I try to pass you decide the speed up!? Also, when my kids try to sit on my lap or lean on me when I'm eating. Not really sure why it drives me so crazy but it does.
More about Eric… 
in 2015 I started a music podcast with a friend. Part of the show had to deal with what we were drinking. I often picked local beers and would take the breweries in our social media. One thing led to another and next thing you know I was taking my microphones and digital recorder into these places and having them tell their story. The goal at the beginning was local Arizona craft beverages (beer, coffee, wine) but my main interest was beer and quickly realized I loved the craft beer community here in Arizona. From that point moving forward it became my mission to do my part to help get Arizona beer on the map as a beer destination. I had a vision of what I wanted (Diners, Drive-ins and Dives for Arizona Craft Beer) but the skills I had severely limited me specifically from a visual/videography aspect. I shared my dilemma with a close friend and he suggested I meet Aaron Markus, an awesome local videographer. Aaron and I met over a beer and quickly realized that together we could create some magic. We both had similar thoughts and value. Since joining forces Tap That AZ has been taken to a whole new level. Aaron not only brings an amazing amount of talent and video expertise but so much more such as branding, marketing, an equal obsession for craft beer, and a good friend. He also does a great job of coaching me to become a better host.