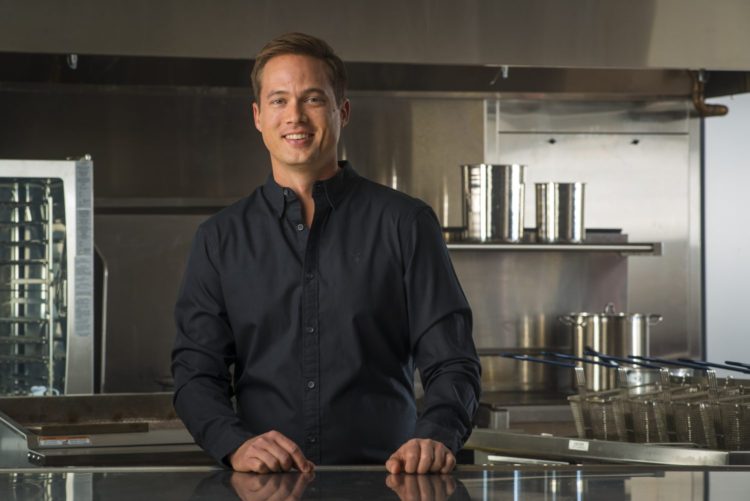 Name: Colton Grubb
Age: 32
Title: Owner of Grubstak
Married/Single: Married
Kids: Not yet
City you live in: Gilbert
A typical day in my life is like…                    
a box of chocolates.
I was born…                          
in the U.S.A…proud to be an American!
My favorite thing about Arizona…             
is our October through April. Can't beat it!
I'm listening to…               
N.E.R.D. as I have off and on for 15 years because of their creativity and production.
My family…         
is the center of my life even more so now as it has shrunk with the passing of my grandparents and grown since marrying my wife along with my sister becoming a mom.
If I could have dinner with anyone, it would be…               
to absorb from the best with Buffet, Timberlake and LeBron at Tarbell's.
One thing I cannot live without…              
are pizza nights with my wife.
When I was younger, I wanted to be…                      
an American James Bond.
I'm inspired by…               
the legacy of my grandpa and dad's business philosophy, which was based off the Golden Rule, along with the unconditional love and support from my entire family, which has given me the confidence to take risks.
The one person who motivates me…      
is one who smiles in trouble, gathers strength from distress, and grows brave by reflection.
If I could change anything in the world, it would be…      
driving and texting.
The perfect day would be…         
turning off my cell phone, playing a smooth round of 18, a fiction book, a nice dinner and bottle of wine with my wife and catching up on our latest show together.
My first job was…                                
a valet.
My favorite escape…                        
is playing golf with my dad having the phones tucked away.
My life…               
is a blessing and continues to get better regardless of the twists and turns along the way.
I'm currently working on…           
growing Grubstak in hopes of opening more Valley locations.
Always…               
know if the juice is worth the squeeze.
Never…                                   
I try not to use the word.
Favorite Quote…              
is from Saint Frances de Sales, "Nothing is so strong as gentleness. Nothing is so gentle as real strength."
Biggest Dream…                
If I told you, then I'd have to…
My Pet Peeve(s)…            
the use of "you know" – I do not know! Also, meetings with no action and close talkers.