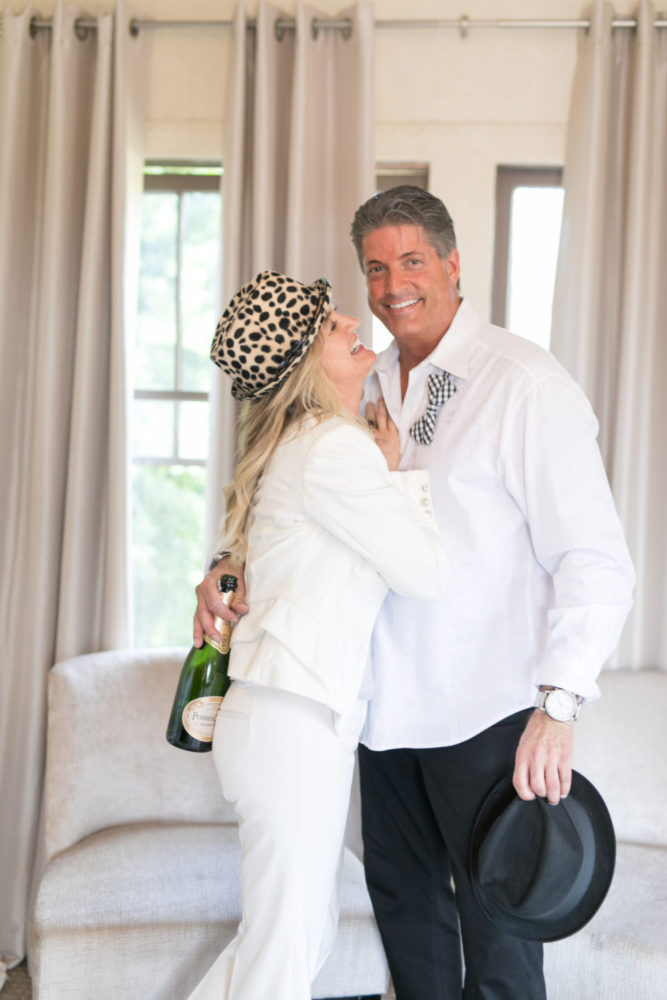 Name: Certified Executive Doug Brochu and Camille Brochu
Creative Hands Cuisine Facebook | Secret Garden Event Center Facebook
Creative Hands Cuisine Instagram | Secret Garden Event Center Instagram
Creative Hands Cuisine Website | Secret Garden Event Center Website
Age: 52, Doug was born 7/11/67 and Camille, 7/20/67
Title: Owners of Creative Hands Cuisine and Secret Garden Event Center
Married/Single: Married
Kids: 1 son, Kruz Brochu
City you live in: Mesa
A typical day in our life includes…
up early, workout, walk the dogs, get our son up and out the door for school.  Camey heads to Secret Garden and Doug heads to Creative Hands.  Doug checks in on deliveries and events scheduled for the upcoming 2 weeks. He then goes into meetings with his culinary team and works closely with the sales team as well.  Camey arrives at Secret Garden and checks on the property meet with employees and oversees the day to day operations with a focus on property management and marketing.
We were born…
Camille in Lansing, Michigan and Doug in Rockville Center, NY.
Our favorite thing about Arizona…
the beauty and variety of outdoor activities to enjoy. We are big hiking fans and often escape to Sedona where we also own a home and conduct catering events as well.
We're listening to…
since COVID-19 we are digging listening to 70's classics from artists like Looking Glass, Fleetwood Mac, Jay and the Americans and Cheap Trick.
Our family…
is CRAZY! A bunch of creatives running around thinking of ways to be entrepreneurial.
If we could have dinner with anyone, it would be…
we're big Marcus Lemonis fans.  He's such an amazing business-man but he has a huge heart and rarely loses his cool. His main goal is investing in people.  We always strive to have that same focus.
One thing we cannot live without…
GREAT FOOD!
When we were younger, we wanted to be…
Doug an actor, Camille a veterinarian.
We're inspired by…
creativity and honesty.
The one person who motivates us is…
each other, we don't have a choice, haha. No slackers allowed in this family.
If we could change anything in the world, it would be…
ending hunger and more recently, a vaccine for COVID-19.
The perfect day would be…
"restauranting" in a fabulous town like Phoenix. We get dressed up and hop around from restaurant to restaurant.  We have an appetizer and beverage (usually a cocktail and don't worry, we Uber) at each location and talk to as many people as we can.
Our first job was…
Camey worked in a café and Doug on a melon farm.
Our favorite escape… 
Hawaii! Oahu is our favorite. We love the blend of a sleepy town beach life on one side of the island combined with Waikiki and that whole international flavor on the other side.  It's the perfect combination for us.
Our life…
is incredible and we are so truly blessed.  We love our nation and our country!
I'm currently working on…
Feed the Soul Go Fund Me, meals for frontline workers, first responders, and essential workers. Our mission is to raise enough money to prepare and deliver 1000 meals to these fantastic individuals who are putting their own health and their families' health on the line day after day in the face of COVID-19.
Always…
say please and thank you.
Never…
say you hate anyone or anything.
Favorite Quote…
"Seize the day!"
Biggest Dream…
when we retire from the catering business we would like to volunteer our time and talents through relief agencies to head to disaster areas and help feed people who need help.
Pet Peeve(s)…
disorganization.
More about Doug and Camille…
Celebrity Executive Chef Doug Brochu and his wife Camille, also known as Mr. and Mrs. Events, have been business partners for 19 years, their entire marriage. The striking, talented wonder couple behind two multi-million-dollar event, catering and entertainment businesses intertwine some days and are at opposite ends of the universe other days. The duo produces amazing, large scale events for companies like Nordstrom, the Fiesta Bowl, and Google as well as partner with Arizona's best venues and destination management companies.
Founders and owners of Secret Garden and Creative Hands Cuisine, Executive Chef Doug is master to the "back-of-the-house" while Camey is "front-of-the-house". Both expert professionals in cuisine, catering, and events. Chef relishes creating exceptionally interesting experiences in cuisine, featuring unparalleled presentations that knock the socks off guests, while Camey thrives on developing an idea, theme, operations, sales, and marketing.  Their incredible symbiotic relationship can only be described as dizzying considering the pace they drive their businesses and lives, hour by hour.
With the Covid-19 pandemic, Camille, a former health care professional herself understood the chaos healthcare and essential workers were going through and knew they had to help. So, they decided to put their talents to good use and start preparing wholesome meals for these brave people through their FEED THE SOUL: Fresh Meals for Front Liners campaign. Learn more and help support the cause here.