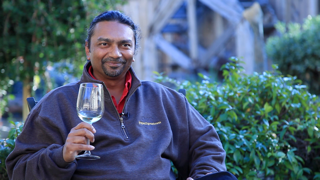 Meet Deo, Doctor and now Winery Owner.  He loves Arizona for its heat, and can never get enough of Jimmy Buffett. Read how he finished this 20 sentences.
Name: Dr. Deo Rampertab
Age: 46
Title: Doctor of Podiatric Medicine and Winery Owner
Married/Single: Married-Sharyon
Kids: Shannon-22 and Holly-16
Live: Phoenix, AZ
I was born…
in Guyana, South America. I arrived at the age of 4 and New York was my home until I left for Medical School when I was 21 years old.  I spent four years in Chicago and then I found my home in Phoenix, AZ.
My favorite thing about Arizona…
the summers!  Most Arizonans would think I am nuts but I love the heat.
I'm listening to…
Old Jimmy Buffett tunes.  I have not missed an opportunity to see Jimmy Buffett in concert since I became a fan at age 18.
My family…
is quite special.
If I could have dinner with anyone, it would be…
Steve Jobs.  I am forever in awe of people of great vision.  I believe Steve knew what we as a society needed before we knew we needed it.
One thing I cannot live without…
my iPhone, of course…need I say more?
When I was younger, I wanted to be…
a teacher like Dr. Indiana Jones.  Dr. Jones traveled the World and found exciting pieces of history to bring back to the classroom and share with his students.
I'm inspired by…
When I voice my concern that I feel like I am new to the wine business, my good friend Tom Simoneau often reminds me to look how far Veritas Ridge has come and remember that Robert Mondavi did not start his winery until he was 53.  There is a lot of greatness left for me to achieve.
The one person who motivates me is…
My wife and Bottled Blonde partner, Sharyon.
If I could change anything in the world, it would be…
the direction Healthcare delivery is headed in.
The perfect day would be…
a day without interruptions when I can sit at my desk and work non-stop for as long as I want and actually accomplish everything I set out to accomplish in that day.  This is a very rare event, and of course, a glass of chardonnay next to me.
My first job was…
Landscape Maintenance (yard-boy to some).
My favorite escape…
The phone is turned off and I'm enjoying a day of sailing with my family. Enjoying Bottled Blonde, of course.
My life…
Has been made infinitely better by having my family by my side.
I'm currently working on…
Continuing to make exceptional wines in Sonoma County and trying to maintain the very high success rate I have with my UltraCryo surgical procedure.
Always…
envision the finish line.
Never…
overlook the opportunity to learn something new.
Favorite Quote…
"A man's reach should always exceed his grasp." -Robert Browning
Biggest Dream…
I would like to see our bottled blonde Chardonnay available for sale in every major wine store.  Of all the wines that we produce, this is by far the one characterized as most easy-drinking and people pleasing.  This wine has convinced the most loyal red wine lovers that there is a place for Chardonnay.
My Pet Peeve(s)…
I base my opinions on facts, I am easily irritated by those who are opinionated without knowing any facts relating to the subject matter.