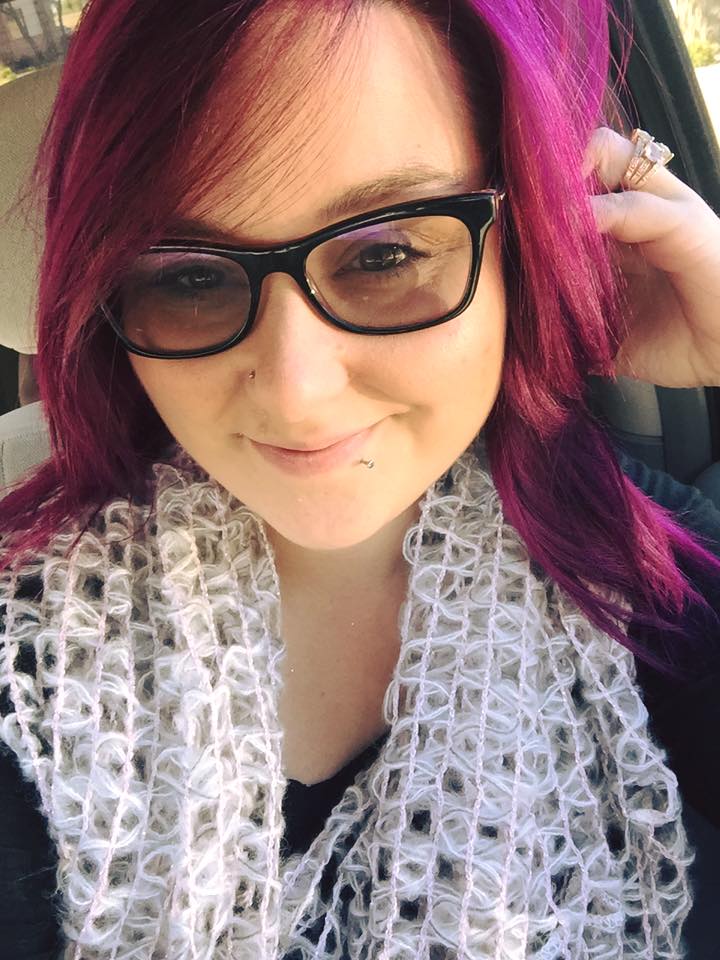 Name: April Russell
Age: 31
Title: Master Colorist & Educator
Married/Single: Married
Kids: 2 Daughters, Annabel (8) Briella(6) CATS: Max  [male gray and white tabby] (5) Raven[female black shorthair] (2)
City you live in: Peoria, AZ
A typical day in my life includes…
Waking up to my lovely wife and helping her get ready for work, taking my daughters to school, working on social media marketing & answering clients from home, hitting up the supply stores for hair inspo and then working in my studio.
I was born…
in Myrtle Beach, South Carolina
My favorite thing about Arizona…
is the scenery and the weather. On any given day, I will think to myself "Wow, I can't believe I LIVE HERE." There's so much more about AZ that i'd like to explore. The world is my oyster.
I'm listening to…
whatever suits my mood. In general, I start my day with Lady Gaga & end it with Iggy Azalea because… I'm so Fancy (but you already know)! 😉
My family…
is my everything. We all have hard days, but in general, I can't WAIT to get home and see their beautiful faces. My daughters have hearts of gold and my wife is everything a partner should be… and our two sweet kitties are the best little furry friends ever!
If I could have dinner with anyone, it would be…
Taylor Swift? Tom Delonge? Tom Petty? Chris Evans? The entire cast of the L Word? Gaga? J Law?! Marco Rubio? Michelle Obama?! I think this dinner needs to be a PARTY!
One thing I cannot live without…
my Iphone. Seriously I will turn around and be late for everything if I don't have it. #apple
When I was younger, I wanted to be…
famous.
I'm inspired by…
women who've shown power and strength & the underdogs who face hate and still remain strong.
The one person who motivates me is…
not to sound self obsessed, but I motivate myself more than any one person ever could. I am constantly trying to beat my own best score, and I am always reaching for that level up. If I relied on anyone else for motivation, I would be at the mercy of their emotions. Learning to motivate myself has been the hardest and best thing I have done for my career.
If I could change anything in the world, it would be…
ugly hearts. I strongly believe in equal rights and love for everyone. If I could paint people's hearts the way I paint hair, the world would be a better place. I know it is possible to fight for peace & equality and come out on top. #loveismyreligion
The perfect day would be…
begin with mimosa's on the beach (with the wifey) and end with a good book … after a midday nap. I heart napping.
My first job was…
at subway, as a "Sandwich Artist".
My favorite escape…
is in my hair canvases. Sometimes on my worst days, I will do a model call so I can let myself get lost in the painting.
My life…
is a reality show. Seriously. If you filmed it and watched it… you'd be making sure your popcorn was stocked!
I'm currently working on…
my work life balance #workaholicproblems
Always…
remember your roots.
Never…
let yourself go.
Favorite Quote…
Everyday you get one more yard. You take it on faith, you take it to the heart, the waiting is the hardest part-Tom Petty: The Waiting 1981
Biggest Dream…
financial stability doing what I love, and to be a recognizable name in the community!
My Pet Peeve(s)…
Finding out a client has omitted information in their hairstory, Hair not being swept up prior to a blow dry, a dirty kitchen, liars and narrow mindedness.