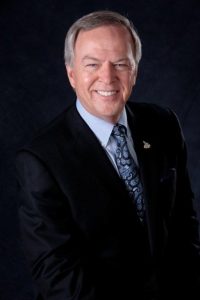 Name: Max F James
Age: 70
Title: Founder and Chairman, Camp Soaring Eagle Foundation
Married/Single: Married
Kids: Three children, Six Grandchildren, One Great Grandchild
Live: Sedona and Las Vegas
Meet Max, accomplished businessman, father, and grandfather.  Over the course of his successful career, Max F. James has established himself as a distinguished military pilot, an innovative entrepreneur, and a generous philanthropist.  Presently, Max F. James owns American Kiosk Management, LLC and North American Kiosk, LLC, which, when combined, operate in over 800 locations in the United States and Canada, with revenues of approximately $150 million annually.  Additionally, he founded and serves as the Chairman of the Camp Soaring Eagle Foundation, a medically based camping program for children with life threatening illnesses.  Read how Max answered these 20 questions.
I was born…
in Humboldt, Tennessee.
My favorite thing about Arizona…
Sedona is the most beautiful place I have visited anywhere on the planet.
I'm listening to…
For music –Great Country Music; For more serious consideration-the progress of our economy and the state of our democracy.
My family…
is what I care for and about more than anything.
If I could have dinner with anyone, it would be…
One thing I cannot live without…
My wife, followed by my cardiologist.
When I was younger, I wanted to be…
an optical physicist and then more relevantly, a lawyer/politician.
I'm inspired by…
the generosity and caring of our society for the needs of children.
The one person who motivates me is…
the lessons learned from the wisdom of my father.
If I could change anything in the world, it would be…
A return to the importance of character in our society.
The perfect day would be…
A morning of golf with my family on a great golf course, followed by a light lunch, a nap and a great dinner.
My first job was…
working on my dad's farm, following two grey mules in the hot dusty Tennessee summer.
My favorite escape…
Any of the world's great golf courses.
My life…
has been one of great challenges followed by great blessings.
I'm currently working on…
a plan to build a permanent campsite for Camp Soaring Eagle's camper kids, and a program for sustainability
Always…
respect your inner moral compass.
Never…
abandon your friends.
Favorite Quote…
When you give, it comes back tenfold.
Biggest Dream…
To see thousands of chronically ill children laughing and enjoying the benefits of a medically based Camp Soaring Eagle facility.
My Pet Peeve(s)…
Liars.