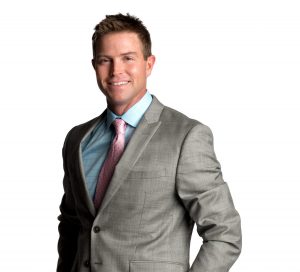 Name: Bryan Gawley, M.D. FACS
Age: 43
Title: Board Certified Plastic Surgeon, Owner/Founder Gawley Plastic Surgery, Owner/Founder MD Skin Lounge Centers, Owner/Founder North Scottsdale Outpatient Surgery Center
Married/Single: Married to wife Heather St. Peter, M.D.
Kids: 2 miniature daschaunds
City you live in: Scottsdale, Arizona
A typical day in my life includes… my day is like no other. I have the opportunity to be a plastic surgeon, a businessman, a teacher, a coach and mentor. I feel honored that patients trust me with their care and allow me to be a part of a very personal journey and transformation. I am part of a specialty that allows me to feed my desire to build and create businesses and teams of people that can help others. I enjoy both the clinical and surgical sides of being a plastic surgeon, as well as the ability to educate people on our specialty and the specific plan that will achieve their goals as a patient. The business of aesthetics is exciting and it is amazing to be in a place where I can help set the standard for excellence in our trade.
I was born… in Wurzburg, Germany. My parents got married in Chicago in 1970 and immediately moved abroad. My father taught band and science on an Army base in Wurzburg and I was born while they lived there. Unfortunately, they returned to the States when I was six months old, so I did not get the benefits of growing up in a foreign country.
My favorite thing about Arizona… is the beautiful weather and the ability to enjoy being outdoors year-round.
I am listening to… Florida Georgia Line and Deadmau5. Weird, eh?
My family is… the strongest pillar in my life and really is the foundation of who I am as a person. My wife is my best friend and biggest supporter as we continue to experience life. My parents have been the foundation for me as I have grown up and have encouraged me to find joy wherever my life leads me. I am fortunate to have my parents live close (Mesa) so that we can be with them as often as our busy schedules allow. My brother lives in Seattle and although I do not get to see him as often, he also is a strong factor in my life and I admire him tremendously.
If I could have dinner with anyone it would be… me on my 80th birthday. I would ask myself advice about what is really important to worry about versus all the little things that I worry about daily that really don't make a bit of difference for the future.
One thing I cannot live without is… music. I listen to music at home, in the car, in the operating room, golfing, etc.
When I was younger… I wanted to be the best at whatever I did. I had a difficult time deciding on "what I wanted to be when I grow up." At one point, I thought it would be fun to be in the golf industry, but I just felt that I wasn't "good enough" at golf to make a career out of it.
I am inspired by… people that are positive, open-minded, generous, and goal focused, while squeezing every drop of enjoyment out of each day.
The one person who motivates me is… myself. I have always had an inner drive to achieve. I know it is cliché, but I really do want to be the best at whatever I set my mind to.
If I could change anything in the world… this question was too hard for me to answer. There are too many amazing things about our world and the people that thrive within. To make a comment about the negative would only be focusing on a minority.
The perfect day would be… rise with the sun, work out, operate until noon, and then play 18 holes of golf at Cypress Point.
My first job was… as a paper delivery boy for the local town newspaper in Albany, Oregon.
My favorite escape… is playing golf.
My life is… pretty amazing as I am fortunate to have a great family, a career that allows me to be stimulated (and sometimes exhausted) and great friends to share and experience life with…
I am currently working on… growing my businesses and optimizing my teams.
Always… show gratitude and humility.
Never… be quick to judge and criticize.
Favorite Quote…"Frustration leads to breakthroughs"
Biggest Dream… is to be able to practice medicine without any concern for the financial and medical legal restraints that plague physicians.
My pet peeve is… inefficiency.