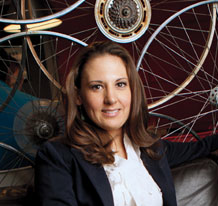 Susan Lacke is a freelance writer, editor, age-group runner/triathlete, and semi-professional cupcake eater. In addition to featured humor columns for Competitor Running and TriathleteMagazines, Lacke is a contributor to Women's Running Magazine, Fit Bottomed Girls, and No Meat Athlete, a website for vegetarian and vegan endurance athletes. Mainly, though, she spends an absurd amount of time procrastinating on Facebook and Twitter. Read how Susan finished these 20 sentences.
Name: Susan Lacke
Age: 30
Title: Writer
Married/Single: Married to Neil Manville
Live: Ahwatukee
I was born…
in 1983 to Pat & Jean Lacke, who at the time were blissfully unaware they'd one day have a cover-to-cover memorization of a parenting book titled "The Strong-Willed Child."
My favorite thing about Arizona…
5 AM workouts in July. Most people don't realize how spectacular the summer sunrise is – it's even better when viewed from a bicycle.
I'm listening to…
an embarrassing amount of 90's boy bands.
My family…
puts up with a lot of my crap, and for that I am forever grateful.
If I could have dinner with anyone, it would be…
with whomever wants to pick up the check. I'm a writer – it's not like I'm rollin' in the Benjamins here.
One thing I cannot live without…
dogs. We currently have three (Doc, Moxie, and Daisy) running around our house.
When I was younger, I wanted to be…
normal.
I'm inspired by…
fellow runners and triathletes.
The one person who motivates me is…
my partner, Neil. I'll never be as fast as him, but he has a cute behind, so I'm happy to give chase.
If I could change anything in the world, it would be…
mean people. For cryin' out loud, just be nice.
The perfect day would be…
a race, a cupcake, and a nap. In that order.
My first job was…
mopping the floors of a Norwegian bakery.
My favorite escape…
is writing.
My life…
is not at all what I expected it would be. It's better.
I'm currently working on…
several books, freelance projects, training for Ironman Arizona, and maintaining my sanity.
Always…
leap. The net will appear.
Never…
put others down just to build yourself up.
Favorite Quote…
"Never doubt that a small group of thoughtful, committed citizens can change the world. Indeed, it is the only thing that ever has." -Margaret Mead
Biggest Dream…
to write a bestselling book, qualify for the Boston Marathon, and find a pair of skinny jeans that fit my calves.
My Pet Peeve(s)…
texting while driving. Is any text message really so urgent it can't wait until the 6,000 pound death wagon is parked?