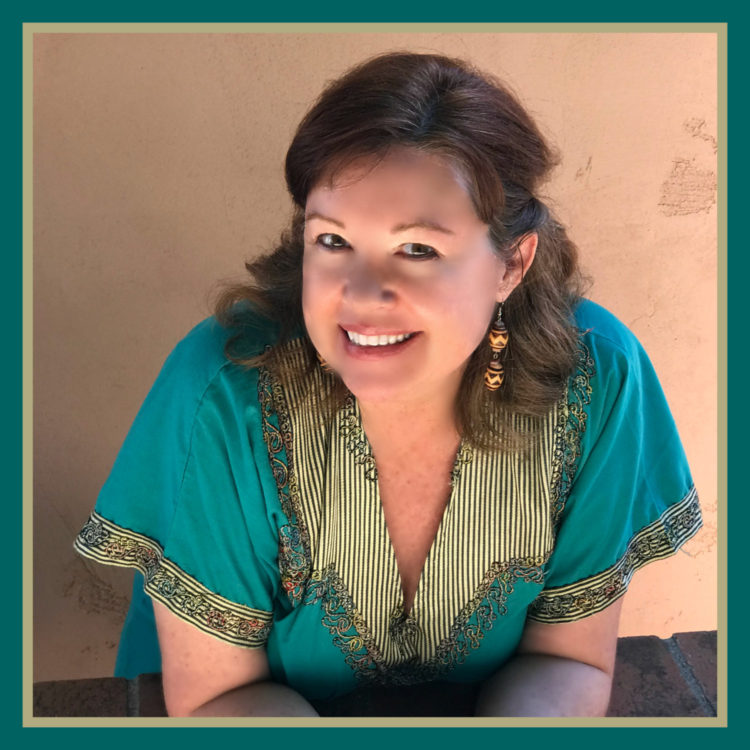 Age: 65
Title: Author
Married/Single: Single
Kids: No
City you live in: San Diego, CA
A typical day in my life includes… Blogging and journaling, doing astrology readings and moon rituals, bonding with my cat, giving some love to my home and yard (I am a Cancer by sun sign – how I love my home!), going for walks, watching Netflix, visiting with friends.
I was born…on the day that Disneyland opened. Not that I'm especially proud of that!
My favorite thing about Arizona…is soaking up the magical red rock energy of Sedona, where I lived in the late 80s/early 90s. I still love to visit when I can.
I'm listening to…R & B and hip-hop, Afro-Cuban salsa, English Beat, and European lounge music.
My dad…built our family home in the early 50s, and I've remodeled it in a Midcentury style that also reflects my penchant for feng shui and folk art.
If I could have dinner with anyone, it would be…my mom, who died in 2005. I miss her so.
One thing I cannot live without…is lipstick. Even in the age of mask-wearing, my lips are always good to go! (It has always been thus: My nickname in college was "Luscious Lips").
When I was younger, I wanted to be…a fashion editor. That's how I spent the late 70s and early 80s while living in Los Angeles. So much fun…
I'm inspired by…the progressive attitudes of the younger generation.
One person who motivates me is… Starhawk. Lately I'm loving her Facebook Live series, "The Old Witch Rants." Her magical activism got me not only doing rituals for change but writing letters to swing voters before the recent election. Now I feel like I'm a vital part of the progressive movement!
If I could change anything in the world, it would be… to awaken love and respect for animals and nature in the hearts of everyone on earth, along with the will to protect them.
The perfect day would be… wandering the mystical forests of southern France with a beloved. My book, Ten-Minute Moon Rituals, is being translated into French in the fall of 2021, so hopefully, I'll be doing some book-signings there as well as communing with the forest devas – if the travel gods allow!
My first job was… pumping gas while wearing pigtails and hot pants one hot summer long ago.
My favorite escape…is watching Outlander, the romantic time-travel series based on Diana Gabaldon's amazing books. 
My life…is a work in progress – with so much left to experience and accomplish!
I'm currently working on…releasing some very old patterns, as Pluto opposes my Sun. Not an easy transit, but it's sure helping me let go of things – including lots of stuff in my home that needed to go!
Always…stay connected.
Never…give up – on yourself or the world.
Favorite Quote…"It is never too late to be what you might have been." –George Eliot
Biggest Dream…a happy marriage where we join together to bless the world.
My Pet Peeve(s)…loud neighbors. It's amazing how unconscious people can be!
More About Simone Butler:
Simone Butler is a San Diego-based expert astrological guide with more than 30 years of experience in helping people find their purpose and passion. Simone began her career as an L.A. fashion editor.
She has since written for many platforms, including the Starscroll and Tarot.com, and has been interviewed on various podcasts. Her books, Astro Feng Shui: Making Magic in Your Home and Life, and Ten-Minute Moon Rituals: Easy Tips for Working with Each Astrological Sign to Develop Your True Lunar Nature bring ancient secrets into modern living. Read Simone's blogs or book reading at www.astroalchemy.com.