Name: Janelle Call
Facebook: Janelle Call
Instagram: scottsartmurray
Age: 41
Title: Supervisor at Scottsdale Arthur Murray Dance Studio
Married/Single: Single
City you live in: Phoenix, AZ
A typical day in my life includes: Lots of movement and physical activity. I feel most fulfilled when I am active, and managing a dance school provides me a chance to be a mover and a shaker, both literally and figuratively.
I was born in: Boise, Idaho
My favorite thing about AZ: Do I have to pick just one? I love that here in the Phoenix metropolitan area, we are a big city with "wide open spaces" kind of feel. There's so much to do, both indoors and outdoors, and never a lack of places to get out and dance.
I'm listening to: Greta Van Fleet. They are a newer rock band with strong blues and folk influences. I find their music energizing; it makes me want to move! I do, however, find all different types of music enjoyable. One would be amazed at how dance-able most music really is.
My family: Is wonderful! I'm grateful to have such positive influences and such a great support system. Every member of my immediate family has an appreciation for and their own talents within the performing arts, so naturally I was raised with an interest in both music and dancing.
If I could have dinner with anyone it would be: Betty White. Aside from being a strong and beautiful woman, inside and out, she's a tremendous entertainer, with the greatest longevity of anyone I can think of. I would love to talk with her about her life's experiences, as well as find out how she became so accomplished. She does it all. An actress, comedian, singer and guess what else? A dancer!
One thing I can't live without: Besides Dancing? Chocolate. I still need the dancing to work it off.
The one person that motivates me: My daughter. She's a tremendously talented and smart individual, sometimes I look at her and think "how'd I do that?" Raising her is a privilege, so I feel the strong urge to show her that success comes in many forms, and that you can become the most successful by following your dreams.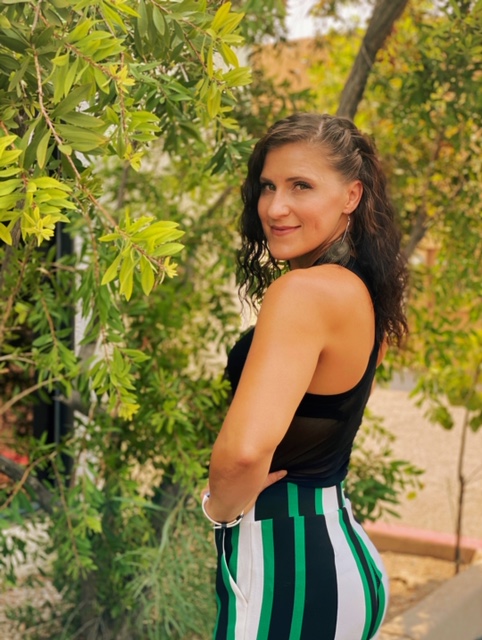 If I could change anything in the world: People's intolerance for others, or for what's different from their preferences. Diversity is a beautiful thing. I suppose, in my heart, I'm just a big hippie because I often think, "Can't we all just get along?"
The perfect day would be: One where I could ride my motorcycle up the coast somewhere and find myself at a beach bonfire, with delicious food, great music and uninhibited dancing.
My first job: I worked as an inventory clerk for my family's retail jewelry business. Sometimes it was fun and interesting, sometimes not so much, but I can definitely say that I developed a strong work ethic while being employed by such close connections. I was really expected to toe the line!
My favorite escape: There is nothing better for me to unwind and recharge than to get out somewhere with live music, let my hair down, and dance until I have become a sweaty mess. It's liberating, a good way to connect with others, great exercise, and just a ton of fun!
My life: Is pretty darn great! I have a tremendous career that allows me to express and challenge myself. I get to spend each day listening to music, moving my body, and being around really positive and talented people. All this while teaching people how to dance and have a great time. It's incredible rewarding seeing how not only our students benefit and grow from dancing, but each individual on our Arthur Murray Scottsdale team does as well. Not bad, huh?
I'm currently working on: Being present. Life moves so quickly; it can be a challenge to slow down and enjoy every moment. I have so much that I would like to do, and so many big goals that it can become overwhelming if I'm not mindful. I literally have to tell myself to take it a step at a time and to be grateful for each day.
Always: Be kind, be grateful, try everything at least once, and ask that person who can't seem to contain themselves when a great song is playing, to dance.
Never: Sit anything out because of fear.
My favorite quote: " Pretend that every single person you meet has a sign around his or her neck that says, Make Me Feel Important. Not only will you succeed in sales, but you will also succeed in life." ~Mary Kay Ash
My biggest dream: To be the owner of an Arthur Murray Franchised Dance Studio!
My pet peeves: Rudeness. There is just no excuse for it. Ever. Also, the notion that you have to be a natural in order to move to music. Anyone can dance, and we are here to prove it!