Lead designer of the simple yet beautiful &Frame bedframe from Tuft & Needle is renowned furniture designer Levi Christiansen. As a former award-winning photographer in New York, where he started to develop his first furniture line, Christiansen has an eye for capturing beauty at every angle.
What has your journey as a local maker been like?
My journey as a local maker has been atypical in the sense that a lot of my process and design work hasn't always been something that I can share with other local makers or the creative scene in Phoenix. When I moved back from New York to develop my first line of furniture, I did it very publicly because I was doing it under my own name. However, once I began designing for Tuft & Needle, my journey became something only my team saw. I've been given a ton of trust, autonomy, and room and am fortunate to work with a handful of talented people across several different mediums at Tuft & Needle. It's been an extremely fruitful journey.
What were your design inspirations behind the new product?
My biggest inspiration behind any design is the customer. At a company like Tuft & Needle, that's the first filter. I run through a list of considerations, such as: Is it easy to assemble? Will it last a lifetime? Am I adding real value to someone's life? After that, I take inspiration from everything I encountered either in nature or any medium of art and design that makes me feel moved or is noticeably clever. From there, I turn that into something that feels balanced, clean and has a visual flow like a song has a melody.
What other products are you working on?
I'm currently working on a few different things at Tuft & Needle that we'll hopefully be able to share sometime in the near future. In addition to my work at T&N, I'm always working on passion projects. Currently, that project is a micro dwelling that started as a vintage camper restoration turned architectural case study.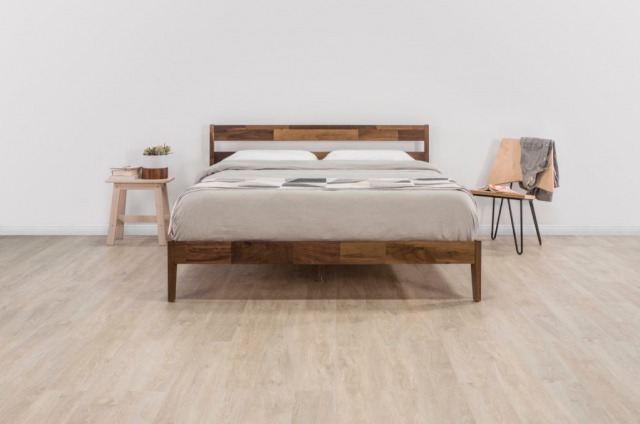 How does the new &Frame bedframe differ from other products?
Our bedframe is in a class of its own. The price, quality of materials, and construction combined with its clean and considered design elements make the &Frame standout. It's not only a solid walnut, heirloom-quality frame at an attainable price point, but it also assembles in minutes (with very little effort) and has many features to maximize day-to-day use. Additionally, the frame is manufactured in the U.S. and made nearly entirely (aside from the slats) from up-cycled walnut that would have otherwise found its way to the landfill.
What do you enjoy the most about what you do?
I really enjoy solving the problems people face in their day-to-day lives by designing the objects that surround them inside of their homes.  I love the balance of making something very functional look very sculptural. If I do my job right, people can spend less money and get more quality, which in turn has less of an impact on our natural resources. I'm always shooting for the win-win-win, and I enjoy that I get to spend my time thinking about all the elements that make that possible.
Where do you see yourself in five years? What projects would you like to accomplish?
I still have a lot left that I want to accomplish in my own design life, but I see myself doing a lot of very similar things to what I am doing now. I want to continue to work with better, more sustainable materials on a large commercial scale and continue to bring beautiful, functional goods into people's lives. I'd like to focus more on helping the younger generation get to the next stage in their creative endeavors. I'd like to give back and watch others succeed. In some ways, I find that to be more satisfying than taking on project after project. –Sara Tiradossi