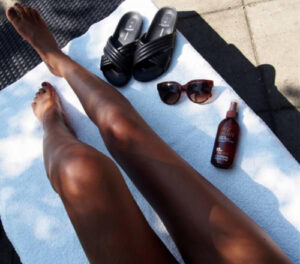 Photo Credit: WeHeartIt
During Arizona summers, we all want to look our best and that includes having a golden tan. But, as we all know, the sun is so damaging to our skin that we layer up the sunscreen during this season. So how do we save our skin and still get that bronzed look? One of the safest alternatives is a custom airbrush spray tan.
The Village Spas use South Seas Tahitian Tanning Mist. Ingredients in this all-natural, paraben-free product include certified organic DHA, shea butter, citrus, ginseng, and cucumber. This solution works with the pigment in your own skin to bring forth your most natural color. During the service, the spa adds Bali Bronzing Drops to the solution to enhance the bronzing look of your tan. The solution itself takes eight hours to fully develop, while the bronzing drops allow you to enjoy color as soon as the treatment is complete. After eight hours, you can shower and notice the bronzing drops will rinse away revealing your true Tahitian Mist tan. The tan itself typically will last seven to 10 days, depending on your level of activity.
Once your tan begins to fade, its time to exfoliate. South Seas Bora Bora Body Polish, which works wonderfully to remove the remaining color, is a great product to use right before your next treatment. This will properly prepare your skin to absorb your new tan to the fullest.
If you decide to book an appointment for your custom spray tan, there are a few things you need to know before you arrive for your service:
Come in exfoliated, shaved, and without oils or lotions.
Wear loose, dark clothing (ideally a loose sundress).
Be prepared for no showering, no exercising, and no lotion application for a full eight hours to allow your tan to fully set.
Following the eight-hour window, you may shower and then be sure to moisturize often to ensure the longevity of your tan.
The service takes only 15 minutes from start to finish.
If you are looking for a quick one-day alternative, the Island Glow Body Bronzer, available in the Village Spa Boutiques, is a temporary tanning lotion. With a beautiful shimmer, you simply apply the lotion to your body for immediate color that will be completely removed upon showering.
Consult with an esthetician at the Village Spas to see which tanning options are best for you – they also offer tanning packages.
For more information on the Village Health Clubs & Spas, and other available spa services, visit villageclubs.com.