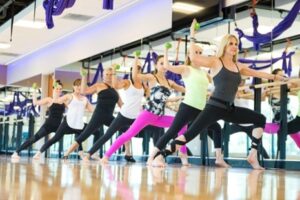 Barre classes are all the rage right now and for good reason. These classes are inspired by techniques in ballet, Pilates, dance, yoga and functional technique. Some moves are done at the bar, some on the mat and some use mini balls, resistance bands or small hand weights to maximize results. With fun music and inspiring group class leaders, barre classes can sculpt, define, and lengthen the body. Each Village Health Club & Spa location offers its own take on barre classes.
DC Ranch Village Health Club & Spa (North Scottsdale)
Here, the Fit Barre class takes barre workouts to new lengths with a fusion of ballet-inspired movements, sculpt training, and Pilates. This class uses small and strong isometric movements to increase strength, lengthen muscles, and tone problem areas. Participants will feel stronger and invigorated after each class.
The Pilates/Ballet Barre Fusion class offers a combination of Pilates mat exercises and Ballet Barre basics. A variety of props and work at the bar are incorporated into this class, which is suitable for all fitness levels.
The Ballet Barre workout, designed for all levels, tones, and refines the entire body with a combination of ballet, Pilates, and standard exercise techniques both on and off the barre.
Ocotillo Village Health Club & Spa (Chandler)
This location's Barre-based classes use a combination of postures inspired by ballet, yoga, and Pilates. The barre is used as a prop to balance while doing exercises that focus on isometric strength training holding the body still while contracting a specific set of muscles, combined with high reps of small range-of-motion movements.
Gainey Village Health Club & Spa (Scottsdale)
This location offers two barre classes for members' preference. The Core Fusion class combines movements of ballet barre, Pilates, and challenging core segments that improve core strength and offer the ultimate full body workout. A wide variety of equipment and props are used in this class designed for all fitness levels.
The Power Barre class fuses the precise movements of yoga, Pilates, and ballet barre techniques, which results in increased core strength, shapely legs and a rock solid bottom. The class features a specific core segment, the use of light weights to tone the arms and a final relaxing stretch, for a complete balanced workout. This class is ideal for all fitness levels and perfect for cross-training benefits.
Camelback Village Racquet & Health Club (Phoenix)
The Camelback Village location's barre class offerings consist of Barre Blast and Barre Plus Cardio. Barre Blast is a fusion of ballet barre, yoga and Pilates with a focus on core strengthening, leg shaping and "hard core" booty work. Light weights and other props are used for firming and toning arms and shoulders. This class is designed for all levels. Barre Plus Cardio features targeted muscle-toning work at the barre with bursts of calorie-burning cardio.
In all of these classes, barre is combined with other techniques to give participants a fun workout that offers fantastic results. Check out The Village's class schedule to find a time that works for you. Give a barre class a try today!